Boiler sizing question
12-04-08, 07:44 AM
Join Date: Dec 2008
Location: USA
Posts: 64
Received 0 Votes on 0 Posts
Boiler sizing question
---
Forgive me if this has been covered, I havent found it:

I am in the process of replacing the boiler and rezoning my house. The current system is very simple zoning and grossly oversized boiler. My question has to do with total heat load on multi-zoned systems, since I wouldnt mind doing a single room on a couple of the zones (essentially a very low heat load this way, and only the room I would spend the day in such as my back office)

If most systems are oversized and thus running below optimal efficiency, would adding too many zones effectively negate any gain in only heating that part of the house? (the boiler would be again grossly oversized for the relative load)

The recommendation here is to run a heat loss calc (I am in process of this), and that even these calcs are typically high. Given that most days of the year are not as low as the heat loss design temp, then compound relatively small loads when heating water or if zoning off a single room in the house, and you have even worse conditions to cause short cycling.

This would suggest err'ing on the low side, and for the very rare occasion of extreme outdoor temps and the entire house needing heat, simply living with cooler temps inside should be ok??

Thus, I wonder if the sizing calcs shouldnt be twofold - a typical heat load (what rooms/dhw you want used - and here is where zoning could be used to get the total down), and then a worse case total heat load at a lower internal design temp.

Does this make any sense at all, or just completely over thinking it?
Sponsored Links
12-04-08, 09:30 AM
Join Date: Nov 2005
Location: USA
Posts: 2,459
Received 0 Votes on 0 Posts
Good questions.

Sounds rational to me, but I'm prone to thinking for a long time.

I would say you're not overthinking so long as you keep moving forward. Some good examples on this forum of near-incessant wheel-spinning....

There are many ways to mitigate short-cycling due to microzoning, from adding a buffer tank to the system to implementing a variety of piping and control options.

On sizing and doing various load calcs (e.g. deriving heat loss estimates from slantfin-ware using a variety of outdoor temperatures), I definitely agree with your approach.

If the home is divided/used in discrete spaces with different usage times, etc., then sizing the boiler to a straight Manual J for the whole structure is overkill. This is particularly true if you have a viable supplemental heat source (e.g., wood stove; portable electric oil-filled radiators; whatever) for the 0.4% of the time it truly gets down to or below design conditions and/or you don't mind the building being 2-3F colder for a day once every year or three.

If you are going with a gas modcon, however, a lot of the guess- and home-work goes away. For a typical residence, size the modcon as small as possible to handle the DHW load, then look for a unit with sufficiently low turndown that you get close to a common heat loss at the bottom of the modulation range.

For example, to do the whole building, use slantfin-ware to figure the heat loss at your average temperature for the month of January. See if that gives you something at or above the 15-25k BTU/hr range for heat loss, which is about where a typical modest modcon turndown bottoms out.

Or do the heat losses for parts of the building that you want to zone and see what the loads are at various outdoor temps.

Chances are that in a microzoned setup, even at design temperatures, the load will still be below the minimum turndown, so adding a properly sized buffer tank to serve as a 'BTU warehouse' (a term used by "Who" that I really like) will help satisfy the load while not short-cycling. Throw in some good piping and control and you're off to the races.
12-09-08, 12:33 PM
Join Date: Dec 2008
Location: USA
Posts: 64
Received 0 Votes on 0 Posts
OK - here is where I am in the process:
First, some background:
Replacing 35 yr old heating system.
Its time for this to be upgraded (its mis-behaving, and not necessarily the most efficient):
Current system:
Burnham # 255 Series 2, 245.5 MBH Net IBR ratings, Oil 2.65 gals (this seems insanely high if burning 2.65 gals/hr) - my heatloss is ~70k!)
Wayne Model BE-4 .5 - 3.0 GPH fire rate
Super stor SS-40 CB Date 6/18 Year H (this seems newer than the rest of the system, but I dont know what year H represents)
A mess of 2" BI piping, checkvalves, et al, some 1 1/4 BI pipe, and mostly 3/4 copper, no backflow prevention to the water makeup line, an expansion tank leaking on a regular basis (thank you for the troubleshooting guidance on other posts).
The house is approx 2600 sq ft and built in ~1970 (I know, it doesnt matter but some may be curious anyway).
Currently zoned 3 systems (main living area, bedrooms area, and basement). This is a ranch style house with a link between the main living area and the bedrooms area of the house.
Note that although heat in is heat in, I dont believe we are distributing ideally for effective distribution based on use. For example, the two warmest rooms in the house are 1) the basement (note the basement zone is turned off!) and 2) the link. I believe this is due to 1) the boiler is in the basement, not at all efficient, and thus dumping a lot of heat there and 2) over radiation of the link. The link is ~12' x13', has a heatload calc of about 7000btu, yet has over 33 ft of radiator installed (zoned with the rest of the bedrooms area). I know this doesnt count for heat loss, but I dont believe it is able to be choked off enough to prevent a lot of heat being dumped into this somewhat non-living space.
I am seriously contemplating doing this myself:
1) to be sure I understand everything, do proper design, and have a better system at the end of the day (ya... this can be easily challenged vis a vis a 'professional' job - I am not a professional).
2) I do understand basic theory (thermal systems design), have done a lot of construction, plumbing, and was a professional lab technician/machinist for several years, so have a high confidence in my ability to pull it off. Time will be a concern though, since I have waited until the coldest part of the year to do it. Am wondering if I can do plumbing one day, and then the boiler another to step the project into bites (and plumb as much dry as possible).
3) to save money (I am also recently unemployed.. my time is currently going for deeply discounted rates.... definitely cheaper than hiring a plumber and cheaper than the labor in the quotes I have so far.
I did receive one quote so far, and have multiple quotes from my neighbor with an almost identical system (houses all build at the same time). Total estimate $6000 to $9000 for the basic install of only a boiler and cleaning up plumbing directly around the boiler itself (no rezoning, no outdoor reset control), and the quotes were all GROSSLY OVERSIZED on the boiler (I believe oversized anyway. And guess what - I am paying so its my opinion that counts and I am relying on all of you to set me straight if I am going in the wrong direction).
Having said that - I live in MA so my first question is whether I am technically allowed to do this myself, or if they only allow licensed installers. If so, I would want referrals to licensed installers that will take the time and work with me to get a quality system installed. Either way, I am going to have my own system design, including pricing estimates, as a starting point (with your help of course). And of course before any work will obtain proper permits and safety measures. Note that I would ideally like someone to provide professionaly oversight, and let me do the grunt work (but contractors in my area arent too friendly to this approach)
Now I started out by sizing the system based on total length of radiation and house square footage..........
(ok, I didnt really but thought I would throw that out there for you regulars who might appreciate the levity).
Slant fin says:
Somewhere around 70k btu/hr heat loss. (note this house has a LOT of windows). I can play around with a zillion assumptions but the absolute max I can come up with is ~85k with ~60k on the low end. I wouldnt be comfortable with the assumption set that gave lower than 60k (a little too aggressive assumptions like insulation/window upgrades I havent actually done). So somewhere between 60k and 80k (yes a big range... Im going to (try) not overanalyze it. I will err on the smaller size if choices must be made.
And what to budget for hot water? (2.5 baths, dishwasher, laundry for a family of 5).... my understanding is to size for the larger of the two loads, and use a priority controller. So would my DHW demand be higher than 60k? (my gut says no...) Am thinking Xiphias might suggest a Tekmar 260 could be used for this and OTR....
I will keep the existing hot water tank (seems still in good shape).
Thanks to the many posts and advice (special mention to geevee's thread contributors), I am planning a primary/secondary loop, and 6 zones. This may be a little overkill on zones... but I am trying to control heat distribution to places where it is needed to stay warm)..... we will see if it really plays out this way, since there are still a couple assumptions on being able to modify piping routing that need validated.
A piping question: I was going to zone with circ pumps all at the boiler area. My thought was that each loop is pretty different in terms of length/pdrop and pumps would equilize this better than zone valves. Alternatively, I could run a loop back to the bedrooms area, and pull sub-zones off this loop (maybe a circ pump to a manifold and then control valves dropping from there. It might reduce total transmission line losses and provide a little more space since today it is one zone and I want to make it 3 total (needing supply/return piping for 2 additional), a length of about 20ft to the beginning of that part of the house and about 50ft to the back radiators. If I do this sub-loop (no idea the proper term), I could loop it to midway (about 45ft from boiler) and then pull the zones fore and aft of the center manifold. This would allow easier insulation of the transmission lines (a little bonus since heat loss in this essentially goes to the crawl space... not 100% loss but not exactly where you want it either).
Everything today is 3/4in copper. I can do this, but the PEX might save some time... not sure if it saves space. Any preferences? If pex is only 1/2in then I think I need the larger dia capacity of the 3/4 cu given the long run lengths?
A bunch of plumbing in/around the boiler itself (including a back flow preventer to the main makeup line... not having that one bugs me and now I think I know the source of some brown water in the faucet after a power outage and subsequent water pressure outage....). Again, thanks to the all the posts on the basics of this. One piece of work still to be done is total pressure drop of the loops and corresponding pump sizes. The longest run in my estimate is about 130ft linear, with few elbows (mostly a big long straight run). The loop lengths come down from there but have a few more elbows. Currently I have Taco 110-20-869 pumping three loops. Seems like I just need to measure out the loop lengths/fittings, and then size to enable 4gpm flowrate. Any reason not to use Taco loop pumps?
As for boiler itself (ironically, not that high on my priority list of what to consider as long as its sized properly there seem to be several quality products to choose from:
Biasi B10-3 (or B4??) - not sure my oil maintence peeps would know much about them, B3 is just big enough, noise probs??
Weil McClain WTGO 3 - perhaps the most common in my area, quality, perhaps the safest choice, no controls, oversized??
Buderus G125BE - new and unproven reliability? controller part of the system, $$$?? worth the $$?
Peerless PRO3 - Randomly added this to the list......
Give me a reality check - am I going the right direction? Should I exit stage left? Anyone want to help (I am NW of Boston)? I will need sourcing recommendations, but am afraid to turn this site into a commercial dialog (this is one of the best forums I have ever participated in... congrats to all of you that make it so).
12-10-08, 08:38 AM
Join Date: Dec 2008
Location: USA
Posts: 64
Received 0 Votes on 0 Posts
Feedback welcome: First iteration system design
---
Current system noted in the prior post:
Burnham # 255 Series 2, 245.5 MBH Net IBR ratings, Oil 2.65 gals (this seems insanely high if burning 2.65 gals/hr) - my heatloss is ~70k!)
Wayne Model BE-4 .5 - 3.0 GPH fire rate. Learned the nozzle size is noted as a 100.
Super stor SS-40 CB Date 6/18 Year H (this seems newer than the rest of the system, but I dont know what year H represents)
Design image can be seen here (let me know if this is problematic):
Snapfish: Share Photo:Registration
The basics:
Biasi B10-B3 (undersized?)
Taco 08 zone circulators
Superstore DHW (keep the existing tank/pump)
Tekmar 260 (for DHW priority and OTR) - overkill?? $$?
Rezoning the house from 4 to 6 zones for better distribution to the actual living spaces used. Update thermostat controllers at the same time. Insulate transmission lines that are in unheated areas.
Recommended changes and suggested alternatives?
12-10-08, 10:43 AM
Join Date: Nov 2005
Location: USA
Posts: 2,459
Received 0 Votes on 0 Posts
Yowza. That post up there was longer even than some of mine!
Some thoughts.
1) Can you do the work? Maybe. Start with asking your town about required permits and who's allowed to pull them. Some towns (and maybe even the state) require, for example, plumbing permits to be pulled by licensed plumbers. So you might be in a position to have to find a licensed plumber who is willing to attach
his
liability to
your
work. Think about that one for a minute.
2) 60-80k BTU is not unreasonable, but we don't know a lot about the envelope yet or what your design outdoor temp is. In any case, something in the 80-100k range will be needed for the indirect to perform adequately.
3) don't overzone. microloads are a hassle. I'd be more inclined to adjust the amount of radiation if that's easily do-able.
4) consider zone valves and a differential bypass or the cool new Wilo ECO that geevee used. Way more energy-efficient if you do end up with 6 zones. Or even 3.
5) the diagram is a good start, but a couple things jump out:
a) the indirect loop should be pulled right off the primary, not the secondary
b) the feed water should connect between the expansion tank and the secondary
c) you probably want the primary circ pumping into the boiler
6) ODR and priority, yes. tekmar 260? probably not. Probably a different tekmar control would be required, depending on how you want to do the primary/secondary. on/off might work with a 260, but for a fixed fire cast iron boiler, you'd want a piping scheme with boiler protection, e.g., 3- or 4-way mixing, variable speed injection. There are tekmar (and probably other vendors) controls for this, e.g., the 361 for variable speed injection.
7) yes it's a big task, but if you spend the time needed to do your homework, and can satisfy the legal and safety requirements, it's doable.
8) don't do this project in the winter. Plan it out and be ready to go in April. Maybe build some of the manifolds 'n stuff over the winter, but don't try to do a project of this scale when it's routinely below freezing.
9) if you end up hiring a pro (and there are some good ones in the Boston area), use your knowledge not to specify the design, but to express your goals for the comfort and efficiency of the system, and to evaluate what is proposed.
10) throw the Burnham MPO into the mix.
11) if you can get combustion air from outside the building (e.g., the Burnham MPO has a direct-vent option with outside air...), I'd place a decent premium on that. Good to have for a variety of reasons.
12-10-08, 01:24 PM
Join Date: Dec 2008
Location: USA
Posts: 64
Received 0 Votes on 0 Posts
My apologies for the long post and many thanks for the usual thoughtful advice. Or maybe I should say many thanks to taking the time to even read it!

Ok... less is more.... noted.

I am going to try and find a contractor since I dont believe I have an option of putting this off another winter. I dread dealing with contractors in MA, as I have yet to have a positive experience since living here (a combination of incompetence and price gouging).

Stay tuned.
12-10-08, 02:29 PM
Join Date: Dec 2008
Location: USA
Posts: 64
Received 0 Votes on 0 Posts
DIY in MA?
---
One additional datapoint I just learned:

In the state of Massachusetts, a state licensed plumber is required for ALL plumbing.

No DIY for plumbing.

Time to find a good contractor... sighs....
12-11-08, 12:14 PM
Join Date: Dec 2008
Location: USA
Posts: 64
Received 0 Votes on 0 Posts
Some of the heat load calcs
---
A handful of heatload calcs uploaded for you to see: I bracketed outdoor temps between -10 (a worst case) and +10 (closer to winter monthly avg). With a little insulating (some cheap like better floor insul in the crawl space, some not so cheap such as replacing some custom trapezoidal single pane glass for ~$4k), I can get the heat loss down to ~50k.
Note the data on ACTUAL FUEL Consumption. In the winter months its costing me over $1000 to heat this place. Since the boilder is having various problems already, I am incliined to get this replaced sooner than later and do also expect some savings and relatively short payback.
Part of the goal will be to get heat supplied to the spaces where we live/use, which will mean some zone mods. SWMBO is really good about turning the thermostat down in areas not in use (typically she keeps them at 58!), which means I am in a back office with an electric space heater and a blanket.....
It looks like sizing will be determined by hot water demand. (enough slantfin iteration already). Its only oil where I live and no gas expected any time soon (I did ask around), or I would be investigating on demand hot water...? Do they have an oil fired version for this? (my electrical system would need a significant upgrade to accomodate an electric version since I am on a 100amp service for the entire house).
Am updating the baseline design to consider Xiphias's comments.....
Latest data posted here:
Snapfish: Share:Registration_Opt2
12-18-08, 12:57 PM
Join Date: Dec 2008
Location: USA
Posts: 64
Received 0 Votes on 0 Posts
Rev 2 considering comments
---
This doesnt seem quite right to me... look at this primary loop and tell me whats off...
[IMG]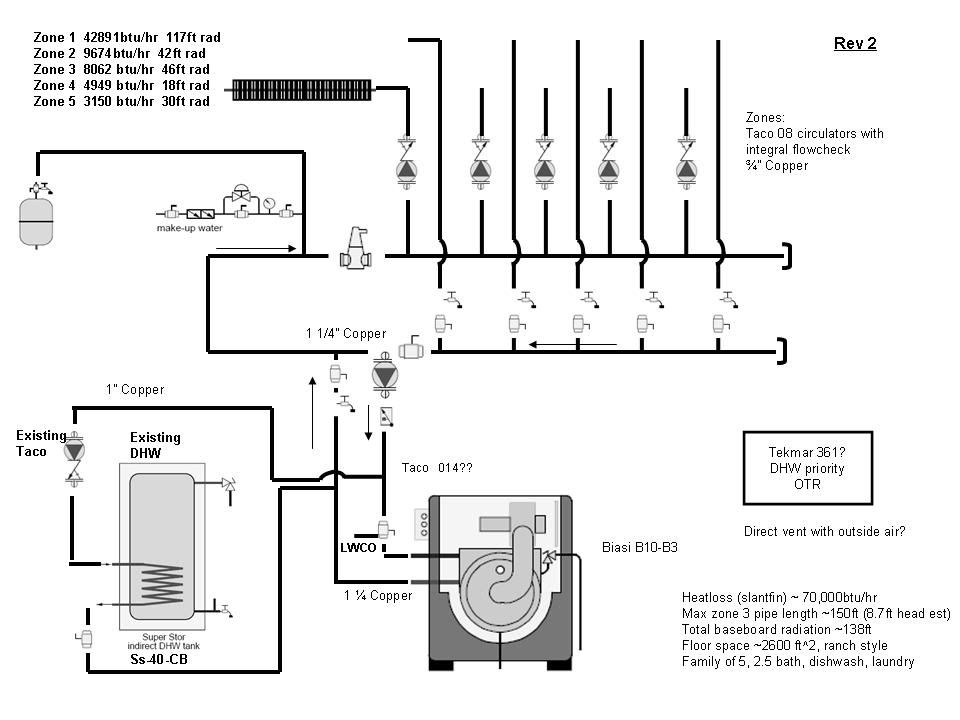 [/IMG]
---
Last edited by frastick; 12-18-08 at

02:40 PM

. Reason: image link broken
Posting Rules
You may not post new threads
You may not post replies
You may not post attachments
You may not edit your posts
---
HTML code is Off
---