Help plumbing new baseboard in basement
12-12-08, 03:00 PM
Join Date: Sep 2005
Location: Just outside of Phila
Posts: 350
Received 0 Votes on 0 Posts
Help plumbing new baseboard in basement
---
Ok I have a basement that is almost complete. The old setup was two large CI radiators below the windows plumbed with 1/2" copper (both ends capped now). I'm at the stage to install new and would like some suggestions. I did a heatloss and come up with 6,577 BTU/HR. There is two exposed walls one 23' with two windows and the other 13'6". I am planning on finned tube baseboard due to pricing.

1. Would installing the baseboard on the one exposed wall with the windows be acceptable?

2. The old setup T'd from my crawl space to the upper bedrooms and the basement. Should I go that route or plumb it differently?

3. Any recommendations on where to add vents and any other tips for easy bleeding would be appreciated.

Thank you,

John
Sponsored Links
12-12-08, 05:37 PM
Join Date: Sep 2005
Location: Just outside of Phila
Posts: 350
Received 0 Votes on 0 Posts
Yes this a hot water system one pipe. I removed the CI because they are just too big for my taste and ugly. Plus the rest of the house has alum. finned tube.
12-13-08, 08:17 AM
John, one pipe you say ? So it's a monoflo system? or series loop? need ta know...

6600 BTU could be around 12' of fin tube with 180° water. Not sure that feels like enough to me though... it's a basement... is the concrete wall insulated? You might wanna add a little more if it's not.
12-13-08, 10:14 AM
Join Date: Sep 2005
Location: Just outside of Phila
Posts: 350
Received 0 Votes on 0 Posts
Trooper, its a series loop and yes the walls are insulated with R13. It's a walk out basement and the room has 18sq/ft of windows. I got that # from HE2, with a supply temp of 160, which would be 15 ft of their Fine/Line 15 with 1/2" copper. Do my numbers sound right? Should I go with 2 10ft's instead?

Thanks,

John
12-13-08, 11:12 AM
Join Date: Sep 2005
Location: Just outside of Phila
Posts: 350
Received 0 Votes on 0 Posts
Opppps I made a mistake
. After looking at my numbers again they didn't add up. So I corrected it and come up with a heatloss of 7k (396sq/ft area). Now if I go with slantfin fine/line 15 I will need 17ft with a supply temp of 160F with an outdoor temp at 0 and an indoor temp of 70.(So it says). If I add two 10ft, that will give me 8600btu. Is that too much or should I go with it?
note: this will be plumbed with 1/2" copper.
Some details in case I missed something:
-Walk out basement.
-Concrete slab not insulated. Half 3-4 ft underground and the remaining is at grade.
-18sq/ft of windows.
-I believe its 8" of block with stucco.
-Interior 2x4 framing with R13 insulation.
-Rim Joist insulated with 2" ridged foam board.
Thanks
John
12-13-08, 02:35 PM
No, I think you'll be fine with that. Even using a 'rule of thumb' that some of the guys don't like ... just to get a rough idea, 25 BTUH/SQ FT ... is 10K ... but in that insulated basement, 25/ft might be high ... 20 is 8K ...
I would think 20' would do the job just fine. Also, you are rating your water at 160 ... so if the boiler's high limit is 180, you are being conservative...
2. The old setup T'd from my crawl space to the upper bedrooms and the basement. Should I go that route or plumb it differently?
Were the existing rads done in 1/2"? And you had no problems with the heat from the rads, or in the bedroom before? If so, then just tying in where the old pipes came off is probably fine. In other words, do what's easiest as long as it was working before that way.
Is the main pipe larger? And what size is the pipe to the bedrooms? I'm guessing the br's are done in 3/4"? Generally, you can split a 3/4 into two 1/2 ... and two 3/4 into 1" ... just wondering if there will be any problems with flow ...
You will only need enough flow in that basement zone to keep the air bubbles moving ... you can do 10K BTU with 1 GPM ...
Being at or below the level of the boiler you probably won't have too much trouble with air, but install a bleeder wherever the pipes turn down... and at any obvious high spots...
If yer gonna carpet, raise the baseboards up a couple inches to maintain air flow ...
Is this gonna be on it's own zone?
12-13-08, 03:30 PM
I might be confused here. But, you removed two radiators, on different walls, and will replace with a single baseboard unit on one wall, right? OK, so far.

But if your system is a single pipe, series connected, you can't cap the old branch connections serving the radiator that isn't being replaced. You'll need to bypass it to maintain flow in the series string.
Doug
12-13-08, 06:06 PM
Join Date: Sep 2005
Location: Just outside of Phila
Posts: 350
Received 0 Votes on 0 Posts
Ok let me try and explain this a little better. From the basement I have a 1" supply, It T's off in 3/4" to living room, dining room and kitchen. And 3/4" to the 2nd fl bedrooms then back down to the basement into a large CI rad in my laundry room and CI baseboard in the bathroom. Now from that 3/4 pipe it T's off at the point it rises to the second fl. to the basement in 1/2". Now this has always how its been since I moved in. Is it right? I don't know. My house is not insulated so it never feels warm. The Baseboard and the previous rads in the basement were hot when water circulated. Maybe my setup is considered a 2 pipe direct return? When I removed the rads from the basement I put in a ball valve on the supply and one on the return so when I replaced them I didn't have to drain the system again.
The Rads I removed were on the same wall and were piped 1/2".
I hope you understand my explanation. I added a schematic which shows piping minus all parts.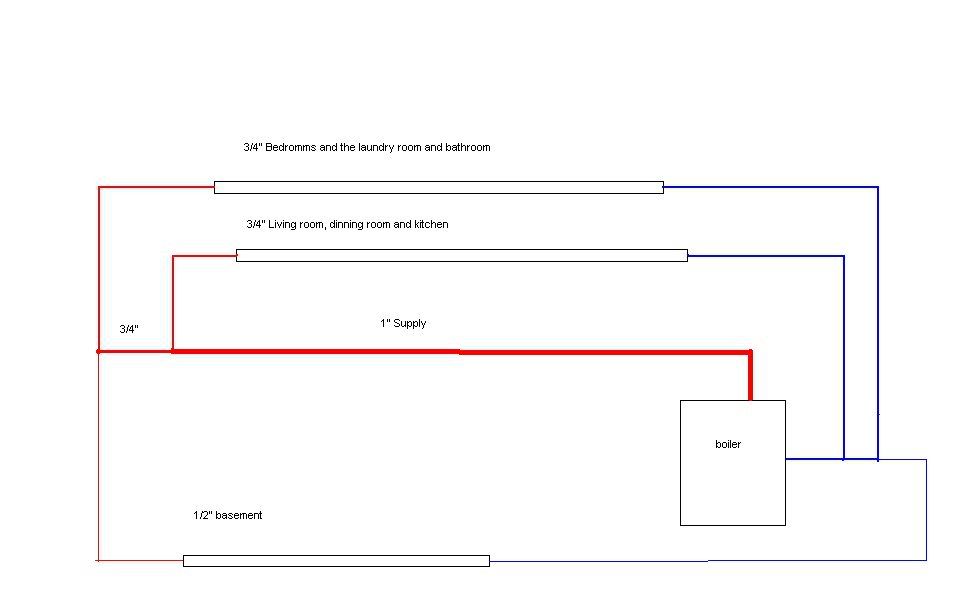 note: the pipe between two floors is 3/4".
Thanks
John.
Posting Rules
You may not post new threads
You may not post replies
You may not post attachments
You may not edit your posts
---
HTML code is Off
---