Self install of a boiler
03-16-09, 10:16 AM
Join Date: Mar 2009
Location: Interior Alaska
Posts: 2
Received 0 Votes on 0 Posts
Self install of a boiler
---
My husband and I are getting ready to buy and install a boiler for our home built in 1950 in interior Alaska. The current system has been aged to be almost 40 yrs old, and is forced hot air, not efficeint in our super cold winters. We have done a lot of research, and we are going to go with a Viessmann system. Our home is currently 1850 sq ft, and we will be adding on at some point. Any ideas what size system we should go with?
Sponsored Links
03-16-09, 11:16 AM
See the top sticky post called appropriately enough "Important information to know before buying a replacement boiler!"
03-16-09, 03:24 PM
As Who said, HEAT LOSS FIRST! ... and you need to do this room by room, because I believe you are saying that you will be converting to baseboard, or radiator, or ????

What type of heat emitters will you be using?

I'm assuming that yer pretty well insulated up there... sealed up any and all points of air infiltration... this is the biggest energy saver right there... get the heat loss as low as possible BEFORE replacing the heating system. As our friend Xiphias says, it's energy you only pay for once... every BTU you can save inside the house is one less that you don't have to produce year after year after year...
03-17-09, 06:25 AM
Whatever system you decide on make sure of several things considering where you are located, 1) make sure repair parts will be readily available, 2) if you and your husband will be the service techs make sure it's something you will be able to maintain and repair.
03-30-09, 06:39 PM
Join Date: Mar 2009
Location: Interior Alaska
Posts: 2
Received 0 Votes on 0 Posts
Thanks
---
Thanks for the replies, I am really glad that I found this forum. My hubby & I have a lot of work to do in this house to upgrade it. As for insulation, we are pretty well insulated. We have some cold temps here, as you can imagine. Here is a taste of January in Fairbanks, AK 2009.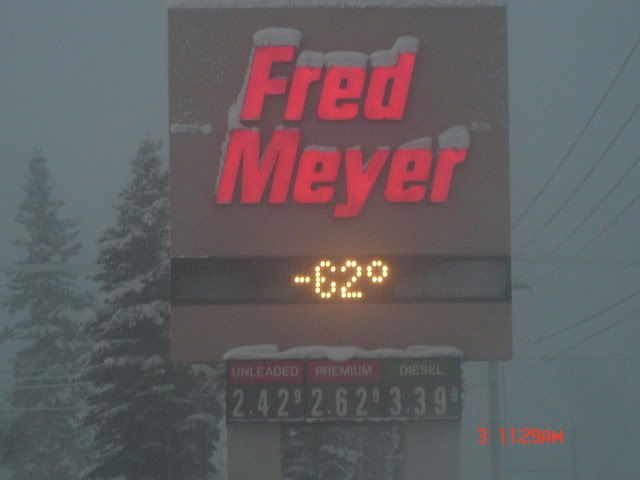 Posting Rules
You may not post new threads
You may not post replies
You may not post attachments
You may not edit your posts
---
HTML code is Off
---