Boiler Ignition
10-15-09, 03:41 AM
Boiler Ignition
---
I'm trying to ignite the boiler, I cant remember how i was told to do it. I have a Governale RM 22 US I.I. Gas Boiler. It says ANSI z21.13a -1983 below that. Its electronic ignition, and I'm pretty sure its an intermittent spark, because all winter, whenever I'm in the basement, I can hear it make a clicking sound every few minutes as there was a call for heat, then i would hear the flame woosh as it heats the water.

The gas line is open, the water feed is open, and I turned the thurmostat inside the house to a high setting so that there is a call for heat. I temporarily turned off the main electric (light switch) beside the boiler. There is a honeywell ignition unit with a combination switch that has a stubby little on/off lever, almost a knob. I think its one of those knobs that you have to hold in the ON position against a stop, and when you let it go it springs back to the OFF position. what do I do next?

Thanks
---
Last edited by mrsoze00; 10-15-09 at

04:27 AM

.
10-15-09, 04:10 PM
I'm a little confused by your description...

If you have an intermittent spark ignition, then you shouldn't have to do anything more than you've done... that is, turn it on and turn it up. The spark should light the pilot, the pilot should signal the controller that it's lit, and the main valve should open and the burner should ignite.

The part with the button is what's confusing me... that might be the case if you had a STANDING PILOT. Then, you would push a button, or lift a lever, whatever, and light the standing pilot. Then, you would hold that button until the thermocouple got hot, and release the button, the pilot would stay lit.

So, which do you have? spark, intermittent ? or standing pilot.

What's the model number of the controller ?
10-15-09, 04:47 PM
Here are the hpics. you can tell me what you think.
One other question. This is the first time I'm starting it for the winter. Is there anything that I NEED to do, and anything else that I SHOULD do, but can wait another 6 months to a year?
Thanks
heres the link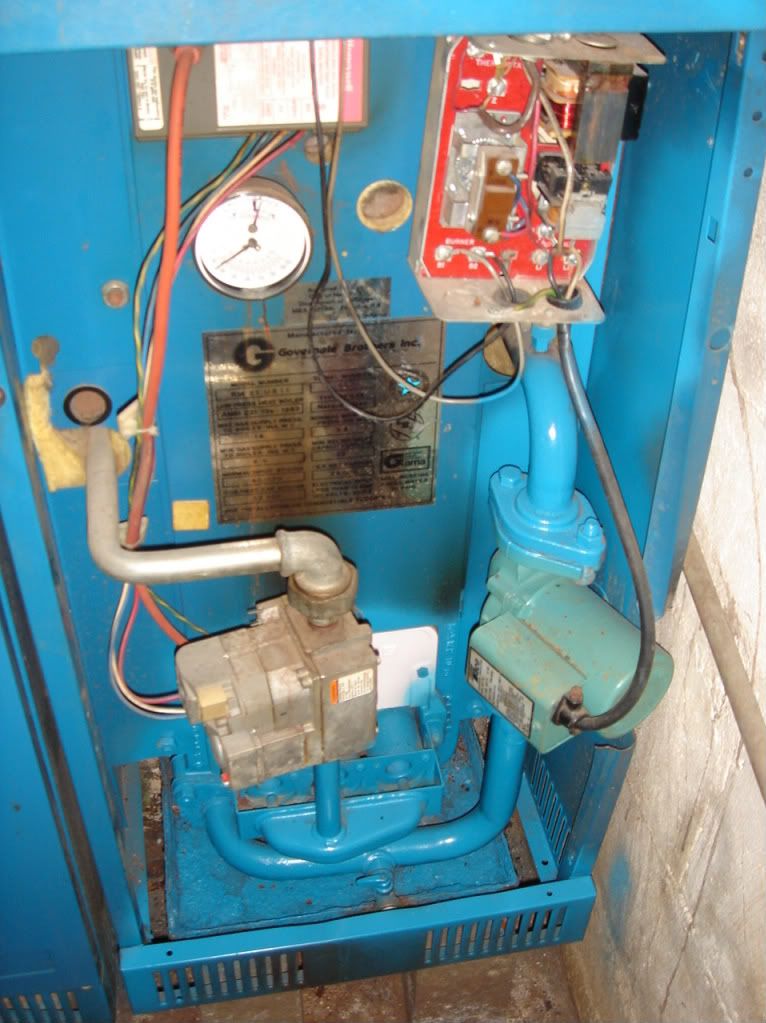 10-15-09, 08:07 PM
So now its lighted and there is heat inside the rooms, but now the pressure says 50 psi and i'm worried, isnt that too high?..last winter the basement was flooded and there was water gushing from a pressure release valve. How do I get the pressure down?