Wiring 3-zone with Honeywell L8148J, Honeywell V8043E, and Low Water Cut-Off
09-28-10, 12:45 PM
Wiring 3-zone with Honeywell L8148J, Honeywell V8043E, and Low Water Cut-Off
---
Hey guys,
I am completely reconfiguring heating in my house and have done the majority of "rough in" plumbing work; now its time for wiring. I mentioned most of the equipment I'll be using, but I'll list it here again:
1) Honeywell L8148J Aquastat
2) Honeywell V8043E zone valves
3) McDonell & Miller Low Water Cut-Off RB-122E
4) Boiler is Williamson GWA-175.
5) Lux TX9000TS (1) and Honeywell RTH221B (2) Thermostats
I've included photos taken from manufactures' manuals and compiled them on the first photo. Second photo is what I think the wiring scheme should look like.
No. 1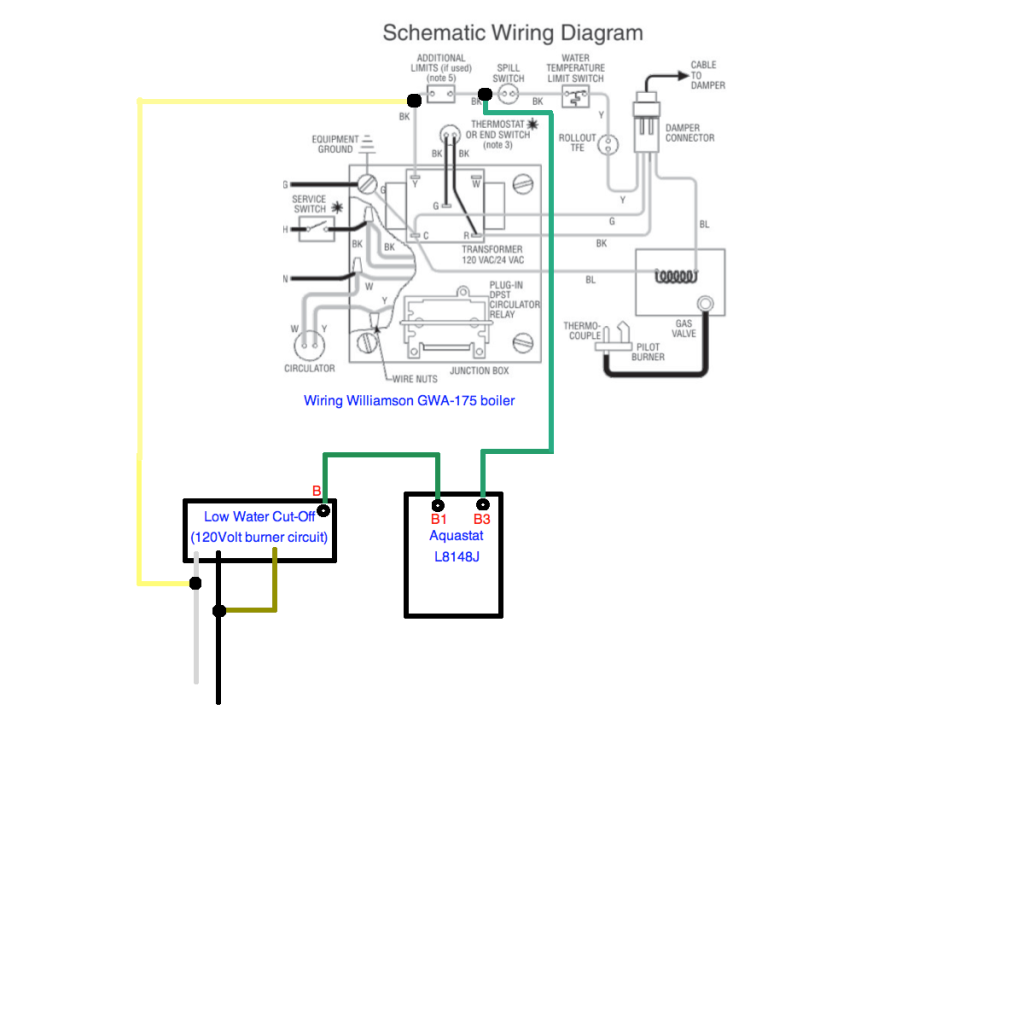 No. 2
I do have a few questions however:
1) Starting with the thermostats - since it is a two wire control
I will only need to use W and RH (with jumper on RC) on TT? When connecting to a zone valve, polarity doesn't matter?
2) On Aquastat wiring, note 3 states that a link must be used B1-B3 with 24volt gas valve;
that means I hook up red wires on the zone valve to T and Tv? What is W connected to?
3) Again on Aquastat,
only B1 and B3 are used in 24volt gas valve?
4)
Thermostat wires on boiler control panel will not be used?
Please comment whether I am on the right track.
Thank you!!
09-29-10, 08:50 PM
Sorry for the delay, been very busy here, and i am shot right now, I will look at it on Thur, and get abck to you.. Something is telling it's not right, but want a fresh mind..

I'll get back to you tmrw night.
09-30-10, 07:36 PM
NO... there's several problems here... do NOT wire it like that!

I have a couple questions first:

Is the 8148J aquastat already installed on the boiler? I don't think you even need that aquastat. There are limit controls, safety controls, circulator relay already on the boiler, why is this aquastat even in the picture?

Next, I believe that in your application, the 24 V model of the LWCO is probably what is recommended. You can use the 120V model I believe, but it would NOT be wired the way you are showing it. You will absolutely destroy your gas valve... and probably lots of other stuff.

So, first, tell us why there is an aqastat in the picture, and next, why you've chosen the 120VAC LWCO... and we'll go from there.
10-05-10, 01:00 PM
Thank you so much guys for your knowledgeable replies!

The aquastat was thought to be required as it was suggested in "wiring for multizone" configuration in zone valves literature AND the sales guy trying to make a buck....

Since I wasn't getting an answer here, I posted it in another forum (name won't mention for reasons understood later) and received similar reply to the one you suggested - no aquastat! I redrew my schematic only showing the LWC with the same connection points as I have shown earlier (Additional Limits) and received a reply (from what seems like a very reputable member) that everything looked perfect... I went ahead and wired it up that way...

Now, to those that are curious, this is what happens when you supply 120V in series with the boiler controls...

I hit the switch - grinding/screeching noise came out of the gas valve and the vent damper and both started smoking like Cheech and Chong...

Luckily I had a spare vent damper (different model number, but internals were identical) and the gas valve will be replaced even though after rewiring everything correctly it works like a charm, but the fact that it smoked so much would make me nervous leaving it as is; and for a $70 part, I can sleep easy now....

Once again thank you!
10-05-10, 04:38 PM
Yikes ain't the word Jay!

Ya see, this is the thing with taking advice from strangers on the internet, myself included... and why I always ask for comments (though I seldom hear any?... I guess that means one of two things, either I'm almost always right, or nobody else gives a crap...)

I'd kinda like to know who the bozo was that told him it looked perfect!
(Eugene, I've added you to my contact list, if you feel like 'squealin' send me a private... I promise I won't embarass you...)

Sorry we couldn't get to ya sooner Eugene and save ya some trouble.