Prestige Solo 110 Installation Question
01-27-11, 11:40 AM
Prestige Solo 110 Installation Question
---
Hello Everyone,
I have a question regarding the installation of my Solo 110. I've made a sketch of the installation below. I hope you can see it clearly. My concern is regarding after the call for heat is satisfied and all three of my zone valves close. I often hear the circulator pump that is internal to the Solo continue to run for a bit. I think this is the "purge" cycle. Also there is mention in the owners manual that the circulator will run in some cases to keep the unit from freezing.
My question is: When all the zone valves are closed, I don't see any way that the water could continue to circulate through my piping that is external to the boiler itself.
When the circulator continues to run after all the zone valves are closed, is there some sort of circulation that is internal to the boiler itself? The instruction manual seems to indicate that there should be external piping between the boiler supply and return less than 12" apart. It does not appear that I have this.
Any feedback is appreciated. Thanks!
CP = Circulator Pump, L = Load Zone (Baseboard), Z= Zone Valve
The is a backflow preventer and pressure regulator on the cold water supply not shown on the diagram.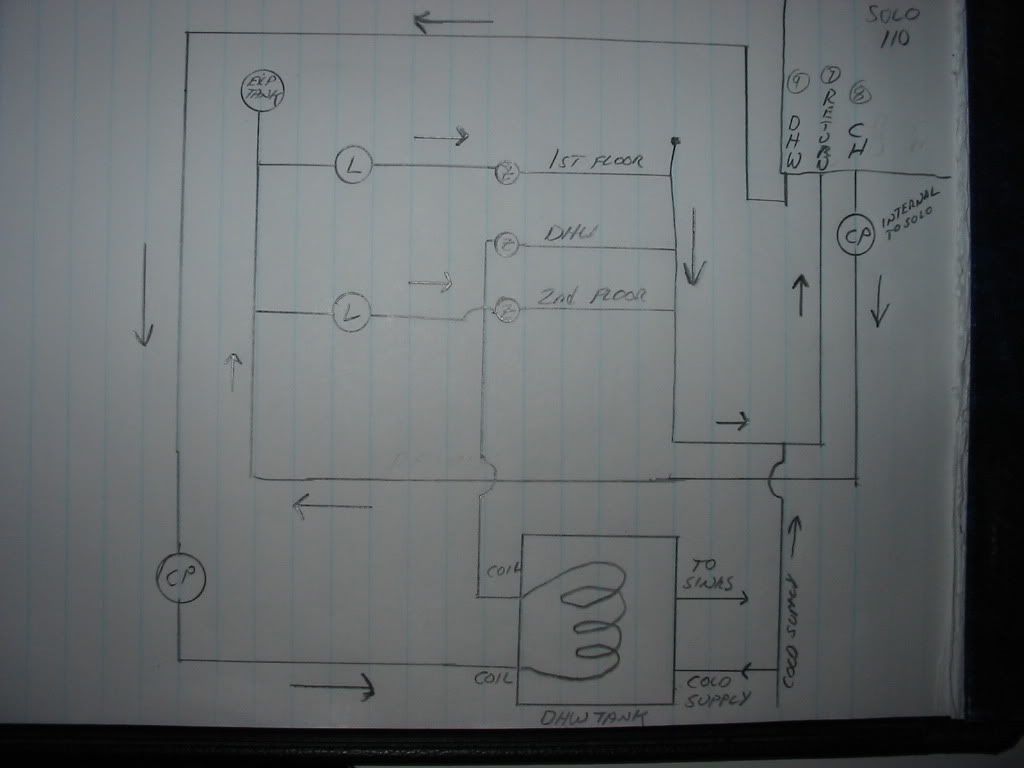 01-27-11, 07:37 PM
There is a post purge setting that can be set to off.
My concern is that you are zoning the system with no means to ensure adequate flow thru the boiler at high fire.

If you look thru the manual they will report a min. flow rate at high fire that the boiler requires. What is the smallest zones flow rate.

Make sure you have enough flow thru your boiler.
You can add a differential pressure bypass valve so there can be flow with all zones closed, but it's easier to program the boiler to no post purge.
01-27-11, 09:12 PM
Join Date: Dec 2010
Location: Galivants Ferry SC USA
Posts: 18,159
I think your missing a circ and that boiler loop should be put in. You are not getting all the benefits of a 95% boiler.
Page 20 shows DHW with circ piped seperate from boiler. The piping for the DHW is separate from the boiler system piping and does not require a primary / secondary piping configuration. ( 1 circ)
Boiler circ for bypass loop. (2 circ)
Page 21 piping with zones. System circ. (3 circ)
Its a condensating boiler and why not pipe properly. It piped like a regular cast boiler basically.
http://www.triangletube.com/document...399_Manual.pdf
Mike NJ
01-28-11, 05:24 AM
If the flow rate works out (zones get enough flow to meet boiler min flow rate), then there's no problem piping direct as done. But you'd need to install a differential pressure bypass valve to ensure the boiler flow when fewer zones are calling.
01-28-11, 06:30 AM
Thanks for all the replies. Let me follow up with this: I hear you when you say I may not be getting the proper efficiency the way it is set up now, but am I doing any harm to the boiler? That is my main concern at the moment.

As you can probably tell it was installed as a replacement for a standard boiler with not much re-plumbing done. It's been this way for almost a year and has not shut down with an error message or blown the pressure relief valve at all. So it appears, although I do hear the circulator running after all the zones are closed, somehow this is not causing a problem that I can see.

Other than the possible efficiency issues, is it OK to leave it this way or am I hurting it somehow?

Thanks again.
01-28-11, 12:13 PM
Are you going to damage the boiler? I don't know. If the flow is below minimum, you might.
OTOH, you will likely damage the internal circulator as it's deadheading against the closed valves. In any system zoned with valves (unless a delta-P circulator is used, which this is not), you need to have a differential pressure bypass valve installed, something like this:
3196-1 - Taco 3196-1 - 3/4" Bypass Valve
between the supply and return manifold.
If you are looking to do the minimum to keep the system running, at least put in this valve.
If you are willing to do a significant re-piping job to get everything "right", I'd change to a primary-secondary plumbing setup. It'll cost you one more circulator, but the system will work better, be more efficient, and probably last longer.