Re-sweating pipe
02-28-11, 02:26 PM
Join Date: Feb 2008
Location: Western Va.
Posts: 28
Received 0 Votes on 0 Posts
Re-sweating pipe
---
I'm installing a hot water system in my house, I've installed a schrader Valve to pressurize the system to check for leaks before adding water. I've got some leaks
is there a trick or technique to resolder without complete dissaembly. I'm now using a hotter (acy) torch, as I started off using a propane torch. It took forever to heat up the 1" (T) enough to take solder. Any suggestions greatly appreciated.
Sponsored Links
02-28-11, 02:36 PM
Join Date: Dec 2010
Location: Galivants Ferry SC USA
Posts: 18,145
Heat it and apply flux to the joint, resolder, repeat. If you over heated it you will need to take it apart and reclean. You should of been fine with the propane. What type of flux are you using? If its the white stuff from the home store that might be your issue.

Mike NJ
02-28-11, 03:48 PM
It's generally not a great idea to pressure test with air... google around and you should be able to learn why. Pressurizing with water does make for a PITA when you do discover a leak though, so I can understand why it was done that way... here's one quote which I quickly found just now:
Water is commonly used because it is almost incompressible (compressible only by weight, not air pressure), so will only expand by a very small amount should the vessel split. If high pressure gas were used, then the gas would expand to perhaps several hundred times its compressed volume in an explosion, with the attendant risk of damage or injury. This is the same risk which the testing is intended to mitigate.
I don't have a lot of luck using the small propane hand held torches on anything bigger than 3/4" pipe. MAPP gas is a little better... but still a challenge to get enough heat in and soldered before you oxidize the pipe and fitting... at that point, you won't be able to get a good joint. The heat from a too small torch just ends up spreading down the pipes and into the fittings. With a proper torch you can get in, get soldered, and get out...
The other big bugaboo is that if there is ANY water present in the pipe, you will find it impossible to get a clean solder joint.
I say take it apart, reclean, and start over... maybe even with a new tee.
03-01-11, 08:31 AM
I agree with all the previous statements. I would like to add that it is easy to overheat the joint, which makes it a pain to ever get the thing to flow right without taking it apart and cleaning carefully. I am a big fan of this flux:
LA-CO: Product Detail - FLUX-RITE 90® Flux - Water Soluble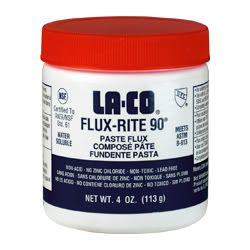 Since everything is dry now, you might as well start fresh and get it right. The last thing you want to do is use the bread ball trick.
03-01-11, 09:34 AM
Join Date: Dec 2010
Location: Galivants Ferry SC USA
Posts: 18,145
I dont know about la-co.
I have been using this since self cleaning flux came out in the 80's I believe. When I was doing new construction we were only cleaning the pipe end and not the fitting. We conducted a test to see if it actually performed as it states. I remember when it first came out it said no cleaning required. WHAT!!! We were doing 10 million dollar homes at the time and spending one to two hours prepping fittings with the old style flux.
My job when I starting plumbing was to get all copper fittings off the truck and clean them. I would lay out in rows of 1/2 3/4 1' etc... I would cut the handle off the cleaning brush and put it in a drill. I would lock the trigger on and away I went...cleaning fittings all day for the techs.
Now this stuff came out!!!! No more fitting cleaning but, as a precaution we still cleaned the pipe. I still do this today. I clean the pipe end only. The kids look at me like I am crazy and I try to tell them you dont need to clean at all. I show then and solder a dirty fitting and pipe end. have not had a leak in 20 + years...LOL. Don't believe me, we all had leaks from time to time. And I had has some good ones.
But if you never soldered, or are not too good at i,t get this type of flux and clean the fittings. You will look like a pro. Remember too much flux is NG. A thin coating. Dont over heat and feed solder into the joint in kind of a push motion. I heat from the bottom and feed it in the joint from the top in one spot.
Like it says cleans and fluxes....
No. 5 Paste Flux :: Oatey.com
Mike NJ
03-01-11, 10:52 AM
Sweat
---
Most people dont realise that the greatest amount of heat is at the tip of the smaller tip, of the flame. the blue tip. This goes for all torch flames. You can prove it by heating a small piece of steel. and hold the flame in all positions, close far etc, and you will discover the hottest spot where the steel gets the reddest.
Sid
Posting Rules
You may not post new threads
You may not post replies
You may not post attachments
You may not edit your posts
---
HTML code is Off
---