Baseboard heating - one zone always on, one zone now off after system flush
10-19-11, 05:22 PM
Join Date: Jun 2011
Location: United States
Posts: 1
Received 0 Votes on 0 Posts
Baseboard heating - one zone always on, one zone now off after system flush
---
I just purchased this house six months ago and it has a baseboard water heating system that is gas-fired. One zone is always on. I can shut it off manually on the return side. I understand that this is most likely a zone valve failure. I had an HVAC guy who was recommended to me look into this as soon as I moved in. He said he'd never seen these valves before and he'd find a replacement. Well, I waited all summer and called him several times and, long story short, even when he showed up in September he had forgotten all about looking into it.
This is the valve: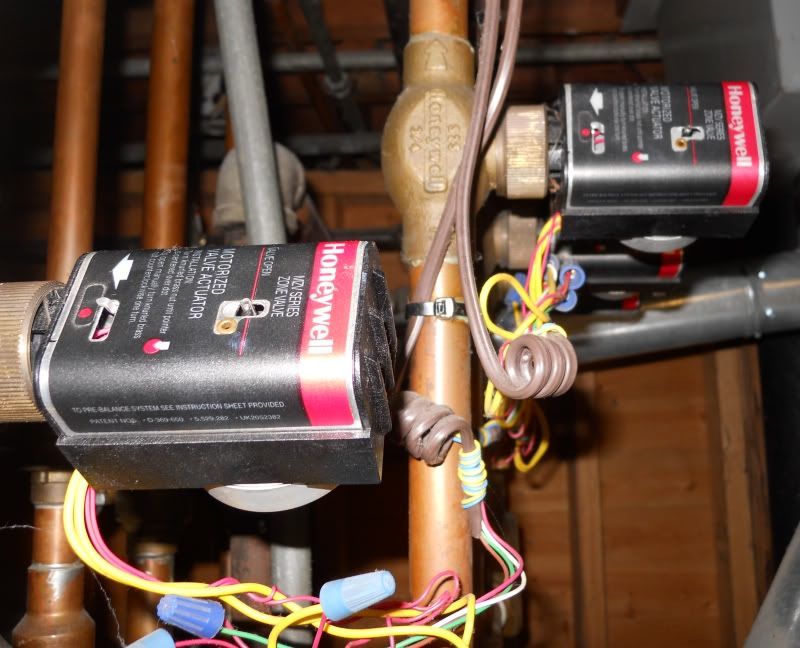 Honeywell MZV series motorized zone actuator. I don't see a model number anywhere, but there are some patent numbers.
Then he said it was just twisted on wrong and the valve should work fine. Of course, a day or two later I realize it's not. It's always on.
The valve says something about twisting the knurled bronze part until the pointer is over the red dot. Most of my valves are not over the red dot. How much can I twist this without them coming off?
I had him repair a leaky baseboard pipe, which required that the system be drained. Then he took forever reflushing the system.
Well, now the main level zone is not even heating up. The upper level zones do heat up. Is this an air pocket? If I follow the pipes from the heater, they're warm until they come to a 90 degree downward bend, then they're room temp from there.
Is a system flush something I can do myself? I asked him about this when he was here, but of course he said he'd rather I call him (and pay him $98 an hour) to do it.
I'm willing to 1. replace the valve and 2. flush the system if you think it's something a mildly handy person could do. What do you think?
Chris
Sponsored Links
10-19-11, 05:46 PM
Join Date: Dec 2010
Location: Galivants Ferry SC USA
Posts: 18,026
Hi,
Here is the manual. There are troublshooting tips here.
Product
I see you are 4 wire so you have an end switch. They make another one without an end switch.
Hope this helps. I would follow a few of the tips, then post back and let us know.
Mike NJ
---
Last edited by NJT; 11-18-11 at

05:50 PM

.
10-19-11, 05:48 PM
Join Date: Jan 2005
Location: Delaware, The First State
Posts: 14,095
I've never seen those valves either but here's a link to the installation guide.
http://customer.honeywell.com/techli...it/62-3100.pdf
I don't like to see systems purged unless absolutely neeeded. Doing so adds lots of fresh water to the system. One of the worst things you can do to a boiler is add a bunch of fresh water.
Posting Rules
You may not post new threads
You may not post replies
You may not post attachments
You may not edit your posts
---
HTML code is Off
---