zone / possible valve issue?
01-19-12, 02:48 AM
Join Date: Jan 2012
Location: USA
Posts: 12
Received 0 Votes on 0 Posts
zone / possible valve issue?
---
A little background: I'm in rural Alaska using a Weil McLain hot water boiler that is powered by heating oil.
I came home today and my house was warmer than usual. I went to the thermostat in the back of the house (zone 2) and noticed that the temp was higher than what the thermostat was reading. The same was true of themostat 1 (zone 1), but to a much lesser extent.
I felt the pipes from zone 1 and zone 2. Zone 2 was hot, zone 1 was relatively normal... warm but not in a "heating state."
Diagnosis procedure:
Thinking it might be a thermostat, I increased and decreased the temp for zone 2 (the constantly heating zone), with no avail - the zone was still heating and the boiler still running. If I increased thermostat 1, it would heat normally.
I then swapped the thermostat (same Honeywell model), and repeated the same test - no change. Zone 2 heated constantly, zone 1 heated only when indicated by the thermostat.
So my next step was to look at the zone valves. Both valves for the zone were set to "Auto." I moved them both back and forth and they move easily. I removed their outer encasement (as pictured) and noticed they were wired similarly.
I again repeated the themostat test. When I engaged the top zone valve for thermostat 2, there was minimal spring movement, while thermostat 1 had a good amount of movement (in the working zone). I read the current on both devices at a touch over 24V.
So my question: Is this a motor issue or ... do I need to replace the zone head ... or do i need to diagnose more?
Update: As I was writing this, I managed to turn zone 2 (hot zone) on and off until the spring moved just enough to shut off. However, I don't know if the zone is completely closed. I continued to play with it... and now I've managed to lock both zones in the open position I believe. I rechecked wiring and thermostat wiring to device and wall... appears normal... Furnace will come on, run for a while and hit 190 or so, shut off for a bit, then fire up again.
Some what of a failure there... and I'd call a plumber if there was an "on call" in this town but there's not. I'm still thinking maybe it's the motor?
This issue is important for me to address because I don't want to run out of oil and freeze the house. I'm just turning the boiler on and off manually at this point while I wait until the morning. Any help would be greatly appreciated.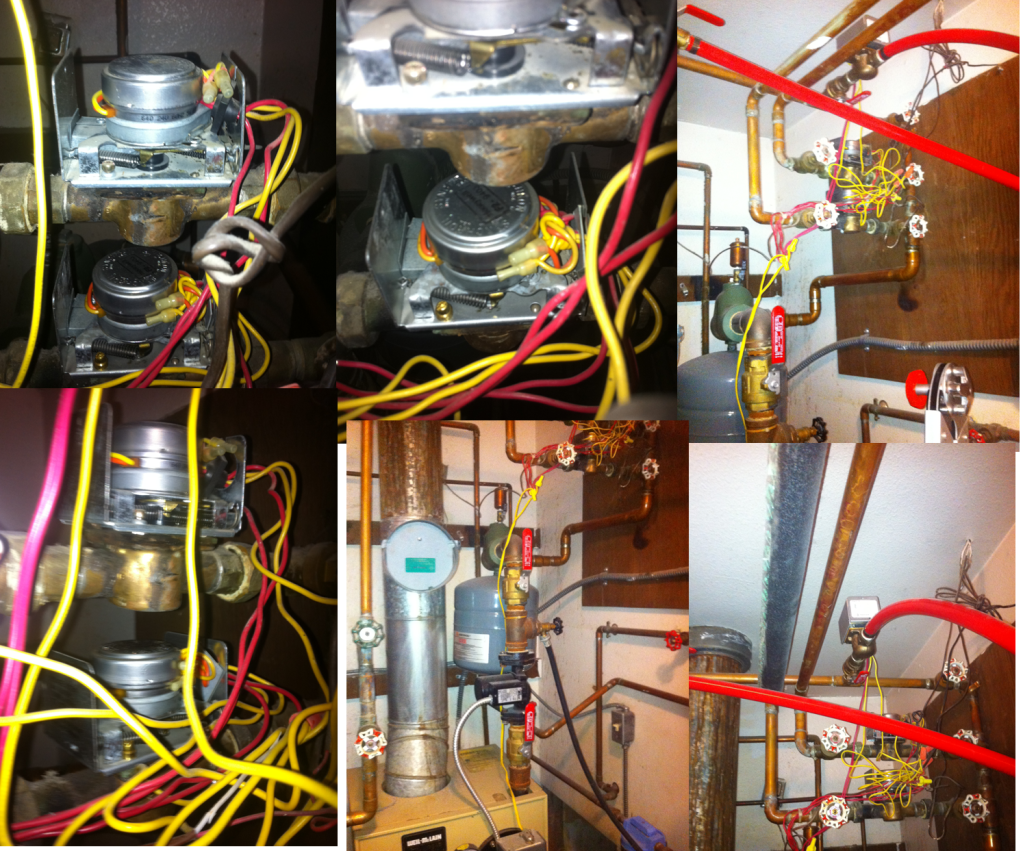 PS: Does the wiring suck on this job? As I've done more learning about houses, it seems like electrical and water don't mix well. Also - should I have my pippes heating to the zones covered in foam (or something) to insulate so I don't waste heat in the utility room?
Sponsored Links
01-19-12, 05:41 AM
Join Date: Sep 2008
Location: Long Island
Posts: 769
Received 0 Votes on 0 Posts
first off throw some tube insulation to get those wires off those pipes 12" each way from the valves tighten that up with wire ties...do you have manual by pass bars on those valve where you can push the zone open? one test is if the stat is pulled off the subbase the zone valve should close and the circ should shut OFF.with stat removed .there should be tension on that manual bar at the zone valve...no tension it has 24V applied to it....calling.operation sequence is stat calls,zone valve moves,end switch closes on it to call in circ pump boiler sees return loop water "cooler"and burner runs to maintain temp within 180F-190F as set.you neeed to see if the zone valve is completly shutting off and breaking that call for the circ pump.the only way the zone is heating over the stat setting is if that circ runs and inturn the boiler as you noted.190F water on those pipes your pushing your luck on a wire insulation melting and losing a transformer from a short....
01-19-12, 06:33 AM
Both valves for the zone were set to "Auto." I moved them both back and forth and they move easily.


With no call for heat ( both t sats off) the lever on the valve should have tension when trying to move from auto to manual.
So my question: Is this a motor issue or ... do I need to replace the zone head ... or do i need to diagnose more?



Sounds like the actuater in the body is sticking. With the zone off try moving the lever back and forth from auto to manual. Make sure the lever dont get caught on the tab that locks it on manual open. If that dont work you can try to remove the head and move the actuater manually to free it up.
To remove the head there should be a locking button under the lever that releases the head.
Verify the part # on the head so we can find you the right doc. Here is an example for your reference.
http://s3.pexsupply.com/manuals/1284..._PROD_FILE.pdf
Mike NJ
01-19-12, 09:52 AM
Join Date: Jan 2012
Location: USA
Posts: 12
Received 0 Votes on 0 Posts
Thanks for your advice. I removed both stats from the base 1 valve will move slightly the other valve does not move.

Is there a way I can see if how the circulating pump would be keeping the valve open?


Thanks for the insulation tip I was thinking the wiring my be shotty.
01-19-12, 09:58 AM
Push on the lever. It is spring loaded and takes some force but not a lot. That is is there is no call for heat. If the zone is open that lever will move back and forth easy with no resistance.

Also as you open and close each zone with the t stat you should hear the motor turning at the zone valve.

Mike NJ.
01-19-12, 11:05 AM
Join Date: Jan 2012
Location: USA
Posts: 12
Received 0 Votes on 0 Posts
Both levels essentially lose. One zone i hear movement (and the spring moves a tiny bit), the other nothing and no movement.

Going to try and release the head now
01-19-12, 01:04 PM
Join Date: Feb 2011
Location: US
Posts: 552
Received 0 Votes on 0 Posts
Hello Dane,
If you are still having trouble wiith the zone and the boiler won't stop running, read on.

You can dissconnect the end switch from the stuck valve.
I think it is the yellow wires, but you can check which set goes to the switch vs the motor.
This will prevent the boiler from firing and running the circulator.
Some gravity flow will probably run thru the zone. Not a bad thing, if there is a freeze danger.
When the other zone calls for heat, the pump will run, the boiler will heat up and both zones will heat.
Might buy you some time until you can get the valve working correctly.

Also might be a good idea to call for an oil fill, if the tank is low.

It seems like every picture i see of a boiler with Honeywell style zone vales, the wiring is a total cluster F*#$%. Don't feel bad.
When you get some free time, you can easily re-organize the wiring mess to the zone valves.

Is you chimney leaking water when it rains or snows?



Peter
01-19-12, 08:01 PM
Join Date: Jan 2012
Location: USA
Posts: 12
Received 0 Votes on 0 Posts
I was reading in another thread on this forum that said if you're zone is stuck open, and you remove the motor, if the spring snaps into the "off" position, that means the motor is faulty. I took the motor off, replaced it, now the auto->on is firm. So that confirms a motor problem?

I should also mention, I took the motors out and watched them with thermostat activation - they are both spinning. When I activate the T-stat the motors spin, when I Turn it off the stop. Is that how it should work?
---
Last edited by dane4695; 01-19-12 at

08:23 PM

.
01-21-12, 10:31 PM
Join Date: Jan 2012
Location: USA
Posts: 12
Received 0 Votes on 0 Posts
Still waiting on my power head, however after I've taken out the motors and replaced them, the system appears to be working normally. I'm looking for a bit of an opinion out there:

Should I, as a precaution, replace the motor and or the power head anyway or just wait until it gives me a problem?
01-21-12, 10:39 PM
I would say the body had some corrosion. Moving it unjammed it. The motors are only so strong.

I often fo to homes where the zone valve dont work. All I have to do is move that lever a few tims to dislodge it and it starts working.

Mike NJ
Posting Rules
You may not post new threads
You may not post replies
You may not post attachments
You may not edit your posts
---
HTML code is Off
---