How to clean Boilermate WH-7 heat exhanger??
03-16-13, 06:44 PM
How to clean Boilermate WH-7 heat exhanger??
---
I have a 41 gallon Amtrol Boilermate WH-7, approx. 12 years old. I've had the house for 6 months and I'm fairly confident it was not cleaned in the 12 years prior. By all accounts (and based on the hardness of my water), I need to clean scale off the heat exchanger by using 'ice machine cleaner' and draining the results out the bottom (to put it simply).

However, my boilermate does not appear to have any mechanism for me to get cleaner into the system OR drain anything out the bottom. The whole thing seems completely sealed up, save the pipes for the hot/cold water at the base and the relief valve at the top. Aside from that, it appears to be welded shut.

Any advice on how to go about cleaning the unit?
Sponsored Links
03-17-13, 02:31 AM
When I installed mine I put a boiler drain/hose spigot in a T on the hot water out with ball valve after it and there was also the one at cold water in. Easy to shut off and drain/let air in/ bleed or flush afterward.

If you don't have that than it will be pretty hard. You could always install that even with shark bite fittings to make it pretty easy.

If you can shut off hot water out and cold in you can use the PRV but not recommended. CLR is also an option to clean. pour it in through one of those and let sit (but vent to outside with hose). once ot stops bubbling flush thoroughly.
03-17-13, 07:41 AM
Doesn't the heat exchanger bolt in to a flange on the bottom? Stick an inspection mirror under there and see... but unless they installed with pipe unions, you will have to do some cutting of pipes to get at it.
This is what you should see on the bottom:
image courtesy pexsupply.com
2700-5000 - Amtrol 2700-5000 - Heat Exchanger Replacement Kit for WH-9, 7; L, P, Z & WH-41 Models
Cleaning instructions on page 29:
http://s3.pexsupply.com/manuals/1283..._PROD_FILE.pdf
03-17-13, 09:36 PM
I had the same boilermate which was toasted near the PRV and took the heat exchanger out. This is the bottom view of the boiler mate and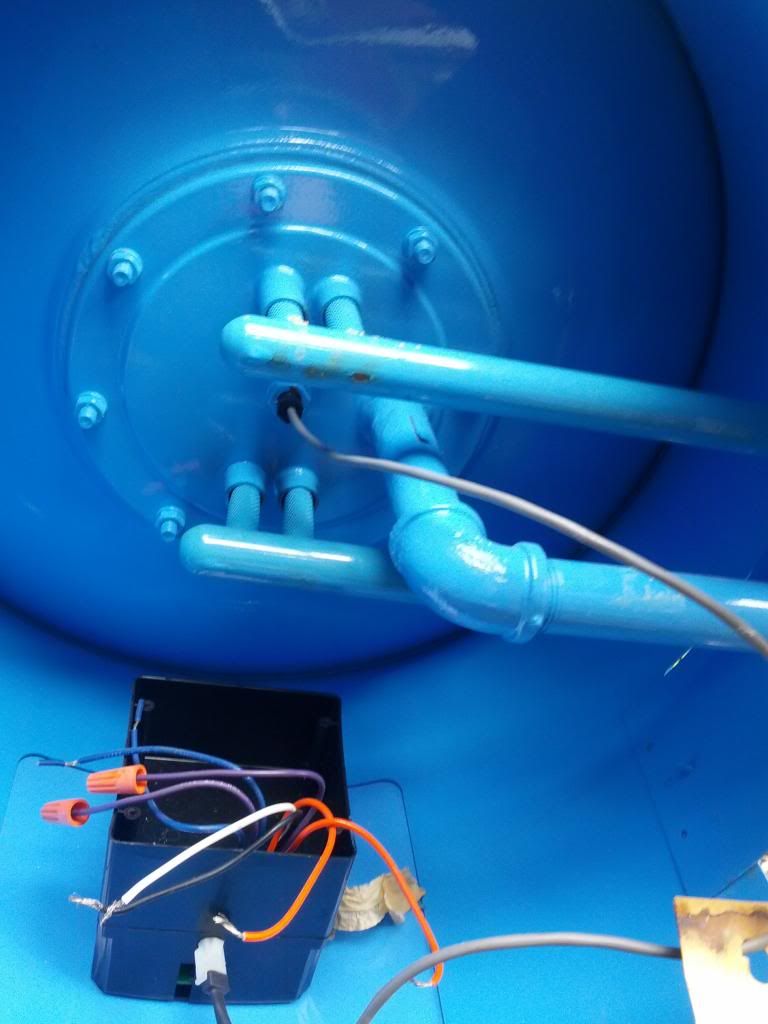 these are the heat exchanger photos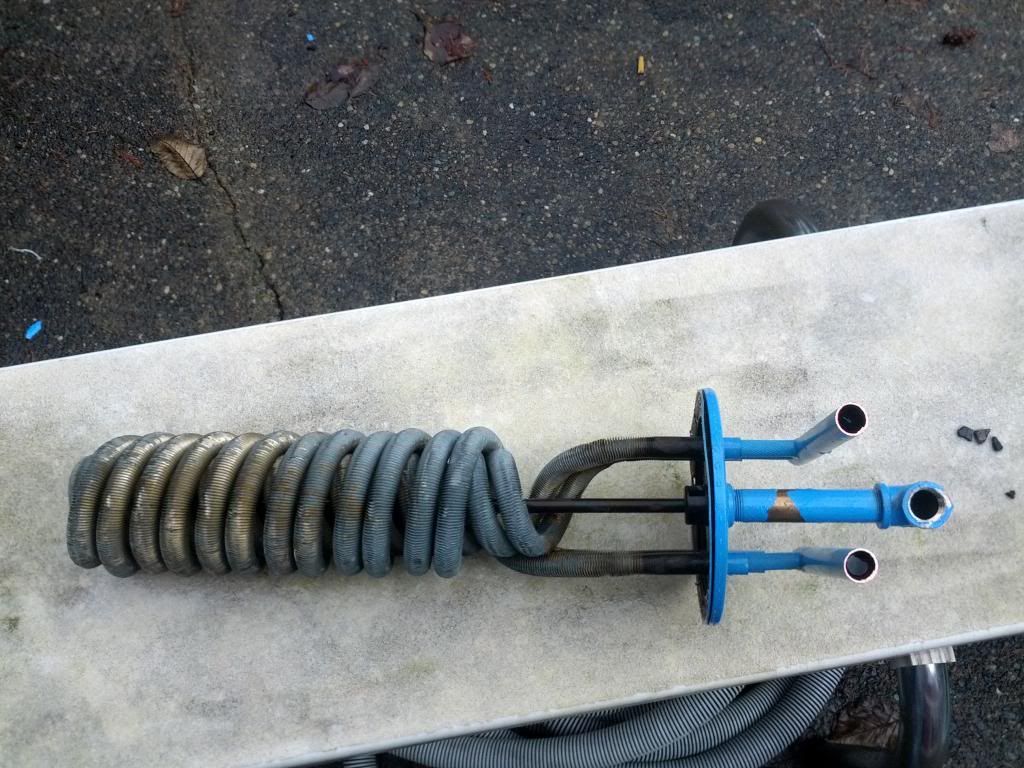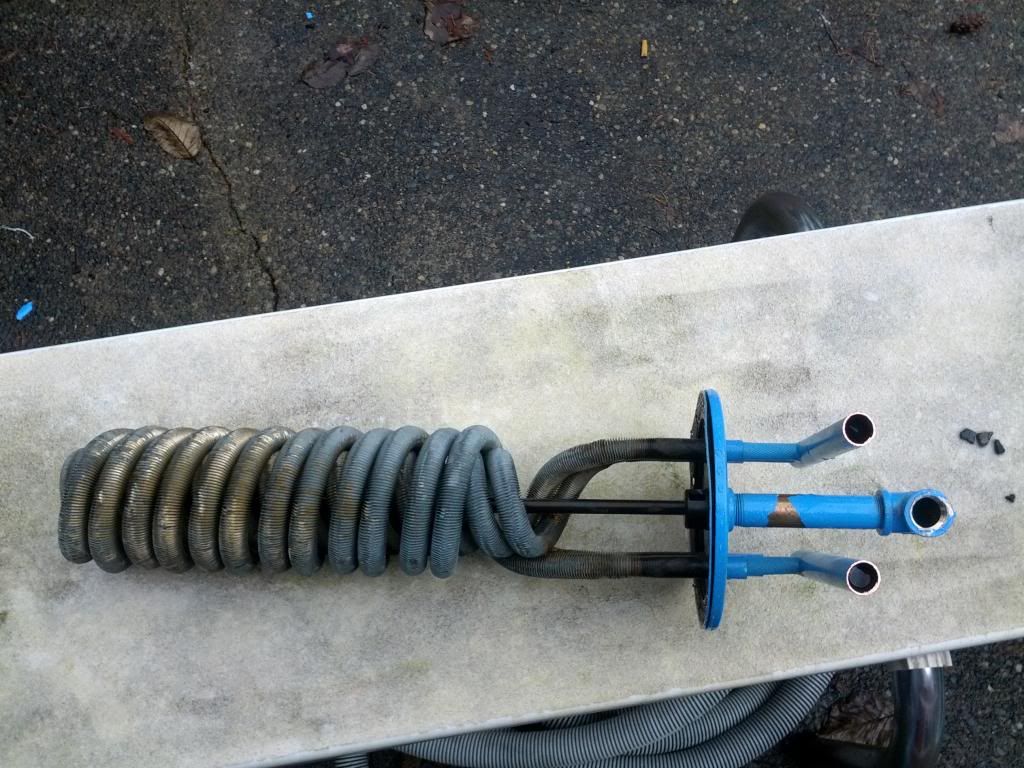 You cant believe how much debris I cleaned between the heat exchanger plates. If you can take the boilermate out, I think it worth to clean it once in a couple of years by taking the heatexchanger out. I washed it with pressure washer and then put in a bucket of chemicals. I am sawing it as a spare for my new(used) boilermate. Gasket is one time use and I think it was $5 at pexsupply.com. Trooper is right that I needed to cut 2 pipes but not a big deal, you can always solder with 3/4" union.
---
Last edited by NJT; 03-18-13 at

03:23 PM

.
03-17-13, 10:17 PM
Burton123,
What happened for the "toasted" by prv? Outer cover was getting hot? Cracked liner?

I had had that on mine which was when I found out about needing the potable water expansion tank installed on the cold supply. If you don't have that yet, do it or you will be replacing it again in a couple years. Been there done that.

$600 for heat exchanger and $900 for whole new unit?

Amtrol covered new boiler mate on mine due to cracked liner. Of course no labor coverage but I don't charge myself much anyway.
03-17-13, 10:51 PM
Outer cover started getting hot (I mean really hot...), finally it gave up where the PRV meets the shell and it became a hot water fountain
. It does have expansion tank on the supply line but it was a bad installation. I had a thread that NJ Trooper locked due to a safety issue (I found the issue and I totally agree that it was a security issue and luckily no one is injured for the last 10 years, installation was 2002), the zone valve was stuck in open when the boiler is on and the supply temp was 190F and my domestic hot water was always around 180F (for ~ 10 years). I think that was the root cause of the failure. This house is still a subject for a lawsuit so I didn't want to put labor or money to it. I just by passed the zone valve and reduced the supply temp to 152F to not to damage the new tank. I only live in one room of 3750sqft house where it there was a 5 feet baseboard radiator and replaced it with a ~6000BTU panel radiator so it is good enough the heat the room. As soon as the lawsuit ends, I will redo the entire boiler room from scratch. Right now I am using a 320K BTU in 260K BTU out Teledyne laars boiler to heat a 13X15 room
The installation details
http://www.doityourself.com/forum/bo...43f-valve.html
03-18-13, 03:37 PM
[ATTACH=CONFIG]10403[/ATTACH]
This is how dirty mine was. It was a rusty silt that washed off pretty easy. I used CLR. Before cleaning it would take 40 minutes to heat the water, after less than 10. Do yourself a favor and put unions in the pipes for easier removal later. If you want to try , you can remove the pressure relief safety valve at the top and pour it in through there. I actually got 4 feet of 1/4 copper tubing and capped the end and drilled small holes in it at the bottom. I then fitted with a hose connection and now I can go in through the top after removing the relief valve and spray the silt off the element and the spray is pressurized. Works good and I can see the silt coming out. I do it 2x a year. It is a fairly straight forward job if you can sweat pipe. The gasket is rubber and if you want to get a new one count the number bolts holding the cover on as there are 2 versions. I could not get the black pipe out of the element and for fear of buckling the bottom just left it on and cut the small strip below them to get the element out.


Clint
03-18-13, 04:32 PM
This is great info - thanks everyone. It's amazing that the cost to install a new exchanger is nearly that of a new unit altogether.

If I do the cleaning, I'll definitely put in unions as part of the job.
03-18-13, 05:27 PM
NJ Trooper: Quick question - I see the kit includes galvanized steel pipe sections, and I just noticed that my current setup uses the same pipe. Can that cause a corrosion problem in the system? I keep reading that having sections of galvanized steel with copper pipes can cause issues... ?
03-18-13, 07:28 PM
Not galvanized... BLACK PIPE ... it's commonly called 'black iron', but it's not iron, it's steel.

I really don't know where all the talk of corrosion comes from. Old timers will tell you to transition from steel to bronze to copper ... but I've seen lots of copper into black iron that shows no sign of corrosion at all. The black pipe and fittings you see are not on the potable water side, those are on the boiler water side. If there were a corrosion problem, I don't think Amtrol would use them... the potable water side uses the brass pieces in the pic.
Posting Rules
You may not post new threads
You may not post replies
You may not post attachments
You may not edit your posts
---
HTML code is Off
---