Adding an Aqua Plus to Weil Mclain Ultra 155
12-18-13, 06:18 PM
Join Date: Dec 2013
Location: United States
Posts: 7
Received 0 Votes on 0 Posts
Adding an Aqua Plus to Weil Mclain Ultra 155
---
Hi, I've been browsing and searching a bit on the site. There seems to be a lot of smart folks here, so I'd appreciate some advice before I embark on my Christmas holiday project: adding an Aqua Plus indirect DWH to my existing Ultra 155.
I installed the boiler a couple of years ago, and as you can see from the unused valves just above the unit, always planned to install the water heater. Now as I'm finally getting around to it, I have a few (probably very) basic questions that I hope someone can help with:
1. Will a Aqua Plus 45 work with my system? I have a 40G direct fire now and it has been sufficient for all but the rarest occasions. I've seen this configuration elsewhere, but looking at the minimum btu/h in the Aqua Plus manual, I'm confused whether the 155 is sufficient.
2. I see there is a recommended clearance between the wall and heater of 12" --I'd rather not come that far out if it's really just a recommendation. Any concerns of getting closer, provided the piping is accessible?
I have a few more minor questions, but those are the biggies as I plan this out.
Thanks! Matt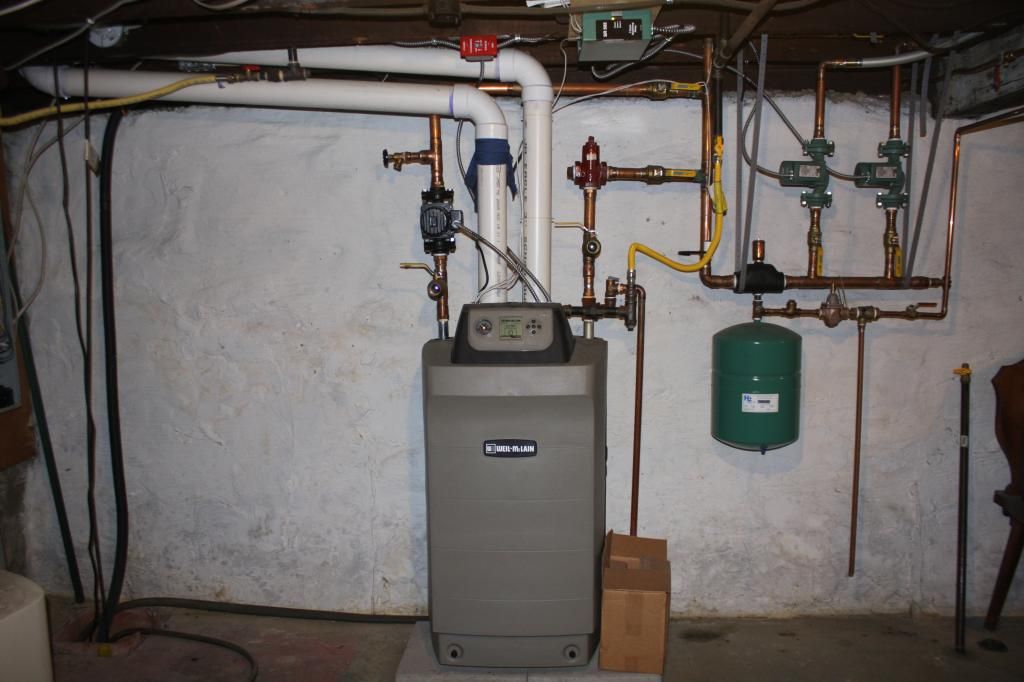 Sponsored Links
12-18-13, 06:54 PM
A 40 gallon indirect tank should be adequate. It is recommended that you install a
mixing valve
which will allow you to maintain a higher temperature in the tank and will also extend the capacity of the tank.
You should be made aware that there have been some issues with Aqua Plus thermostats:
http://www.doityourself.com/forum/bo...direct-wh.html
12-18-13, 06:57 PM
Join Date: Dec 2013
Location: United States
Posts: 7
Received 0 Votes on 0 Posts
Thanks for the heads-up Rockledge, would you recommend a different brand? I'm not committed to WM.
12-18-13, 07:03 PM
Not a fan of the mclains...
IMO check out the Supor Stor.... The contender I consider throw aways... They can be had for about $700 bucks.. It should last 7-10 yrs.. Youll be ahead of the game in the long run IMO...
Check the specs and heat transfer....
SuperStor Contender Indirect Water Heater - Literature - HTP
12-18-13, 07:14 PM
I can only recommend what I know, and installed for myself, which is a Triangle Tube Smart 40 (w/mixing valve).

I think Triangle Tube makes, or used to make, the indirect tanks for WM. But the thing is, the thermostat assembly on the TT Smart series tank is totally different from the problematic one found on the WM Aqua Plus series (on the Smart 40 there is an 'immersion well' that the t-stat probe drops down into from the top of the tank).
12-19-13, 09:28 AM
Join Date: Dec 2013
Location: United States
Posts: 7
Received 0 Votes on 0 Posts
Thanks for the suggestion! Based on the WM manual and what I've read on the 35 contender, it looks like I'd be good with a Taco 0014 -- I'm calculating 13.9 head.

1 other basic question, should i reduce from 1 1/4" to the 3/4" the DHW accepts right at the heater or earlier in the piping (e.g. 1-2' before the connections)?
12-19-13, 09:45 AM
How did you cipher the 13.9' of head? Sounds high to me... but haven't looked at the specs, just a gut feeling... and the 0014 sounds like more of a pump than you need. I would think you could easily pump the indirect with a 007 ...

1-1/4 to the WH is probably overkill as well... I'm pretty sure you could get by just fine with 1" and yes, reduce right at the WH if necessary.
12-19-13, 12:25 PM
Join Date: Dec 2013
Location: United States
Posts: 7
Received 0 Votes on 0 Posts
Thanks for double checking, I just used the WM manual and the H = H1 + H2 + H3 equation. In manual, for a 9GPM flow rate, it has H1 = 6.2 and H2 = 2.1. The SuperStor lists 5.6 for H3. Is there a more accurate way to do that?

I also then used the pump curves in the manual and there was a big no man's land between the 12 and 14. According to the manual the 7 can can only handle 8ft head at 8GPM. On Taco's website, they recommend the 009, but again at the head i calculated above.

If I'm doing that wrong, I'd really appreciate being steered to a better calculation!

Thanks again, Matt
12-19-13, 04:48 PM
Matt, can you post a link to the manuals you are looking at? I did find some similar info but want to look at the same thing you are looking at.

What I did see said that for your boiler you seemed to be right on with the 1-1/4 pipe and the 0014 pump...

It just seems like a lot to me... but that doesn't mean it's wrong! I mean, I'm heating my whole house with 1" ... I just can't see how one would need more than that for an indirect!
12-19-13, 05:14 PM
12-19-13, 05:17 PM
12-19-13, 05:27 PM
Join Date: Dec 2013
Location: United States
Posts: 7
Received 0 Votes on 0 Posts
Yep, that's them --thanks lawrosa.
12-19-13, 06:27 PM
Join Date: Nov 2010
Location: USA
Posts: 123
Received 0 Votes on 0 Posts
Everyone always talks about an indirect tank. Any reason why a reverse indirect tank is not being considered? Cost maybe?
Posting Rules
You may not post new threads
You may not post replies
You may not post attachments
You may not edit your posts
---
HTML code is Off
---