Crown oil boiler fires up and then shuts right back down before water setpoint
02-13-14, 02:20 PM
Join Date: Feb 2014
Location: USA
Posts: 4
Received 0 Votes on 0 Posts
Crown oil boiler fires up and then shuts right back down before water setpoint
---
Hi,
Im having an issue:
I have a crown boiler and it will fire up, only to shut back down without reaching the water setpoint
It will do this a couple times, with a minute or so in between. Eventually it will reach the hot water setpoint, but this problem is becoming more and more frequent and I suspect that soon I will have a 'no heat' situation.
I do not have to push a 'reset' button to get it to come back on. It automatically will 'try again'
Oh, and something else oddball. I have 3 thermostats.
They are all 2 wire and 2 of them (honeywell ct500 - no batteries) occasionally 'blank out' on me. If I push buttons they 'wake up' after about 10 seconds. It is not clear to me if this is related to the 'flame-outs' I am experiencing. Ive attempted to check this, but its inconclusive (its hard for me to run up the stairs fast enough to look at the t-stats to see if they were blank at the time of a flame-out).
The other t-stat is a different model honeywell and it has AA batteries. It never blanks out on me.
Here are some facts about my system:
-3 zones
-3 non-programmable thermostats. 2 are honeywell CT500's (no battery, 2 wires), and the other is a
-brand new buried 1000 gallon heating oil storage tank right next to the house (checked and minimal water is in there. Pickup is 4" off the floor of the tank anyhow - well above any water)
Here are some pictures: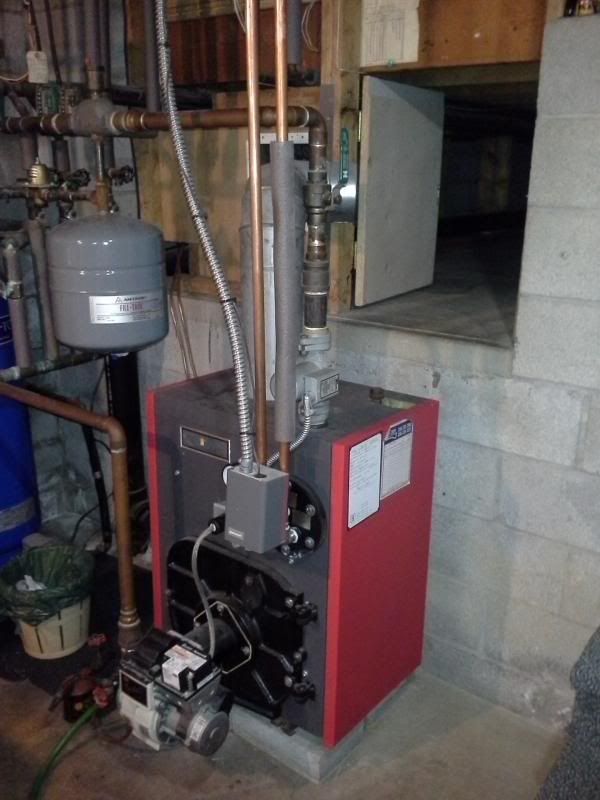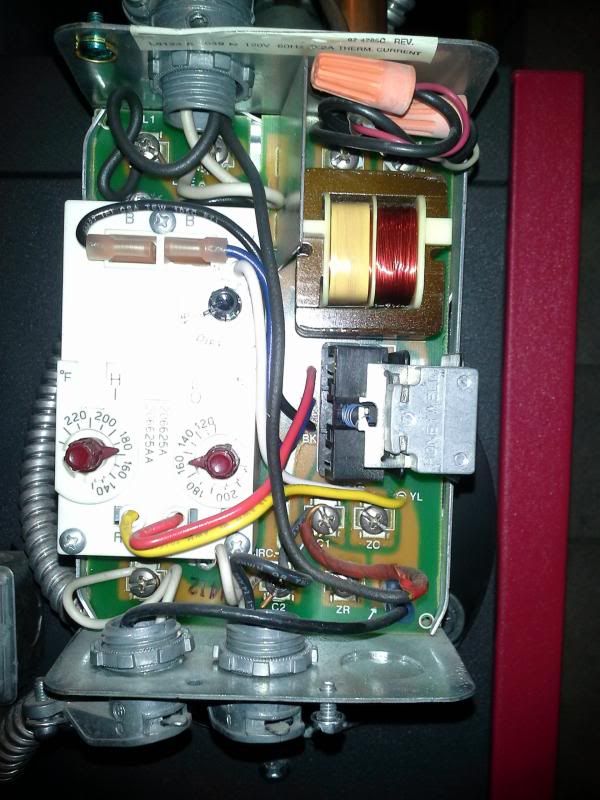 Any help is appreciated!
Sponsored Links
02-14-14, 09:10 AM
Join Date: Apr 2011
Location: nj
Posts: 576
Received 0 Votes on 0 Posts
How fast does it shutdown after it starts up? Could be the cad lens thats needs to be cleaned, but that would trip the relay after a few tries.
02-14-14, 01:17 PM
By 'trip the relay' RD means that you would have to reset the control on the oil burner...

I would add a bit more 'spread' between the HIGH and LOW settings on that aquastat. They should never be set close than 20 apart and it looks like they are darn close to that.

This should not affect the burner operation directly, but it MAY affect the circulator operation... which MAY indirectly affect the burner operation.

Why is the LOW set up at 160F ? ( and what is the DIFF setting at ? Can't see from flash flare )

Did you need the LOW up at 160 to get enough domestic hot water to the home?

Is there a TEMPERING VALVE on the hot water to the home that we can't see in the photos? The potential for serious scalding burns with 160F hot water is VERY real!

Try turning the LOW to 150 and set the DIFF at 20, put the HIGH at 180 and see what happens.

Have you observed the TEMPERATURE gauge on the boiler at all when this is occurring? If not, you should... and let us know what you see. (tell us the PRESSURE too while you are there)
02-14-14, 01:20 PM
Join Date: Apr 2011
Location: nj
Posts: 576
Received 0 Votes on 0 Posts
Looks like 160 low 175 high
02-14-14, 01:35 PM
Does it do it on any particular zone. It looks as though you have Taco zone valves.
Some t-stats aren't compatable with Taco. It's possible your zone valves could be acting erradic with the t-stats.
02-14-14, 05:21 PM
Amazing in 2014 the trades still do mnot where the circulator belongs. It was suggested to be moved after the expansion tank 54 years ago. Let's not rush it.
It is a posibility the cycle rate or anticipator setting is incorrect causing short cycling. Try turning the thermostat all the way up and see if the cycle changes. You only need it up there for about 15- 20 minutes.
Also as Trooper stated get 20f or more between the high and low limit. Turn the differential all the way up.
Posting Rules
You may not post new threads
You may not post replies
You may not post attachments
You may not edit your posts
---
HTML code is Off
---