Help needed: Trim/cut/shorten Slant/Fin Fine/Line 30 heating element for install
05-07-14, 04:06 PM
Help needed: Trim/cut/shorten Slant/Fin Fine/Line 30 heating element for install
---
I am finishing off my bathroom renovation all I have left to do is replace the baseboard heating with a couple slant/fin fine/line 30's that I have ready to go(almost).
The heating elements are both a little too long, approx 4&4.5 inches respectively.
I have already searched for a process to trim/shorten them for installation but have not had any luck yet.
I am hoping that someone can point me to the process or DIY needed to complete this myself. Once they are the correct size I am good to go from there but I do not want to damage the units.
cheers:No Beer 4U:
05-07-14, 04:43 PM
Very basically, with a pair of pliers, you pull off enough of the fins so you can get a tubing cutter on the copper and simply cut the tubing to length.

You know you need to put the cabinets on the wall first, right? Those are cut to fit with tin snips.

WEAR HEAVY GLOVES!

And that the plastic 'saddles' ride on the brackets that are in the cabinets? In other words, on the bottom of the elements.

And don't be offended, because there's been pros make the mistake of installing the elements 90° rotated... you want the OPEN parts of the fins up and down, the 'folded' parts of the fins go front and back. I know in the pic they are just laying there, but neither of those are in the correct orientation, for reference purposes...

When you install the elements, make sure to account for expansion... hopefully the holes in the flooring are slightly oversized to allow the risers to move back and forth.

And of course, you know that you're going to have to drain the system enough to work without water spilling out all over the new flooring...
05-07-14, 06:02 PM
Thank you for your attention to detail
This was a winter project but I was waiting until the warmer weather to compete
I just laid the elements down in that manner to illustrate my predicament concerning the length difference between the old units and the new ones. The long one is upside down and the short one is on its side in that picture.
The holes are large enough in the floor for the expansion. There is wiggle-room in both directions that you can feel in the vertical pipes.
So...with my heavy gloves and pliers I should just be able to pull off 4 inches or so of fins and then trim the elements pipe to size. I will post a pic or two of that process for the record along with the completed project when finished after I get to it next week.
Thanks again:No Beer 4U:
05-15-14, 09:34 PM
For the thread I will post a link to a video that I found of someone removing fins in two different methods. he pulls them off on the first pipe then he cuts them with heavy-duty scissors on the second pipe about a minute later.
https://www.youtube.com/watch?featur...Xz8rlTlw#t=140
I'll follow up w/ pics of my work when completed.
05-16-14, 02:35 PM
He should have done a few things differently...

1. Cleaned the 'burrs' and reamed the inside of the pipes and he would not have had to use pliers to move that slip coupling into place. This should be standard practice on ANY pluming work.

2. IMHO, the piece he cut was too long. It should have been a tad shorter and the baseboards should have been pulled in to take up the slack so that they have room to expand when hot.

3. I have no idea what he is using that fitting with the cap on it for... if he's using it as an 'air bleed', it should be installed pointing UP. A better choice would be a tee with a 1/8" threaded side port so that a small 'coin type' bleeder could be installed.

In relation to the questions in your other thread...

Note that there is a SHUT OFF below each of the drains. Those are known as PURGE STATIONS.

We can talk about this more in the other thread.
05-24-14, 11:04 PM
Here are some pics of my finished DIY. No more having to look at those nasty things messing up my nicely self-renovated full-bathroom.
I realized that after I cut off the cup end of the copper pipe in the element the fins pretty much slid off after pinching two or three at a time. The fins are almost razor sharp so good gloves should always be used when working with them.
I used a 3/4 close-quarters tube cutter from HF to remove the old elements while leaving a couple inch nub. I heated that puppy up to desolder it pull it apart, clean and then size/install the new elements.
I cut the steel baseboard and cover pieces with Weiss aviation snips and and smoothed them out with a small Dremel clone and fine sanding block.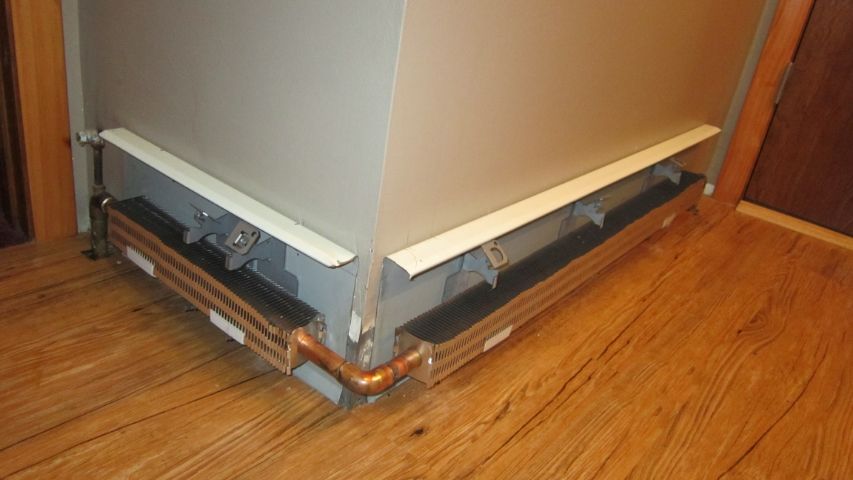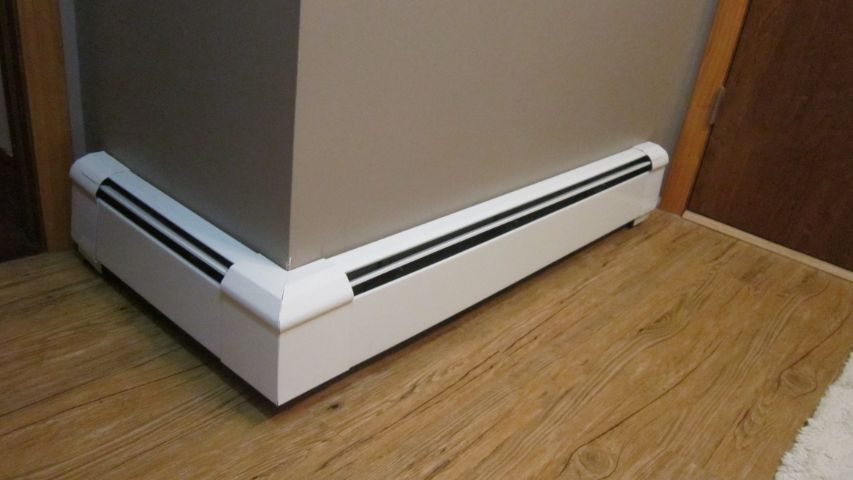 [NOTE: In the middle picture the brackets and saddles were not all properly situated yet]
off to the next project
---
Last edited by SnowDay; 05-24-14 at

11:38 PM

.