Ugly Taco 571 with slight drip
05-24-14, 11:23 PM
Ugly Taco 571 with slight drip
---
I'm going to replace this whole valve with a new one this week by myself. I just was wondering what the diagnosis for its current condition is. It functions just fine but tends to gather a slow drip in the off season.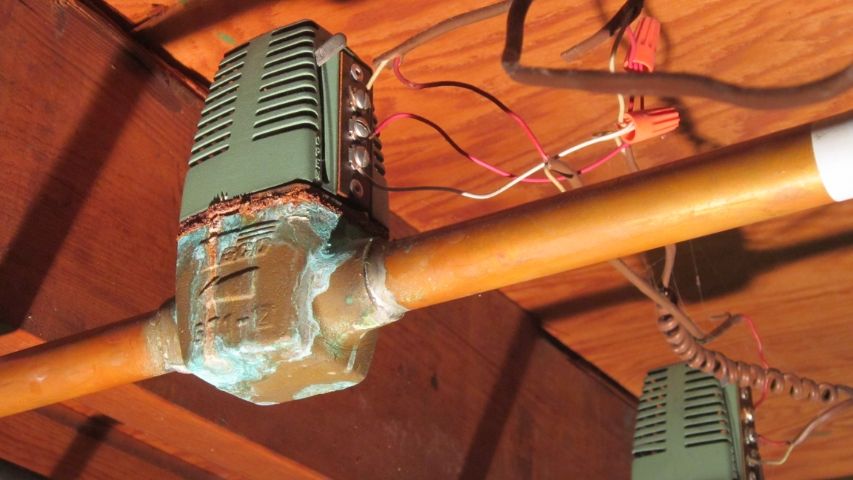 cheers
05-25-14, 07:29 AM
You can of course replace the whole thing,
571-2 - Taco 571-2 - 3/4" 571 Sweat Zone Valve
but you do have the option of just replacing the 'guts' of the valve if the actual body is still in good shape... it 'should' be OK, it's bronze, shouldn't be corroded beyond use.
Repair kit:
571-004RP - Taco 571-004RP - Valve & Seat Assembly for Taco 570 Zone Valves
http://s3.supplyhouse.com/manuals/13..._PROD_FILE.pdf
The repair kit is dang near the price of an entire valve, so might as well buy the whole valve and have a spare powerhead (your old one sounds like it's still good).
If you do choose to replace the whole body, I would recommend removing the guts so as not to damage the O-rings and seals with excess heat.
I think if it were me, I would 'autopsy' the old valve first, remove the guts and see where/why it's leaking. Examine the body to see if OK, and if it is, remove the guts from the new valve and install in the old body.