"Y" or "T" to join gas flues?
07-17-14, 06:24 AM
"Y" or "T" to join gas flues?
---
I've received an estimate to add a hot water heater 3" flue to my boiler's 5" flue chimney connection. They plan to replace the rusty 7" thimble with a stainless 7" thimble into the chimney clay liner. Ahead of that will be a 7x5x3 Tee joining the HWH and boiler. My question is their choice of using a Tee instead of a Wye. Maybe it's because it takes up less space, or is cheaper, or ?--but is that allowed?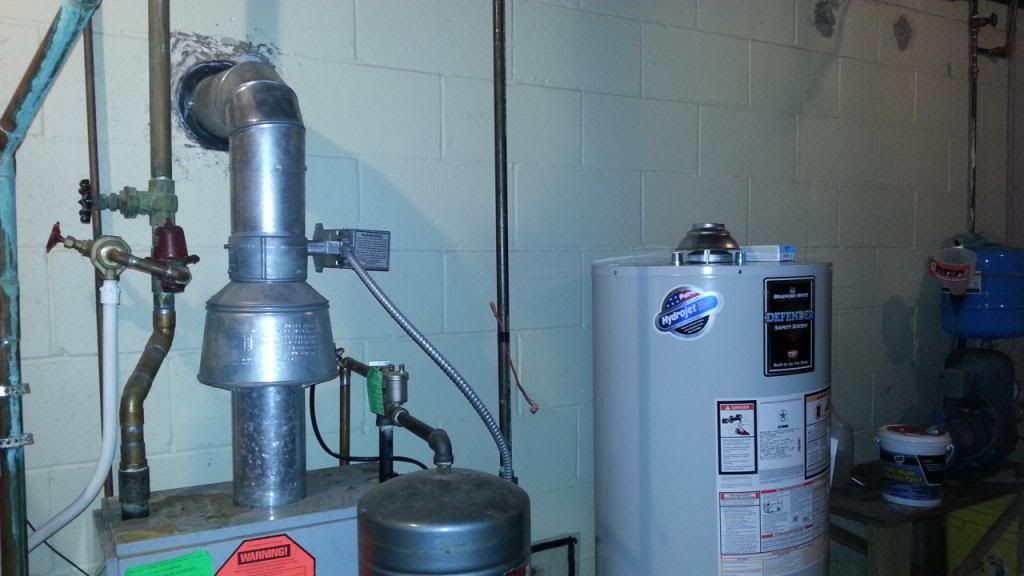 07-17-14, 03:36 PM
Join Date: Dec 2010
Location: Galivants Ferry SC USA
Posts: 18,159
Has to be a Y and the flue for the HWH needs to be 4" not 3".. Thats the code as I know it... If it was a stand alone HWH then it can be 3"..

The y needs to be rolled down too on the Y side...I believe to at least below center of horizontal.
07-17-14, 09:53 PM
Remember, all codes are local. Model codes have no power of enforcement until they are enacted into law by a local, regional or state legislative body. That legislative body may add to or delete from the local code.

Where Lawrosa lives and works the code may be significantly stricter than where you live, the only way to know is to research your LOCAL code or to ask the local inspector.

All that stated, I have seen tees used to allow two appliances into the same flue, whether they were code-approved or merely butched in without benefit of permit or inspection I do not know. Many things enter into whether or not a specific installation may meet code requirements and two of them are the internal dimensions of the chimney and how high it is above the inlet. Also pertinent is the type of burner on each appliance. It appears from the big draft diverter on the boiler that both the boiler and the water heater have simple atmospheric burners rather than one having a power burner.
07-17-14, 09:58 PM
Join Date: Dec 2010
Location: Galivants Ferry SC USA
Posts: 18,159
07-18-14, 08:03 AM
Mike I think we're on the same page feeling some codes don't make much sense--like requiring a 4" flue when the heater internals are under 3" and the collar is sized for a 3" pipe.
I don't know whether they chose a tee for space reasons but if it's not safe I can insist they make whatever changes necessary to use a wye. I'd like to be able to trust the pros but I don't know how much experience they have with boilers & water heaters--they're chimney and woodstove experts.