New manifold layout suggestions/comments
10-06-14, 08:18 AM
Join Date: Oct 2014
Posts: 4
Received 0 Votes on 0 Posts
New manifold layout suggestions/comments
---
I am laying out a new manifold wall for hydronic circuits which were run on the first floor. Manifold 1 will be the sun room, manifold 2 the den, and manifold 3 the foyer/front hallway. The kitchen and laundry will be added to these zones at a future time. I am asking those of you who are hydronic specialists, if you see anything which is wrong or could be improved. I intend to lay this all out and have a plumber come solder and complete the job, to include tying in the pumps, t-stats, controller and whatever else. This is in an effort to cut labor costs and make the job affordable to me. Your questions and comments are welcome!!
The boiler is a peerless pinnacle PI-80 with a 60 gallon holding tank for hot water. That is it's only current function. The main boiler line was run in 1 1/4 which I reduced at the manifold wall to 3/4. The radiant is above the floor Rehau Raupanel and rehau pex w O2 barrier. The family room has slab rubber padding and 1/2 inch pile carpet and the sun room will have the same. The foyer/hallway is a vinyl floating floor.
Thanks!
Sponsored Links
10-07-14, 03:19 PM
Hi Diana,
I don't completely understand what you're saying.
I think you mean that you are going to have 3 individual manifolds like the 1 shown in the picture, each with a mixing valve and pump, each feeding one of the groups of pex shown in the 'big picture', is that correct?
And that these will be 'zoned' for each of the areas... yes?
The main boiler line was run in 1 1/4 which I reduced at the manifold wall to 3/4
At first I was going to say no... because I thought you were going to feed ALL the zones with a 3/4" pipe... that would be too much flow in a single 3/4" pipe setup.
You should be fine with feeding 2 loops of 1/2" PEX with a 3/4" pipe. You could probably even do 3 loops of PEX from 3/4".
How are you connecting the zones to the main line? Closely spaced tees?
You are piping the boiler as a 'primary/secondary' setup, correct?
You realize that your plumber is going to want to disassemble all that, re-clean and flux the pipes before soldering, right?
Nice layout by the way!
10-07-14, 03:24 PM
I do see something that isn't exactly kosher... if you are doing closely spaced tees off the main line.
Up at the top left of the 'big picture', it appears as if the main line is coming toward the wall, into an elbow to turn right, and then immediately into the first tee.
Ideally, there should be a minimum of 8 pipe diameters ahead of the first tee.
SEE:
http://comfort-calc.net/primary-seco..._tutorial.html
note diagram 6 has the critical dimensions. Lots of other good info at that site.
10-07-14, 03:36 PM
When it comes time to fill and purge the system of air, you will probably appreciate the valve shown in the pic here:
CLICK -->
Why closely spaced tees?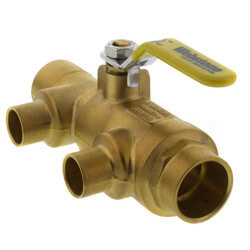 58653 - Webstone 58653 - 1-1/4" x 3/4" Pro-Pal Full Port Brass Ball Valve w/ Reversible Handle, Primary/Secondary Loop Purge Tee
You might curse a lot if you don't consider how you will fill and purge
BEFORE
anyone melts any solder.
Webstone has a lot of neat valve configurations for all kinds of purposes...
Webstone | Webstone Flange | Webstone Valves | Webstone Isolator - SupplyHouse.com
10-08-14, 11:30 AM
Join Date: Oct 2014
Posts: 4
Received 0 Votes on 0 Posts
more details...
---
Thank you NJ Trooper!
My situation is a little strange so forgive the long winded response. The long and short of it is that my ex installed this boiler himself after having a brain injury. There are things not laid out right with the boiler, and I am trying to get info to correct what I can. Attempts to hire in someone to help, have resulted in offers to remove the whole system at a huge cost, which I do not believe is necessary.
So...I have attached more pics of the boiler to give you an idea of what I have. The primary loop includes an indirect hot water heater and an expansion tank. It wraps around the front and top of the boiler, and then goes back through the joists to another room (where the manifold wall is) and back again to the boiler. I will attach a schematic I have been using (from John Siegenthaler's book), which fairly represents what I intend the system to look like for now. I am having an issue with my scanner. My secondary loop will only be low temp radiant floors.
I am working with what exists. Some of that may need re-piping. I am hoping to get a plumber who has knowledge of radiant and can come in and evaluate and make the necessary changes. In the meantime I am trying to lay out what I can in an effort to save some money, and to better understand the system. I do understand this person will disassemble what I have, re-clean and flux. I just figured if I did, it wouldn't be as labor intensive.
Regarding that weird turn before the manifold wall...I attached another pic. There is a valve in a rather poor location and a block wall creating a challenge. I am not even sure how I would get up in there to cut the valve out and put a 90 in to give me some distance before the tee. I suppose that would involve breaking the solder at the valve near the boiler, pulling out the pipe and soldering all the connections, and then soldering it back into the valve.
I did use the webstone valves on the pumps and there are filling/purge valves on the manifolds as well. I believe I have the filling/purge part covered. Yes the webstone valves are awesome...and thank you for the tip!
I intend to relocate the expansion tank near the manifold wall. It was piped in incorrectly and is not hanging vertical. It would be a maintenance nightmare to change out as well...and it is undersized for the system. He put in two expansion tanks and the second is not necessary if the first is piped correctly, so I can remove it also.
10-08-14, 06:30 PM
I am not even sure how I would get up in there to cut the valve out and put a 90 in to give me some distance before the tee
Why not move the tee a foot to the right and elbow the 3/4" to the right and up to meet it?
You might even have enough room on the board to simply move the whole assembly to the right a foot.
I believe I have the filling/purge part covered
OK, but I'm gonna hear you if you curse!
10-10-14, 11:02 AM
Join Date: Oct 2014
Posts: 4
Received 0 Votes on 0 Posts
Thank you NJ Trooper! Your response got me thinking out side of the box a bit. I need to remove those 1 1/4 valves and then I will run a straight run along the joist with tee's branching horizontal. I will go over an down to the wall.

The article you recommended had me checking other questionable items on the boiler. If you look at the boiler from the front, you will see the primary loop circulator to the left of the gas line. It mounts vertical, then 90's back and then 90's again to the two mains which head back to the manifold wall. I read that there should be 12" of straight pipe after each circulator, is this true? If so I will need to move that pump up to the main line and do more re-piping. It would make adjustments to the valves on the other side of the wall near the manifolds easier also. Thanks! diana
Posting Rules
You may not post new threads
You may not post replies
You may not post attachments
You may not edit your posts
---
HTML code is Off
---