cg-5 won't ignite, pilot stays lit, seems electrical.
10-20-14, 11:03 AM
cg-5 won't ignite, pilot stays lit, seems electrical.
---
greeting just signed up today hoping for help. my son just bought a new house and tried starting the boiler for the first time p-cg-5. The pilot will stay lit. have power to the transformer but no power seems to be getting past it. is there a way to test it? Thanks Rich
10-20-14, 04:46 PM
That is a Weil-McLain boiler. With a voltmeter on the AC scale, find out where the 24-V control volfage is being lost between the xmfr and the gas valve when there is a call for heat. If such troubleshooting seems to be beyond your skill level, call a service person.

P.S. Make sure the gas valve is in the ON position, not PILOT.
10-20-14, 05:05 PM
Rich, is there a 'series' number on the boiler data plate? Any further model information you can give would be helpful.
Is there one of these: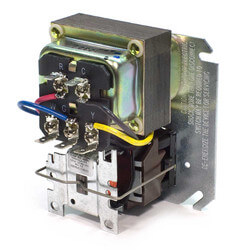 inside the boiler cabinet, and is it the R and C terminals that you are not seeing 24VAC on?
And you are sure you have 120 VAC on the PRIMARY side of that transformer?
10-20-14, 11:19 PM
Thank you for your help. yes there is one of those that is very similar. I had 120 going into it and no 24 volts at all on R or C, the gas control valve was on. I currently do not have the series but my son can send me a photo of the plate. I removed the transformer relay and have it with me. Can I test it off the boiler ? should there be 24 volts at R and C all the time
10-21-14, 05:11 AM
I had 120 going into it and no 24 volts at all on R or C, the gas control valve was on.
If you have 120 in on the primary and no voltage on the secondary ( R and C , measuring between the two ) then that transformer is bad.
Is there a Honeywell (or other manufacturer) part number on that component? Possibly R82xx ?
What do you mean "the gas control valve was on" ? If you have no voltage at R and C the MAIN valve could not have been on. You can still have pilot flame though... is that what you meant?
10-21-14, 10:30 AM
Thanks again for the help. Last year on my oil boiler I replaced a circuit panel that worked fine because I didn't test it correctly. When there was no voltage is when the circulator relayed, a $250 lesson, so please stay with me on this one.
The transformer / relay is a Honeywell R8239. There are 2 black wires from the back one from the trans. and one from the relay, I put 120 load on both. There is one white wire from the relay that I grounded. There is a blue wire and a purple wire that come from the back of the trans. that go to the front terminal "C". There is no voltage anyplace except for 120 on a brown wire that was factory capped. No voltage from R to C
10-21-14, 04:11 PM
Rich, be careful there... you know that
120VAC can KILL YOU!
(I know you know... I have to say it)
Also, be careful putting 120 on the relay contacts.
To test the transformer you only need to put 120 on the black and white wires coming out of the transformer and look for 24VAC on the R and C terminals.
See this (rather crappy) PDF scan of the instruction for that control.
Ignore most of the other 'stuff', that control is used for a ton of different applications. Just pay attention to the transformer part of it.