I think my pilot is too big
12-22-14, 07:52 AM
I think my pilot is too big
---
The baseboard system at my cottage has an approx 30 year old boiler that has seen very little use. There aren't any maintenance records that came with the place--probably because there was no maintenance. The pilot flame emerges as a wide fan and makes a very audible roar (or rip) with the thermocouple in the center of the flame. I'm not aware of any draft issues and the flue has a properly working electric damper.
Should I turn down this flame so it just touches the tc rather than surrounds it?
Or was this the norm 30 years ago?
Sorry I don't have any good pictures...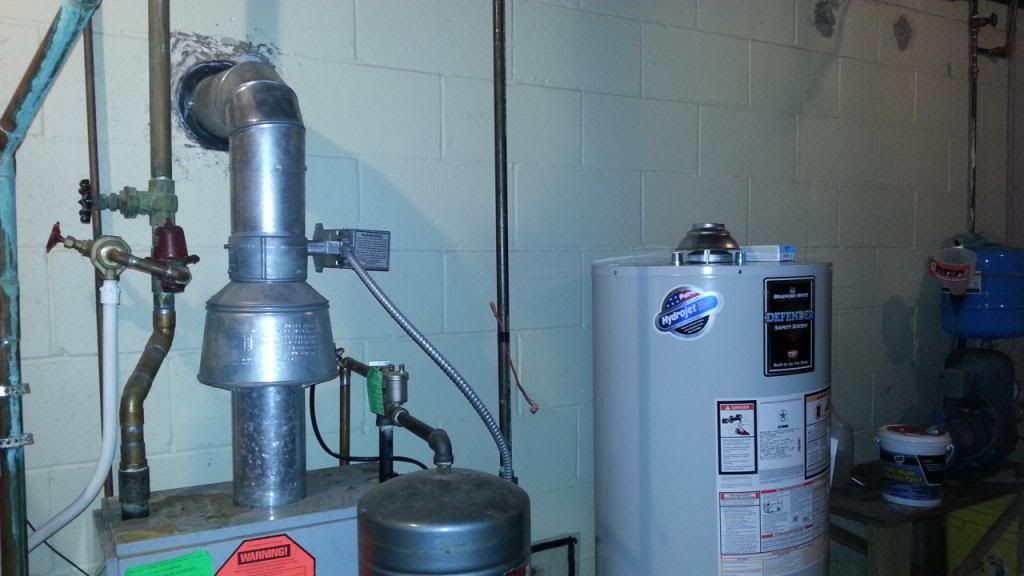 12-23-14, 05:35 PM
Join Date: Jul 2009
Location: Toronto
Posts: 1,044
Upvotes: 0
Received 0 Upvotes on 0 Posts
If it aint broke, dont fix it!!!
Rules to live by.

The flame might look high, but is likely normal.
If you have too small of a pilot, it can get extinguished by higher chimney draw once the system has warmed to active temperature.

The pilot size is set at the gas valve and the manufactorer typically will set this to a certain pressure.
12-23-14, 08:33 PM
For us to opine, you need to post a pix of the pilot flame. Otherwise, we are shooting in the dark.

If you want to adjust the pilot size as an experiment, go ahead. The adjustment is usually under a cap screw located near where the gas to the pilot takes off. (This is a DIY forum.)
12-26-14, 06:49 AM
I'll be going back up to the cottage in a week so I'll update this with a picture when I return.
It's more the sound that doesn't seem right. I've had standing pilot furnaces and water heaters and all had quiet "gentle" pilots. This boiler has a rip-roaring pilot that can be heard through the wall in the next room.
My first boiler so I'm still learning.
12-26-14, 07:51 AM
Join Date: Mar 2003
Location: NC, USA
Posts: 28,098
Is there any chance your cottage was switched from natural gas to propane or vice versa? Propane is most commonly used a more than double the pressure as natural gas. If the furnace was not converted it probably will still work but not as well as it should and could cause the sound and too large a pilot.
12-27-14, 06:29 AM
Join Date: Jul 2007
Location: United States
Posts: 2,387
Upvotes: 0
Is the thermocouple red hot or a dull red? The pilot flame should cover about 3/8" to 1/2" of the thermocouple. A cherry red thermocouple is destined to die.
If you could get a pic of the pilot assembly it would be good.