How to Purge Air from Hydronic System
01-17-15, 06:56 AM
How to Purge Air from Hydronic System
---
Hi Folks,
Scratching my head here. Some of my HWBBs are not heating; the ones on the upper floor of my house are most affected.
I am suspecting air in the system I have a 5 zone heating system with each zone having a honeywell zone valve, but 1 circulator for all zones.
The return manifold has a shut-off valve for each zone, but no bleed valves. HWBBs do not have bleed valves either. I have an air scoop with auto bleed valve fitted.
Would love to know how to purge the zones, but based on the lack of valves, am not sure how it could be done.
I would appreciate any advice.
I have some photos of my system in Photbucket.
Mobile Uploads Photos by Jthopkins | Photobucket
Many Thanks,
Jon
Sponsored Links
01-17-15, 11:20 AM
Hi Jon,

Haven't looked at pics yet, but the first thing you need to ask is WHY is there air in the system...

More often than not, the cause of the air in the system is that the pressure is too low.

Go take a look at your pressure/temperature gauge on the boiler and tell us what it says... unless that's in one of the pics, going to look now.
01-18-15, 05:38 AM
Hi NJ Trooper,

Thanks for the reply. I just dropped a photo of the pressure gauge in my photobucket.

As for the reason why there is air in the system I have my suspicions. I live outside city limits in Nova Scotia, Canada and my water supply is a drilled well. Recently, through a gross oversight, the well ran temporarily dry. I think this loss contributed to the air being left introduced into the system. This of course, is just a guess.

Jon
01-18-15, 09:12 AM
Join Date: Jan 2005
Location: Delaware, The First State
Posts: 14,247
The pressure looks ok IF the gauge is accurate. On this forum's home page, Trooper has a sticky on how to verify the boiler gauge. I don't see any way to purge at the boiler. Check the ends of your baseboards for bleeder valves.
01-18-15, 10:14 AM
You can purge the zones using the yellow handled drain valve below the circulator, and the green handled ball valve below that.
I think this is what guyold is referring to as 'backwards', because the flow when purging a zone would be opposite the flow when the pump was running. It will work though.
Take a close look at your red pump and look for anything on the label that indicates that there is an INTERNAL FLOW CHECK valve installed in that pump. If there IS, you won't be able to purge in reverse.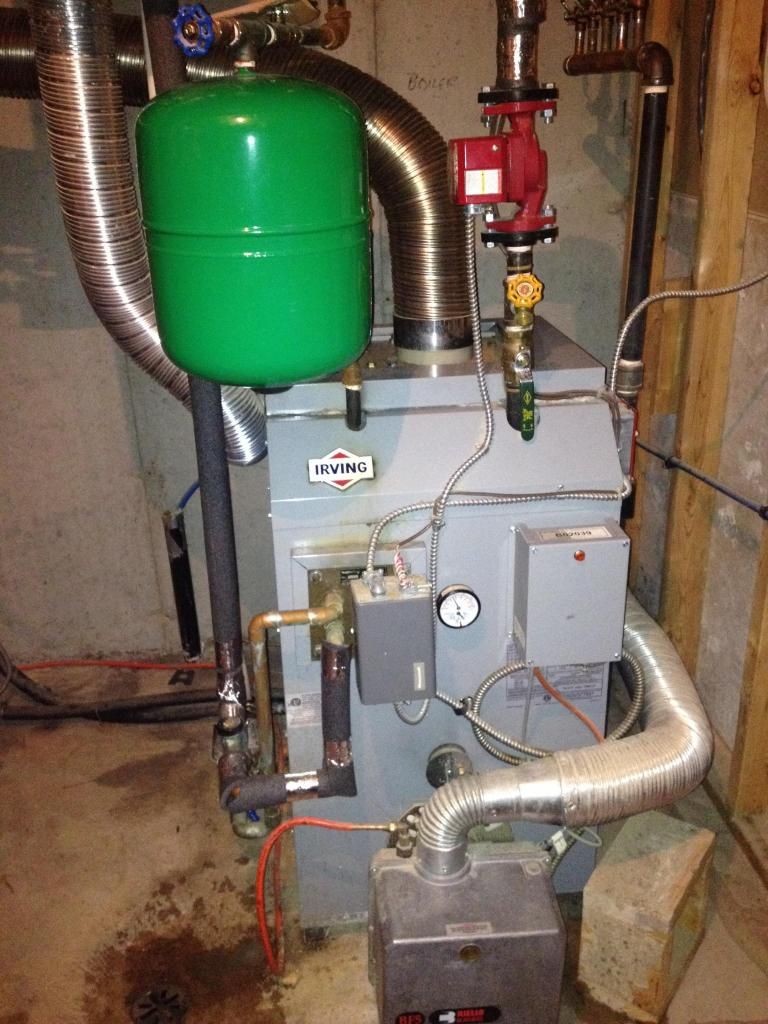 I don't see any reason that your well running dry would introduce air into the boiler system. They are two separate systems and once the boiler is pressurized and filled, it does not require additional 'make-up' water... at least it shouldn't, if it's leak free.
01-18-15, 10:16 AM
Speaking of leaks... it looks like something on the domestic piping to/from the internal 'thankless coil' is leaking. Possibly your tempering valve... those drips on the left side. What are those coming from?
01-18-15, 10:56 AM
Thanks for the input folks, much appreciated! Hadn't thought of a reverse purge. So basically, I isolate with green ball valve, attach hose to yellow valve and force water into system with the auto fill valve; approaching in a zone by zone manner?

NJ Trooper the leaks you see are from some water that leaked out of my hose. I will inspect again once the floor dries a bit more to be sure there isn't another source of leak.
01-18-15, 11:05 AM
That's the basic drill JT... but again, check the pump carefully to make sure there's not an internal flow check. Yours doesn't need one, but there still might be one.

And while yer at it, if you haven't done so in the past coupletwo years, check the charge on your expansion tank too... looks like you've got the 'easy' valves to do so.
01-18-15, 05:01 PM
I had trouble with my system getting air in it all the time, but I knew it had a leak in the tankless coil, but it would evaporate faster than you could find it and I would just manually fill it, purging the air off the over pressure vent. When the new boiler was installed recently and a new expansion tank and air purge valve installed, the thing pretty much purged the air itself and really quick too. I assume your air in the zone is a new thing, I'm sure you haven't been running without heat in Canada until now. I'll bet your expansion tank is full of water, but I'm no expert here, NJ will get you going I'm sure.

I too don't know how the well running out of water would introduce air in the boiler it's not like you can push air into the boiler from the supply side especially if there's no water in the well, there's no pressure to do that. I can't believe how much better my system is working with a new expansion tank and air purge valve. It's been holding steady pressure for nearly 2 weeks with the supply off too. Good luck.
01-19-15, 03:26 AM
Well, reverse purge worked! Again, many thanks for the assistance.

I checked the circulator before the purge and there was no indication of a check valve, so I proceeded.

NJ trooper: The flexible flue is stainless and direct vented. There is no gauge in line with the expansion tank, so I am unsure how to check the pressure; I assume external equipment is required?

Grady: I checked the baseboards for bleeds, but no luck there, just 90 degreee elbows.

DogTo: Thanks for the advice on the expansion tank, I will investigate further.

JT
01-19-15, 05:32 AM
There is no gauge in line with the expansion tank, so I am unsure how to check the pressure; I assume external equipment is required?
Just a tire pressure gauge.
Read this for informational purpose, but if you have an isolation valve and a drain between the boiler piping and the tank, (I think I can see them in the pictures) you can skip over the step by step instructions for charging the tank.
http://www.doityourself.com/forum/bo...sion-tank.html
Basically, all you would need to do is close the ball valve on the line to the tank.
Connect hose to drain on end of tee above tank.
Open drain to relieve pressure and leave open while you check and charge the tank.
Add air to tank with small compressor or bicycle pump until you are at 12-15 PSI in the tank.
Close drain, open ball valve.
When you open the valve, you may hear some water feed... this is normal.
Posting Rules
You may not post new threads
You may not post replies
You may not post attachments
You may not edit your posts
---
HTML code is Off
---