hot water in shower doesnt last long
12-31-15, 06:11 AM
Join Date: Dec 2015
Posts: 6
Received 0 Votes on 0 Posts
hot water in shower doesnt last long
---
hey guys, having some issues with the hot water in my shower. i have a seperate valve for hot and cold, and when i get the water up to temperature it seems to only last about 30 seconds to a minute, then gets luke warm, so i have to lower the cold a bit and same thing only lasts a little while then i keep lowering the cold until the cold is completely off and just the hot water is on but it isnt scolding hot like the rest of the hot water is in the rest of the house. any ideas?
Sponsored Links
12-31-15, 06:21 AM
Try running just hot water at other fixtures in the house. If the hot water only lasts a short period everywhere else it's possible the dip tube in the water heater has broken off.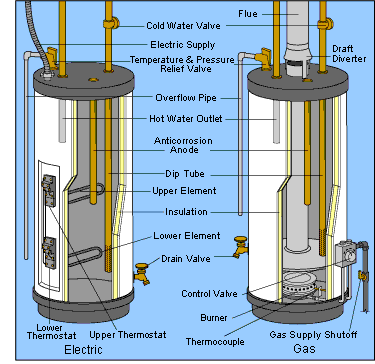 12-31-15, 06:24 AM
Join Date: Dec 2015
Posts: 6
Received 0 Votes on 0 Posts
all the other fixtures the hot water lasts. its a coil inside the furnace.
12-31-15, 07:25 AM
This is going to be a strange suggestion, but it happened to me. Do you have other single lever control handles, showers, sinks, or the one that got me, a single lever shutoff going to my washing machine. Long time ago, so details are limited, but the result was a back pressure that delivered the cold water to my hot water line through that valve or the washer itself.
If the rest of the house is getting hot water as it should, then the line to your shower are in some way connected to your cold water, or they are running through the snow outside
.
If you have shutoff valves for different areas of the house, close some of them to see if it changes what is happening.
I can't remember what the final fix for my problem was, but the temporary fix was to shut that single handle off after each use of the washer. And I'm not sure whether it only happened when the washer was running or all the time, but cold water has to be mixing somewhere for you to not be getting the hot as expected.
Bud
12-31-15, 07:31 AM
Join Date: Dec 2015
Posts: 6
Received 0 Votes on 0 Posts
the washer does have a single handle shut off valve. maybe ill give that a shot first and go from there, thanks!
01-03-16, 10:47 AM
Join Date: Dec 2015
Posts: 6
Received 0 Votes on 0 Posts
Tried this, didn't seem to work. Still once the shower gets up to temperature it gets barely Luke warm after 30 seconds. Then I turn the cold down a hair and hot water comes back for about 30 seconds and i keep doing this until the cold valve is completely off and only hot valve is on. At this point the water is hot but not unbearable by any means. Just doesn't seem right
01-03-16, 11:11 AM
IMO, the cold water is back feeding from somewhere. If your shower has separate hot and cold then the problem has to be elsewhere. Each sink or other connection should have a shutoff on both hot and cold.

If you have access from the basement to any/all of the pipes, when you run the hot water at another location, that hot water pipe will be hot. If you then run the shower, that hot water pipe should remain hot. If it is the source of the back feed it will get cold quickly.

Nice when you have an open basement and access to those pipes.

Bud
01-03-16, 11:16 AM
Join Date: Dec 2015
Posts: 6
Received 0 Votes on 0 Posts
I do have access. What should I be trying to do?
01-03-16, 11:17 AM
This happened to us & lasted for a year or more with no real answer or fix. I posted in a thread here & although I never understood the answer or exactly what the problem was, my final assumption of the answer was:
there is some sort of valve in the shower head that regulates temperature (maybe to prevent you from being scalled?). So, without understanding why, so I can not explain to you why, I changed the shower head. Worked great for another year or so. Now over the last few months, I can tell, mine is doing it again. I guess I'll eventually change shower head again.
Good luck hope this helps, at least somewhat.... Maybe someone else can take this & give us a good answer or explanation of what the problem is & what that valve is that was mentioned in my earlier thread a year or two ago. I'll see if I can find it & post the link here.
Edit: Found the thread...
http://www.doityourself.com/forum/pl...ml#post2398877
01-03-16, 11:34 AM
Any sink or other shower that has the single lever control or temperature control is suspect. I'm not a plumber so can't be more specific as to what is inside those controls. But when you use another fixture that is getting full hot water, when you shut the water off, the hot water line under the sink or in the basement should remain hot for some time. Then run the problem shower. If the cold water is back feeding through that other fixture, that hot water line will quickly become cold. If it remains hot, it is not the source of your problem.

I mentioned shutoff controls as they can remove fixtures from the plumbing and if shutting off a given fixture eliminates the problem, then you know where your problem is.

All of this is assuming the problem originates from a mixing valve somewhere.

Bud
Posting Rules
You may not post new threads
You may not post replies
You may not post attachments
You may not edit your posts
---
HTML code is Off
---