Viessmann WB1B error FC
08-25-18, 04:33 AM
Join Date: May 2011
Location: USA
Posts: 45
Received 0 Votes on 0 Posts
Viessmann WB1B error FC
---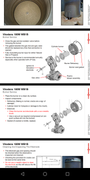 ]
[/url]Hi ,
I had to replace the pump control board on my Viessmann WB1B boiler because of bad transformer. Than as soon as I turn the power on , the unit will blow the 2.5A fuse on the main control board .
So I started connecting one module to the board at the time. Once the harness of blower fan connect to the board main control board it blows the fuse.
Without connecting the blower fan to the board I receive error FC .
I am not sure how to troubleshoot this issue, any advice .
Thank you.
Sponsored Links
Posting Rules
You may not post new threads
You may not post replies
You may not post attachments
You may not edit your posts
---
HTML code is Off
---