Weep Hole installation
04-14-08, 05:06 PM
Join Date: Apr 2008
Posts: 3
Received 0 Votes on 0 Posts
Weep Hole installation
---
I need to install some weep holes in the brick exterior of my house to facilitate a sale of the home. The home inspector has told me I need to put the weep holes in the exterior brick wall "no more than 1 brick above the sill plate at the bottom of the exterior walls". My question is, looking at the outside of the house, how do I tell where to put these holes? I want to get these holes on the right row of bricks, I just don't know how to determine what that is. Any suggestions?
Sponsored Links
04-14-08, 05:10 PM
Join Date: Aug 2005
Posts: 2,268
Received 0 Votes on 0 Posts
Based on your inspectors comment, you would be safe to put weep holes along the bottom row.
04-14-08, 06:57 PM
Join Date: Mar 2006
Location: Austin, TX
Posts: 1,405
Received 0 Votes on 0 Posts
Weep holes always go on the bottom course of brick, spaced around 18" apart. Use a 3/8" masonry bit at least 5" long, drill them into the bottom of the vertical mortar joint about every third brick then lightly pack with stainless steel wool to keep out the bugs.
04-14-08, 08:23 PM
Banned. Rule And/Or Policy Violation
Join Date: Dec 2007
Location: Chicago
Posts: 1,011
Received 0 Votes on 0 Posts
Well… I always call out missing weeps, but drilling holes to create them is NOT a good idea as you have to be very careful not to drill through the flashing behind the bricks, you will then have a direct path past the flashing and water resistant barrier material (WRB, such as housewrap) and into the interior of the wall.
In cases where incorrect drainage at the base of a wall or above a window, door or other opening can be demonstrated to be causing water intrusion the only really effective next step is to remove brick and discover what's going on behind it. The problem could be missing or obstructed drain holes, mortar fallen and packed into the space between the brick and the flashing/WRB, insufficient clearance between the veneer and the flashing/WRB, the WRB installed behind the flashing, missing flashing or WRB (or both), corroded or damaged flashing and/or WRB or some combination of the above – you really have to open up the wall and take a look.
OTOH, at home inspections in my area (Chicago) I frequently see walls lacking weeps and no evidence of water intrusion - there are whole subdivisions built this way (!).
In these situations I explain to my client that 1) it's impossible to predict if or when this will be a problem and 2) anything other that removal of brick to allow discovery and repair of any incorrect construction will likely do more harm than good.
Then, it's up to my client to decide if that's a risk they want to run.
------------
BTW, depending on the design, the weeps don't have to be in the lowest course of brick, see for example figure 9 in tech note 7 here:
http://gobrick.com
04-15-08, 04:20 AM
Join Date: Mar 2006
Location: Austin, TX
Posts: 1,405
Received 0 Votes on 0 Posts
In my experience, if there are no weeps installed, there will be no flashing either (what would be the point?).
04-15-08, 06:41 AM
Banned. Rule And/Or Policy Violation
Join Date: Dec 2007
Location: Chicago
Posts: 1,011
Received 0 Votes on 0 Posts
In a logical world, this would be true, but I do see walls with externally visible flashing but no weeps. Why was it done this way... who knows?
The larger point is that in either case IMO you are as or more likely to make water intrusion worse than better if you attempt to drill weeps into a wall without them. For example 1) even if there is no flashing you will likely be punching holes in the WRB and possibly the sheathing and 2) for the weeps to be to be really effective they have to part of a properly constructed drainage plane, for example care has to have been taken to insure that mortar has not fallen between the brick and the sheathing at the level of the weeps, otherwise you are just drilling into hardened mortar. For readers not familiar with these problems, see for example:
Proper Drainage For Weep Holes
Water penetration through exterior walls: weep holes provide the best protection against serious problems
04-15-08, 07:59 AM
Join Date: Apr 2008
Posts: 3
Received 0 Votes on 0 Posts
Thanks for the info
---
Thanks all for the information. I'm used to getting e-mails when there are replies and none showed up or I'd have dropped a reply sooner - probably have to set that up in the forum options.

M. Thomas: Yeah, I realize the complete wrongness of installing them. I tried explaining that to the buyer but it fell on deaf ears. I tried explaining it to the home inspector, but he thinks that holes w/o flashing are better than no holes and no flashing, and he thinks that no holes with flashing (the situation you described) is rare enough in our area to not be on the radar.

I actually got the inspector on the phone, and his suggestion was to measure up 2 inches from the outside ground and drill the weep holes there. That's my plan as he's the one that will ultimately give it a pass/fail.

Again, thanks all for the information.
04-15-08, 02:36 PM
Banned. Rule And/Or Policy Violation
Join Date: Dec 2007
Location: Chicago
Posts: 1,011
Received 0 Votes on 0 Posts
Is there evidence of current water infiltration in the un-weeped areas?
------------
If you have to do this, I would suggest use a drill with a depth stop, set to go just deeper than the inside face of the brick.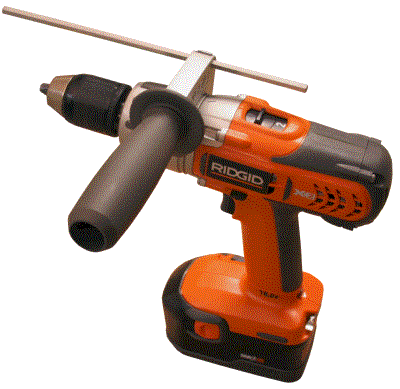 04-15-08, 03:30 PM
Join Date: Apr 2008
Posts: 3
Received 0 Votes on 0 Posts
No, there's no evidence whatsoever of any water drainage issues. Fortunately, the drill I have looks almost just like the one you posted, but it's yellow. And dirty. Dirty tools are the best though.
07-22-12, 01:05 PM
Despite the ancient nature of the original thread, here's my take on the matter:

Sounds to me like the buyer's home inspector is going beyond the standard operating practices for the industry. His job is to point out defects only, thereby enabling the buyer to decide if he/she want to do anything about them, or possibly modify the sales price to reflect them (the buyers) paying to have the work done by a qualified third party.

As a seller, I'd be tempted to suggest to the buyer that I'd be willing to take a few hundred dollars off the price, making them responsible for the work and any ramifications that might come into play. That removes the seller from the equation completely. Otherwise, any seller is making himself vulnerable to any future claims the new owners may have, blaming his "improperly drilled weep holes" for all kinds of problems (real or imagined, foundation-related or whatever) that happen in the future.
07-22-12, 01:10 PM
Join Date: Dec 2005
Location: USA
Posts: 39,967
Guys, this is a 4 year old post and no one is listening. Keep an eye on the dates and try to keep current. Leaving the posts for now, unless it becomes uninformative.
07-22-12, 01:17 PM
chandler, I responded knowing it was an old post, but also thinking that the scenario may not be an uncommon one for home sellers today. I've seen and heard of home inspectors doing wacky things all of the time, and just presented a logical approach for someone facing a similar situation today or in the future.
07-23-12, 02:25 AM
10-4, good buddy! This is still the best DIY site out there.
Posting Rules
You may not post new threads
You may not post replies
You may not post attachments
You may not edit your posts
---
HTML code is Off
---