Help!! Want To Paint Brick...am I Crazy?
04-22-08, 07:02 PM
Help!! Want To Paint Brick...am I Crazy?
---
FOLKS...MY WIFE HATES OUR YELLOW BRICK HOUSE AFTER FIVE YEARS....WANTS TO PAINT IT WHITE..WITH COMMERCIAL GRADE SEMI-GLOSS, OF COURSE...(34.00 / GALLON)...ANY ADVICE? THANKS IN ADVANCE !!!!!
04-22-08, 09:54 PM
Post a picture at
www.photobucket.com
or other site and then a link here for all to view and comment.
One of the joys of brick is that it is practically maintenance free. It never has to be painted. Once you paint, as indicated, it becomes an ongoing chore to maintain the paint.
A recent product is stain for brick. Stains are absorbed by brick and permanently change the color without the maintenance of paint. There are many websites featuring brick stains and dyes with photos.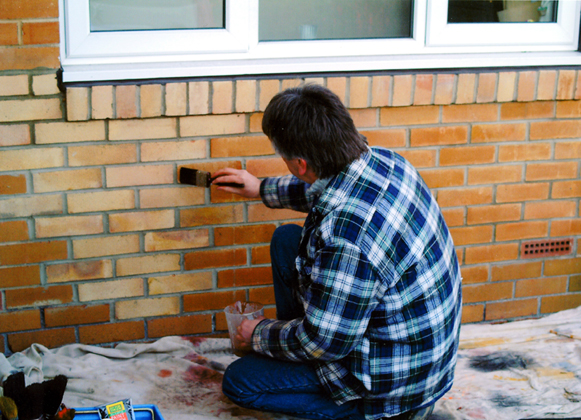 Photo Credit: Bricktinter
04-25-08, 04:29 PM
Thanx For All The Help!!!!
---
Guys...thanks For The Replies....did Not Even Know There Was Such A Thing As Brick Stain....much Better Idea...was Not Looking Forward To The Paint Maintenance Thanks, Again....did It Meself!!:d
04-25-08, 05:41 PM
I'd like to add that many years ago after driving through many neighborhoods because I am a lover of architecture and homes, I concluded that there is usually one yellow home in every neighborhood. Obviously, the homewowners must be unique and interesting folks, as I always imagined. Perhaps the wife's dislike for the yellow brick is because of the other colors with which it has to coordinate--roof, shutters, front door, etc. These are easy to change.
How does the structure fit in with the neighborhood and its color schemes. A little paint goes along way to play up a special yellow brick exterior. Perhaps it's time to do a little research on the history of yellow brick in your area if there appears to be more structures than yours with yellow brick construction.
If you do some research on yellow brick and observe the hardness and durability and the uniqueness of it in aggrandized historical residential architecture, you might change your mind. Unless the yellow brick is absolutely hideous and offers no contribution to the architecture and attributes of the home, I would not consider changing a thing.
Every time I go to the Fort Worth area, there is a college somewhere that has buildings constructed of pale yellow brick. The first time that I went, I was in awe. I wanted the driver to slow down or stop. Being from the east and having worked for a brick company and bricks were always some shade of red, I just could not get over the yellow brick. I was in the Fort Worth area again within the past few weeks. There is new construction with the pale yellow brick! Yellow brick has a future!
I have not had time to research to find from where this special clay originates, but it is special.
Here is a yellow brick house. I wouldn't change a thing except the landscaping, except maybe pull some brown tones out for the shutters to better coordinate roof and brick and front door color. A color scheme can make or break you. Does the front door say welcome? No, it looks like the dark hole of Calcutta. Front doors should always say, "Howdy, come on in!" This one makes one wonder if the Munsters relocated. We will save the architectural issues discussion for another day. The point is that yellow brick is alive, well, and (not living in Paris; and, sorry, Jacque Brel, saw this performance live in NYC in '68) in the USA! Again, the point is that yellow brick has always had a special, though small, place and will continue to do so.
Please explain your wife's specific issues with the yellow brick. You can post photos at
www.photolink.com
or other and a link here for all to view and comment.
Photo Credit: photosearch.com