Gravel driveway forming ditch
09-08-08, 06:52 AM
Gravel driveway forming ditch
---
Hello,
We have a gravelish driveway.
Over the last couple of years, heavy rainfalls have worn away a little ditch in our driveway as it leads to the road.
See photo...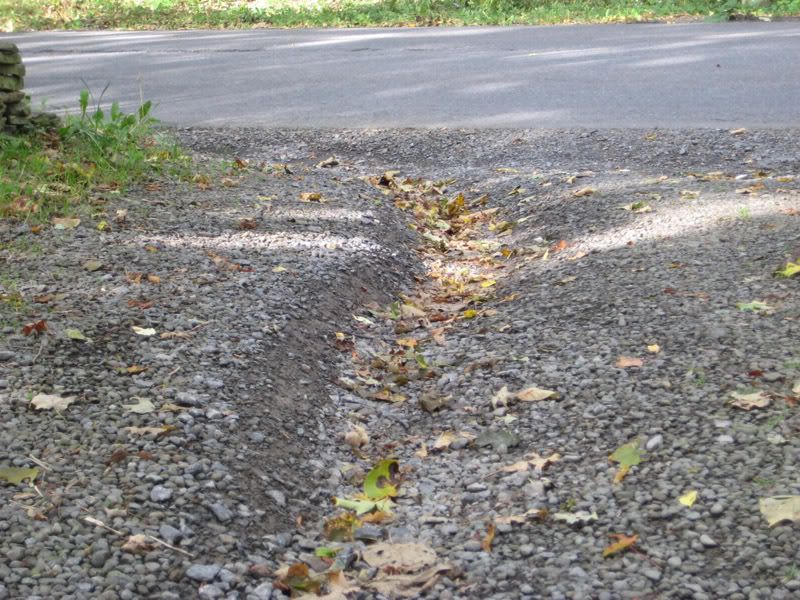 What can I fill it in with that will make it flat again, and not keep washing away?
Thanks in advance,
Steve
Sponsored Links
09-08-08, 11:43 AM
You can fill it with gravel but the water run off has to go somewhere. Larger rock will resist moving with the water flow.

Is it feasable to reroute the water? I have a gravel driveway that's just shy of .3 mile long. Fortunately I have a tractor to maintain it with. My driveway is on the side of a mountain and I have it angled toward the inside which forces most of the water to run along the inside edge. For the most part this allows my driveway to stay in decent shape except for the bigger down pours. If you can dig a ditch on 1 or both sides of your driveway, it should keep it from cutting a ditch in the middle.
09-08-08, 12:17 PM
Crusher run is usually what I use. If it rains hard enough the water will still wash it away. It may take longer than what you are using now - no real way to tell with out trying it.

Water always travels down hill. It takes the easiest route. If that's down the center of your driveway, then that's where it will cut a ditch.
Posting Rules
You may not post new threads
You may not post replies
You may not post attachments
You may not edit your posts
---
HTML code is Off
---