Hole(s) in the Foundation
01-29-09, 06:03 PM
Hole(s) in the Foundation
---
I've got a hole in the foundation that's about 9" below ground level. The opening is about a half dollar's width,gets slightly larger as you go about 3" into the foundation wall and, until a few minutes ago, was jammed with mud (I cleaned as much out as I could with a pointy knife). During a recent ice storm conditions were such (leader was clogged with ice) that I had a trickle of water flowing into the basement. The ice has melted/water stopped flowing now. When I hold my hand next to the hole, I swear I'm getting the tiniest bit of cold air coming in.
Here's an image: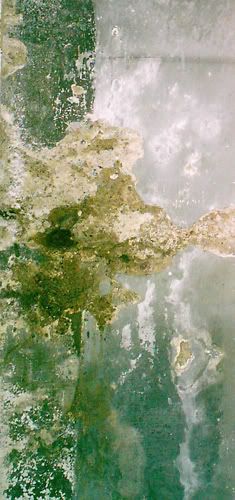 For curiosity's sake, what might have caused this (foundation is more than 80 years old and is very pebbly) and should I be concerned? From the mold on the wallboard in the other (finished) basement room, I'm pretty sure I have two of these types of holes (second one is probably smaller) on the same side of the house. The rest of the foundation appears to be okay.
I'm going to make an attempt to find the origin of the hole on the outside. The area is underneath a dormer and difficult to get to. If I can find it, I'll take a shot at patching both inside and outside, otherwise, I'm only patching the inside. Because the opening is smaller than the crevice, I expect vinyl patcher to take hold quite nicely (maybe I'll reinforce it with some wire/not sure).
Does this sound about right for repairing it? Any other approaches come to mind?
01-30-09, 02:16 PM
Hole(s) in the Foundation
---
The cement Pulpo was refering to is called "hydraulic cement" and it has been used for many, many, many years. That is the generic name, but can find the same thing in "branded" packages sold by many companies.

Do not confuse it with Portland cement!!!

It can be used when the concrete is damp, but you should clean out the areas as well as possible. Mix it according to directions - it should be rather dry and firm, so you can force it into the area. It cures rather quickly and expands slightly into the area. Do not mix it and expect to use it an hour later, since it will be too hard. Do not panic and makes sure you force it into the area to be sealed and if the area is rough, it will work better.

Dick
01-30-09, 11:24 PM
Thanks for your replies.

How much does hydraulic cement expand? The expansion won't challenge the structural integrity of my foundation, will it? If I find the origin of the cavity (on the outside) should I try pouring it?

If I'm getting air in the hole (and I think I am), then the origin should be above ground and the cavity should slope downwards. I tried running a wire hanger from the inside to the outside but the cavity was too irregular to make it any more than about 8 inches. It definitely felt like it was running upward, though. Hopefully it's a single tunnel and not a series of veins.

And, not to belabor the point, but could this be a sign of a bigger issue with my foundation? Are these types of abscesses common?

Hmmmm... how about some sort of makeshift bellows that will pump cement into the cavity- what about a cookie press? or a caulk gun?
01-31-09, 06:38 AM
Join Date: Jul 2008
Location: NY
Posts: 10,265
Upvotes: 0
Received 0 Upvotes on 0 Posts
The hydrolic cement isn't going to damage your foundation. If you prefer to use a cement type product in a caulking gun, that's available too. Do it from wherever you can find the hole.
I've done a lot of water proofing with a crew where we dug to the footing of the building and sealed entire foundation. You don't need that yet and hopefully you never will.