concrete block wall
09-17-09, 06:06 PM
concrete block wall
---
Trying to help out my neighbor. He had to tear out this cement block wall due to his ins co. He has no idea of what he is doing.
I have built walls before and know a lot, but not this high. In case the pics don't work the wall is about 4' high, maybe more towards the end. This wall turns right and its about 5' high there, but he is not going to do that part right now...but will have to in the future.
As we tore it down we found one more row of blocks completely under ground, that made it about 1 3/4 blocks under ground. The bottom blocks were off by 1/8" at one end and about 1 1/2" in the middle...don't have the other end as he tore all out when I wasn't there.
I going to put pics up, hope they work. There was some poured concrete as a base in part of it.. again that was when I wasn't there. He doesn't have much money to spend either.
Instead of a concrete base that he cant afford, can we use crushed rock? I've used that before on smaller walls with them "tied" in to adjoining dirt with great success.
Was going to put 3" wide crushed rock behind wall and turn multiple blocks sideways for water to run out. Will use a plastic screen material with larger holes to not get plugged and small enough so rock does not run out. Also will tie wall in to dirt wall.
Rushing this my neighbor just took the next few days off work.
thanks much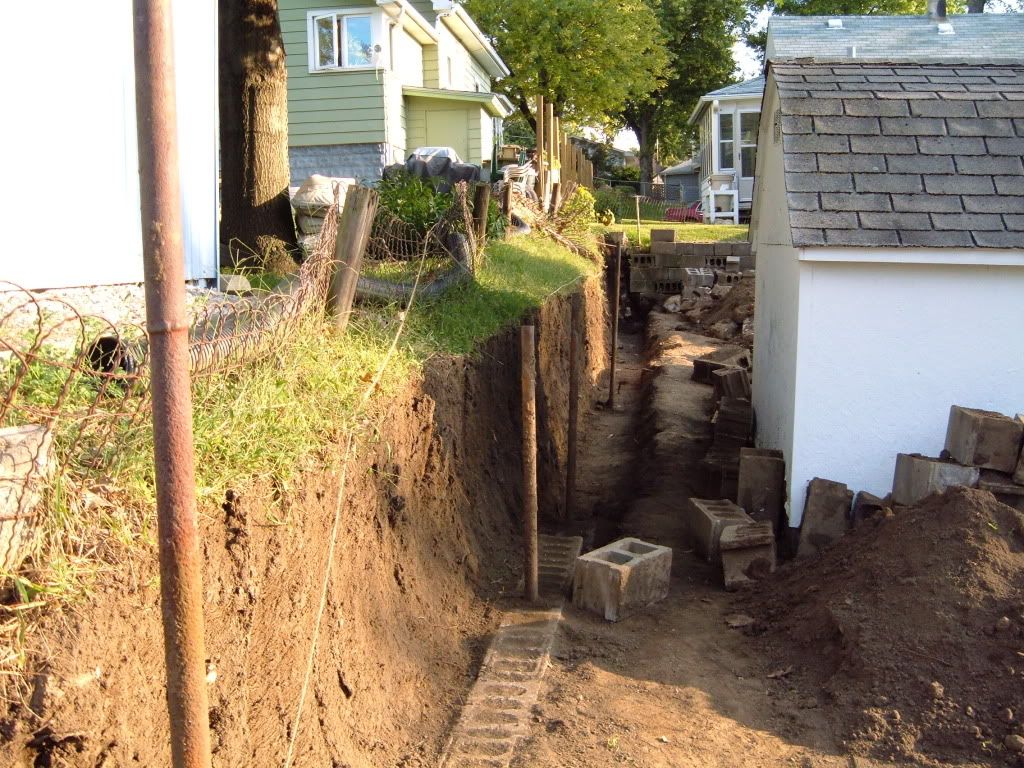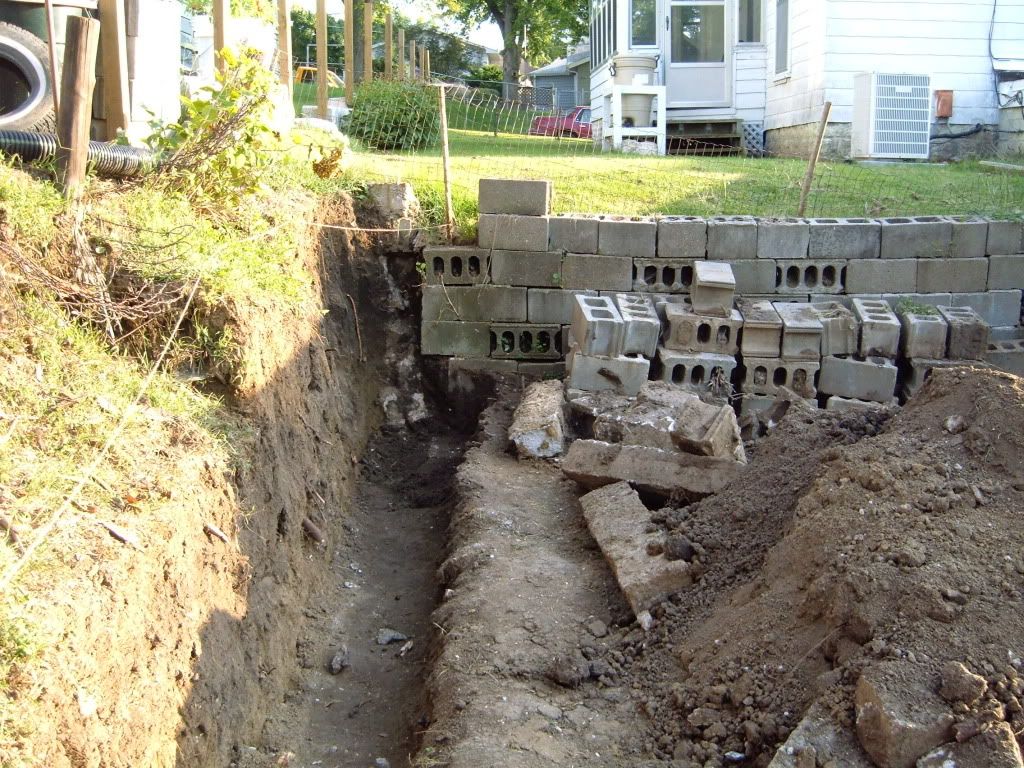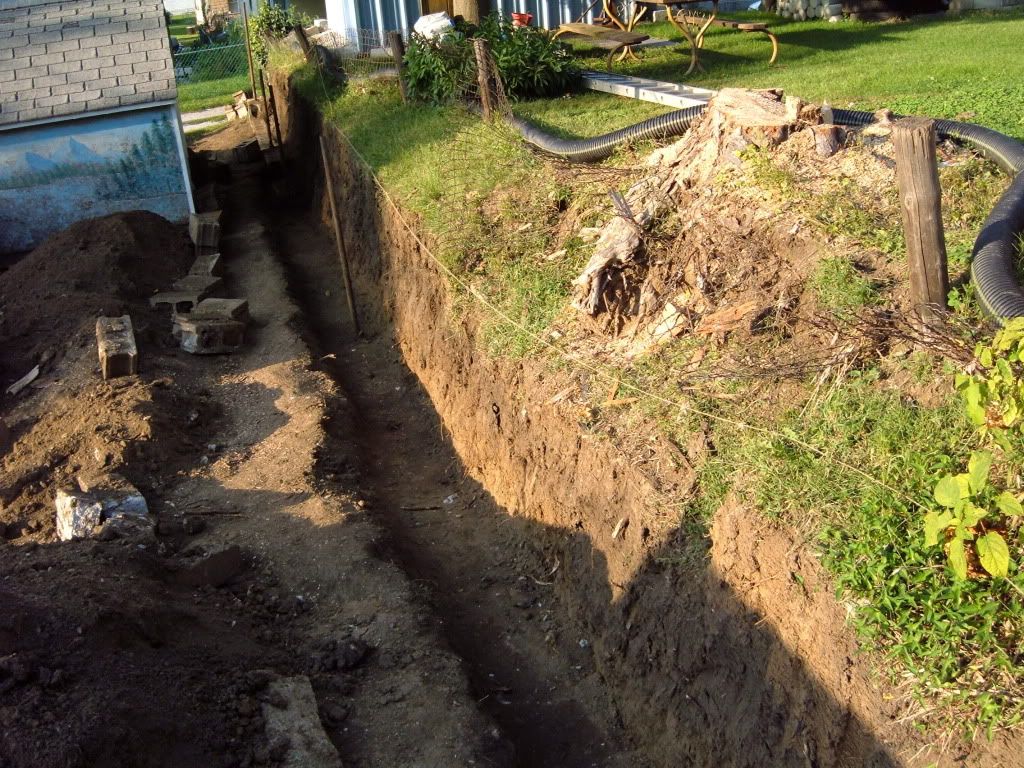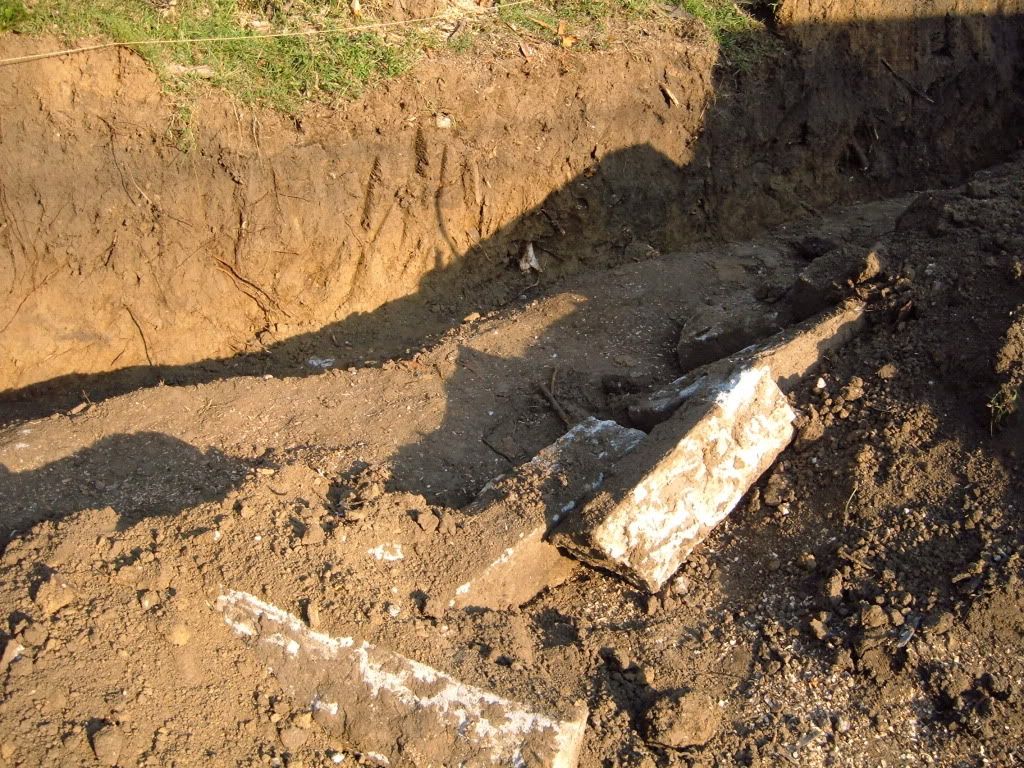 09-19-09, 07:00 AM
Well we had tons of people jumping in here with info
I talked to a buddy that has built a lot of walls and he said I was on the right track. Use the crushed rock as a base, tamp it down very well and then "tamp" the blocks down into place. I just wanted to make sure with the larger wall, not using geogrid etc.
Unfortunately my neighbor does not want to spend the few bucks on the crushed rock. He spent most of the day putting down 5 blocks. Finally got him to understand the logistics of it all ... long story ... and I think he is on the right track now though...even without using the rock.
Later my friends
09-19-09, 08:47 AM
Join Date: Oct 2008
Location: New England
Posts: 9,460
Hi DIY slowly, not that I didn't see your post, I just didn't have a good answer. But since you insist
, sit down and don't get mad. Bad situation and the proposed wall will not hold IMHO. It may do long enough to get the insurance co off of his back, but frost will move the new wall just like it did the old. In addition, the proximity of the house on the high side may be endangering the frost level for it's footings, as frost will obviously go a lot deeper with that exposed wall. This is a tough DIY project if you understand what to do and you seem better than your friend. But with a very limited budget, a proper wall is impossible.
I'm not an engineer and not a pro in this field. But I have done a few walls and seen many that have failed. I would at the least suggest he bring in a contractor for an estimate and listen to what he says. I doubt he will suggest anything close to what is being done.
I'm sorry, this was not intended as a flame, you question is valid, it is just the answer is difficult.
Bud
09-19-09, 10:02 AM
Join Date: May 2006
Location: north
Posts: 3,821
Upvotes: 0
not my forte` either but I can tell you that a stacked block wall has zero strength. If you are rebuilding the wall in a similar manner as the old wall (no mortar), there is absolutely nothing to hold the blocks in place. As the dirt behind the wall is water saturated and freezes and thaws, it will simply push the blocks outward, eventually collapsing it.

I do see the standing pipe but what is tying the blocks that those run through to the neighboring block?

Mortar alone is not adequate either. The blocks need to have vertical rebar and grouted full to tie them together and there should be a bond beam; actually several of them with the bond beams tied vertically with rebar to the rest of the wall.

ties from the wall into the upper level of dirt tied to the blocks as retainers would also be preferred.

you are not building just a wall but you are building a retaining wall. There will be an extreme amount of lateral pressure on the wall. You need to engineer the wall to withstand those pressures.

I would be much less concerned about the foundation of the wall as I would with the structural strength needed to resist lateral forces.


If I was the neighbor on the upper level, I can assure you I would be hiring an engineer to inspect the build and if not adequate, would be suing your friend. The structural integrity of the neighbors house depends on the strength of your friends wall.


just my opinion though.
09-19-09, 01:07 PM
Not my area of expertise either. IMO you need to pour a footer of concrete to set the blocks on and use mortar and rebar. I am sure your neighbor might be strapped for cash. Spending the money now will save him a future job of doing it again. Ive always lived buy the rule. Do it right the first time or do it twice, and normally this is true. I would also use black drainage pipe and route the water around the wall. You may even want to put concrete inside the stacked blocks to add additional structure support. You definitely need rebar.
09-19-09, 01:52 PM
If you plan on using special retaining wall bloc, you can do it without mortar if you follow the instructions and specifications for the the block that do NOT ALLOW and concrete footings, mortar or rebar. Your city probably have a design for wall up to 4' high thta they normally use.

If you think you can do i with normal 8x8x16 blocks, be prepared for using a concrete footing with dowels sticking out., mortar and rebar at 24" to 48" on center and fill the cores the the rebar is in.

If you don't have a good footing with dowels, but just use rebar, mortar and grout, it will eventually fail again, crack and then tilt or fall in one big piece.

The real interlocking block without footings, mortar and rebar are built up to 40' high using a geogrid fabic and controlled backfill (not dirt).

Most communities require specific designs or engineering for walls above a target height (3.5' to 5'). The insurance company may also require a permit to minimize the liability to them and both of the land owners. - Check to see what is required to stay legal.

Dick
09-19-09, 07:02 PM
Join Date: Mar 2006
Location: Austin, TX
Posts: 1,304
Upvotes: 0
Received 0 Upvotes on 0 Posts
The bottom line is that this type of wall requires segmental retaining wall block, not CMU designed for free standing walls.

It doesn't really matter what you do, it is going to fail again.
10-12-09, 06:52 PM
Join Date: Oct 2009
Location: loudoun, va
Posts: 4
Upvotes: 0
Received 0 Upvotes on 0 Posts
I have have built walls with and without footings. the one without footing moved/gave away when the dirt behind settled with rain. the one I built with concrete base and rebars sticking out of it going vertically is indestructible. My aunt drove an old chevy impala on it and it didn't move at all!
10-12-09, 09:33 PM
bertarecchi -

there is a world of different between a common concrete block and a segmental retaining wall unit/block.

The common block must have a footing, uses mortar and must have a concrete footing.

The segmental concrete retaining wall block/unit (SRW), uses no mortar and cannot have a concrete footing. It is used for the real high, strong, engineered walls (4 or 5' to 40+'). The 40' high SRW wall could easily hold an old Impala and few semis while being hit by a car at the base.

Dick
10-14-09, 12:49 PM
when the going gets tough
---
Ive built a LOT of foundations out of block. so far from what Ive read, everyone seems on the right track. It HAS to have a footing it HAS to have LOTS of rebar...I place a vert every 2' (every block and a 1/2) I also place a horizontal bar on the 2nd or 3rd course and another one where the dirtline is. and then pour the whole thing solid with grout. lastly J-bolts in the cells on the top course to bolt down the base plate for the building. Thats how I would do it, but I would also check with your inspector to make sure he'll sign off on it. (as I dont know your location). frost is a tough force to hold at bay.
10-14-09, 01:16 PM
cpmasonry -

You are accurate about building a foundation for a building.

This retaining wall is a totally different type of construction that requires different designs, materials and techniques.

A typical reinforced concrete masonry wall with reinforcement can never equal what can be done (height, earth retention, etc.) with a SRW wall that never uses footings and mortar.

Granted, a segmental retaining wall (SRW) is not true masonry because it does not use mortar, but a masonry contractor is not a concrete contractor. Masonry units and mortar are necessary to true masonry construction.

Dick