Chimney bricks spalling. Req opinions on short & long term repairs.
11-05-10, 11:40 AM
Join Date: Sep 2010
Location: United States
Posts: 126
Upvotes: 0
Received 0 Upvotes on 0 Posts
Chimney bricks spalling. Req opinions on short & long term repairs.
---
Have an unused chimney here that is in need of some short-term and long-term TLC. Looks like it has for some time been poorly capped in addition to the flashings caulking not being maintained. As can be seen the bricks above the roof-line are badly spalled while in the carport area the chimney bricks, along with abutted wood, show signs of water saturation.
Short-term -- I'd like to get opinions on what I might possibly be able to do simply to make it through the winter with no further damage occurring? I've already sealed the flashing, hoping this will be enough to cure the below-the-roof-line problems. I'm just not sure if anything as simple as caulking or skim-coating the cap will help to any extent with regards to halting additional spalling of the bricks. Here in Maryland we get our fair share of that in-between weather -- Rain, sleet and snow along with 4 months of constant freeze and thaw cycles. Is anything short of throwing a bag over it possible?
Long-term -- This coming spring the real masonry work will be tackled. I have to assume the damage is too wide-spread for any simple cosmetic fixes which I believe leaves me two choices. One would be have a mason come out and rebuild as required OR I could properly cap it then cover the brick with some sort of facing. With the mason route I would contract it to be rebuilt as original. The refacing route would allow me to do the job myself but require a determination of aesthetic appeal. I'm musing that some style of stone facing would be an option but remain unsure as to whether or not it would blend or clash. Would be great to get opinions on either going original (rebuild, likely at considerable cost) or recapping and refacing which can be accomplished by me? Would also be interested in hearing any additional option you feel may be available to remedy this problem.
Cheers!
Click images to enlarge.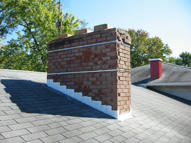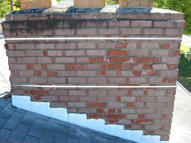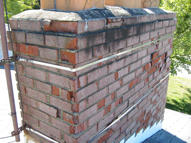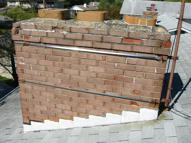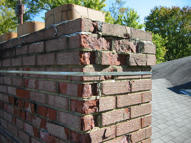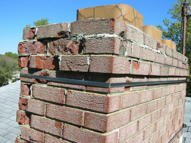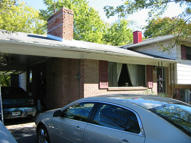 ---
Last edited by golem; 11-05-10 at

12:27 PM

. Reason: sp
11-05-10, 12:38 PM
Wow. You have some water issues. I wouldn't trust that old broken up stuff to hold anything that you would want to put on top. I think you need to rebuild that for sure. Have you had your liners inspected?

I saw an episode of Holmes on Homes that had a similar issue to yours. It seems the type of mortar joint that you have where it is set in tends to hold a lot of water and allows it to penetrate the brick instead off running down the side. I learned from my chimney guy that modern brick is much more porous than the old stuff. That also allows more moisture into the brick.

I had an issue with my chimney and rain water coming through the brick and into my fireplace and down into my basement. He put a sealer product on it and it made a big difference.
11-11-10, 12:15 PM
Join Date: Sep 2010
Location: United States
Posts: 126
Upvotes: 0
Received 0 Upvotes on 0 Posts
Thanks for the reply drooplug!

No, haven't inspected the liner for failure as I figured this chimney gets no use. In reality I probably should as a matter of principal given the house will inevitably be sold some time in the future.

I can see how this style of pointing could lead to easier water penetration. Do wish the mortar had been worked in a manner that shed the water to the face of the brick and not allow it to pool on the tops.

Seems I could work the brick surfaces down to a stable point in which I could securely install facing but short of any opinions on the aesthetics impact I'll most likely just get a few mason quotes for a rebuild. Hopefully they'll have better luck than myself finding similar bricks. I've visited a good number of brick-n-block suppliers around here and none have a brick that's a really good match. They can come somewhat close but it will remain noticeable even given the separation by way of the roof.

Cheers!
11-11-10, 12:21 PM
Join Date: Oct 2004
Location: WI/MN
Posts: 18,874
If it's not used, can it go away?
11-11-10, 06:17 PM
Join Date: Sep 2010
Location: United States
Posts: 126
Upvotes: 0
Received 0 Upvotes on 0 Posts


As much as I'd like to based on ease and cost I'd have to say it's not an option. Considering every home in the "region" has a fireplace chimney the cost to repair likely outweighs the negatives when the time comes to move if the house no longer had this selling point.
11-13-11, 10:53 AM
Join Date: Sep 2010
Location: United States
Posts: 126
Upvotes: 0
Received 0 Upvotes on 0 Posts
Update
---
Quick update!
Finally got around to getting the chimney repaired. The hardest part was sourcing brick that was even remotely similar to the existing. I sent samples to all brickyards within a 100 mile radius but still I was down to choosing the closest match from a very few that were barely considerable. The only saving grace is the fact that the roof provides a 100% separation between the new and old brick.
Thanks again for the input provided!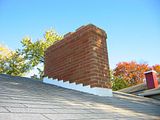 11-13-11, 12:59 PM
The step flashing in the "completed repair" doesn't appear to be inset into the new bricks' mortar joints. Rather, it looks like your mason just used a heavy bead of white caulk to seal things up. If I'm wrong, just blame the grainy picture--but if I'm right, be prepared to have more water leakage problems in the future.

Hope I'm wrong, for your sake.
11-13-11, 04:05 PM
Join Date: Sep 2010
Location: United States
Posts: 126
Upvotes: 0
Received 0 Upvotes on 0 Posts
Actually you are correct -- Astute observation.
The counter flashing was done by myself as all the masons I received bids from were going to contract a roofer for the flashing at an additional $400-$700. Since my intention is to do a complete re-roof next spring I chose to simply add the shortcut surface flashing in the interim. I sized it to be short of where I intend to reglet it in when I do proper flashing so as that I wouldn't have to deal with major caulking cleanup when the time comes. A better picture would also show that I did include generous 3/8"-1/2" outward lips (via hand brake) at the top of each step to allow for much better sealing of the caulk.
I'm not a believer in surface-mount flashing either. The sad truth is it seems to be the norm in this location. I have yet to see one chimney in this areas non-custom redentials with regleted in counter flashing. Rest assured though, come my moment of re-roof, I will drag out a diamond blade and create some dust.
Cheers!