Cracks in brick/motar = foundation problems? (pics included)
04-05-11, 02:34 PM
Join Date: Dec 2009
Location: SC
Posts: 60
Received 0 Votes on 0 Posts
Cracks in brick/motar = foundation problems? (pics included)
---
This house is apprx 17 years old. The foundation rests on clay soil. There are no cracks in the sheetrock in any rooms although an upstairs door has begun to stick in the door jam slightly. All cracks are adjacent to 2nd floor windows. Could there be any reason other than foundation setting that has caused these cracks/shifting of the bricks?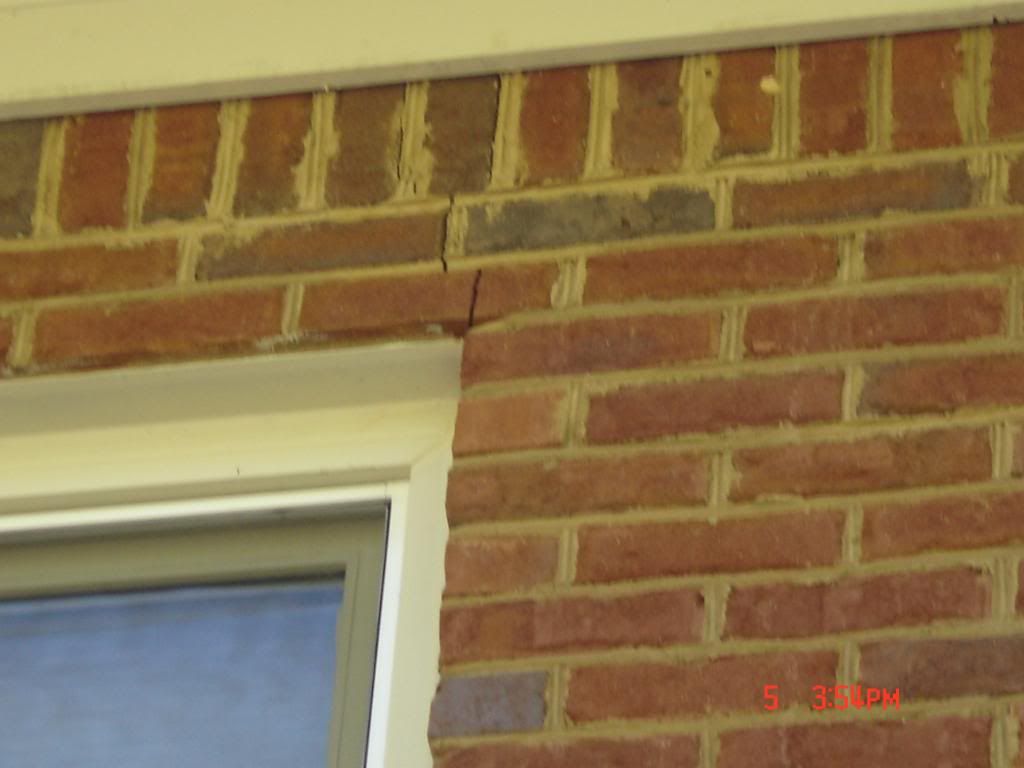 Sponsored Links
04-12-11, 05:52 PM
Join Date: Feb 2006
Location: Michigan
Posts: 399
Received 0 Votes on 0 Posts
Let me take a crack at this. There could be some settling type movement at work here. It is not unusual for some minor settling to take place. When it does and it works together with some normal shrinkage occurring over the years cracks can develop.

Looking at the brick joints, I'm not overly impressed with the workmanship. The joints have been struck however the mortar is smeared on the face of the brick. It appears as though any brick joint brushing was not accomplished when they had the chance to. I regret to mention that whatever the cause of this movement it may continue to occur. Looking carefully at what appears to be a patched area it looks as though a check has occured to this recently tucked area. The damage to the brick in the second picture possibly occurred as water got behind the brick veneer and perhaps froze. You might inspect the caulking for the cap above.

rimshot
04-12-11, 06:31 PM
I think that repair was done by someone that did not take the time to match up the morter color, cut out the joint before adding morter and never bothered to trowl over with a rounded tool to make a beaded joint line.
Creative Homeowner - Dream ~ Design ~ Create.
Your going to have to go to a real concrete suppy to find the right morter color. They will have sample sticks of morter to take home and match it up or better yet if you can get a large enough piece out take it with you.
You can not just smear morter over the old joint, you need to cut out the morter with a 4 1/2 right angle grinder with a diamond wheel at least 1/2 deep and you should wet that area down so the water is not sucked out of the morter to soon and give you a dry mix.
04-13-11, 05:47 AM
Are there control joints in the brick? The control joint would be a continuous vertical joint from the foundation to the top of the wall that is caulked. To me that looks like a very common problem that shows up when there are not enough or no control (movement) joints. Most common at openings and at building corners. If you go to the Brick Industry Association's website and look at their Technical Notes, there is lots of discussion about this. Unfortunately the permanant cure for this ain't pretty
It involves sawing vertical joints approximately 3/8" wide all the way thru the brick and caulking the joints.
I should add that if this is from lack of control joints, it will keep re-cracking despite any mortar patching. It would be better to caulk the joint as a temporary fix.
Posting Rules
You may not post new threads
You may not post replies
You may not post attachments
You may not edit your posts
---
HTML code is Off
---