how to seal tiny brick veneer crack
09-10-11, 10:10 AM
Join Date: May 2008
Location: Cleveland Ohio
Posts: 41
Received 0 Votes on 0 Posts
how to seal tiny brick veneer crack
---
Hello, I noticed a crack in the corner of my 1950's era home in the brick veneer. It's pretty narrow -- no more than 1/8". I think it opened up over the years as the house settled. I suspect this crack may have been providing an entrance into the home for carpenter ants. The ant problem has been eliminated (for now) thanks to a competent exterminator.
I'm thinking that polyurethane crack sealer might work here if I could figure out how to inject it into such a narrow opening. Or would it be better to try and fill this with mortar?
I'm guessing the crack probably continues vertically underneath the white aluminum siding. Unfortunately I don't think I'll be able to do anything about this area under the siding unless I have the house re-sided.
Thanks for any suggestions.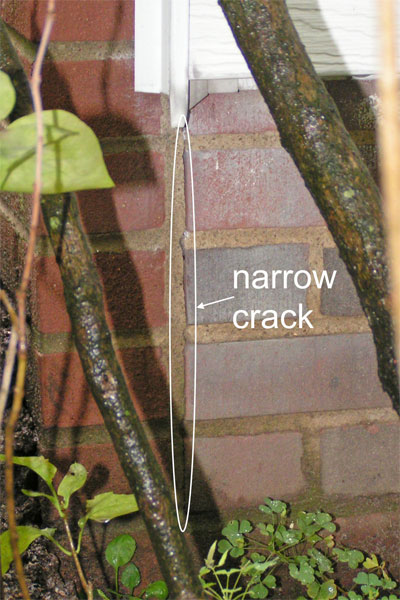 Sponsored Links
09-10-11, 03:26 PM
Join Date: Jul 2008
Location: NY
Posts: 10,986
Received 0 Votes on 0 Posts
The crack is way to narrow for mortar. I would look for something in a tube, at your local hardware store or home depot.
09-10-11, 03:29 PM
Join Date: Mar 2005
Location: USA - N.E.Tn
Posts: 46,196
I'd scratch out the crack a little with a putty knife or screw driver and then fill the crack with a clear latex caulk. It will go on milky white but will dry clear. You could also choose a mortar color caulk but I'm not sure how close it would be to the color of your mortar.
09-10-11, 04:49 PM
Join Date: Mar 2009
Location: Texas
Posts: 1,051
Received 0 Votes on 0 Posts
If you did want to re-point the brick you would need to chisel them out and anyway what you would use as mortar would never likely match the current color you have. Applying a caulk is also what I would do as marksr and pulpo suggested. Fastest, easiest and cheapest solution to a small issue.
09-10-11, 04:50 PM
To me, it looks like addition judging from the different brick colors and textures.

You definitely need a flexible sealant that can allow some movement without failing. You can do as marksr suggests or take our most of the vertical mortar, buy and insert a backer rod and then calk with the best flexible elastic caulk you can afford. The later suggestion will allow more movement without pulling away or cracking.

Dick
09-17-11, 09:12 AM
Join Date: May 2008
Location: Cleveland Ohio
Posts: 41
Received 0 Votes on 0 Posts
Thanks for the ideas !
---
I just didn't understand if caulk would really work in a situation like this. But it's obviously not a problem!
Posting Rules
You may not post new threads
You may not post replies
You may not post attachments
You may not edit your posts
---
HTML code is Off
---