mounting a mantel to concrete brick fireplace
01-17-13, 03:05 PM
Join Date: Jun 2005
Location: New Hampshire
Posts: 253
Received 0 Votes on 0 Posts
mounting a mantel to concrete brick fireplace
---
I'm planning to mount an Oak Mantel to my fireplace. the mantle is a hand hewn oak beam 8" x 6" x 6' and will weigh aprox 140+ lbs.

the face of the fireplace is solid concrete bricks random sizes x 4" deep. the bricks are in very good shape.

my original thought was to use concrete anchors in drilled in the brick with the threaded rod part of the fastener set with epoxy in corresponding holes in the mantel.

Do you think it would be ok with 4 anchors in the concrete brick?

Should I drill holes in the brick itself or the mortar joint?

I don't want to add corbels if i don't need to.

once the mantel is on, im going to add real stone veneer on the bricks.

thx
Sponsored Links
01-17-13, 03:41 PM
Carrying the vertical load is not a problem. Most connectors give advertised loads (which are for shear), but the is also a combination of pull-out and vertical load.

Since the units are not common concrete brick, but are split 4" thick solid concrete units of different sizes to get jointing pattern so the surface becomes a problem. A mantle has addition loads based on what is on it and it could tip (not fall) from the eccentric load of the mantle and applied weight. Without an angle or brace, for it to work, you would need a flat vertical face (not irregular), unless you have some sort of angle or diagonal brace.

You have no idea what may be placed on the mantle at some time in its life (my wife has proven that). Granted, it is only an assumed 8" ledge, there is always some tipping downward.

Dick
01-17-13, 04:43 PM
Join Date: Dec 2005
Location: USA
Posts: 39,967
We normally use rebar, epoxied in holes in both the brick, and once set, duplicate the holes in the mantel. However, we usually have framing or something more solid into which we send the rebar. You only have a functional firebox, which cannot be penetrated, so you are limited to the facade.

Furthering Dick's comments, I wouldn't attempt this without the additional support of corbels beneath it fastened in a like manner. Downward pressure on a mantel can range from a knicknack to a small child to a drunk buddy's elbow, so you gotta plan for it.
01-17-13, 08:28 PM
.
I had a very similar situation where I mounted an old 8" beam/mantle to an existing brick fireplace. I spread the load as much as possible to ensure it would not fail. The mantle was first screwed through the back to a piece of 12 gauge steel that was 6" wider so it provided a 3" mounting flange on the top and bottom that ran the length of the beam. The steel was then attached to the brick joints above and below the beam into alternating mortar rows and vertical joints to spread the load.....using multiple 1/4" slip-ring wedge anchor bolts. I then screwed wire lath to the strip of steel and then covered everything with natural slate.
I also drilled the front of the mantle and mounted three old rusty square head bolts for show.
.
.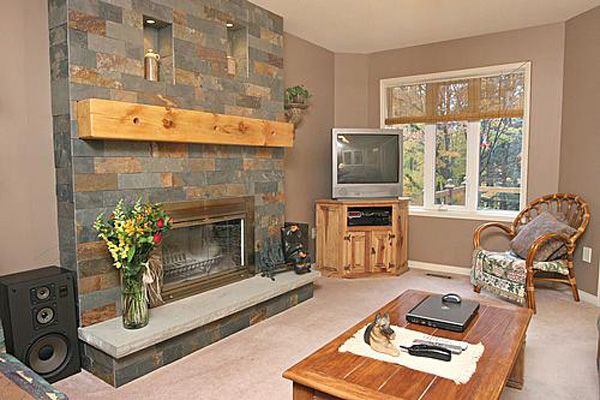 .
Posting Rules
You may not post new threads
You may not post replies
You may not post attachments
You may not edit your posts
---
HTML code is Off
---