Need help with Acid Staining / Resurfacing basment concrete floor.
05-02-14, 06:00 PM
Join Date: Jan 2014
Location: United States
Posts: 77
Received 0 Votes on 0 Posts
Need help with Acid Staining / Resurfacing basment concrete floor.
---
Hello, I am going to be acid staining my existing basement concrete floor. The house was built in the early 80's so the concrete is rather old yet in half way decent shape for being that old. There was carpet down there, so there are glue lines in many areas and some holes around the edges from removing the tack strip.
My question's are:
#1 - Should I skim coat the entire floor with new concrete in order to achieve better consistency/adhesion of the acid stain? Or will just sanding the existing floor be enough? My other concern is patching the small holes left from removing the tack strip and the acid stain color not matching with the existing concrete as compared to the new concrete patched holes.
#2 - Do I need to rent a floor sander with concrete attachment to grind/sand the entire floor before I skim coat? Or can I just skim coat over it?
#3 - What is the best type of concrete coating to use for proper adhesion to existing as well as a concrete that the acid stain will take well to. I was looking at the Polymer Modified resurfacing concrete from Quickrete (
Quikrete 40 lb. Concrete Resurfacer-113141 at The Home Depot
)
#4 - Any other general tips for a first time acid stainer?
Here are some photos of the existing concrete: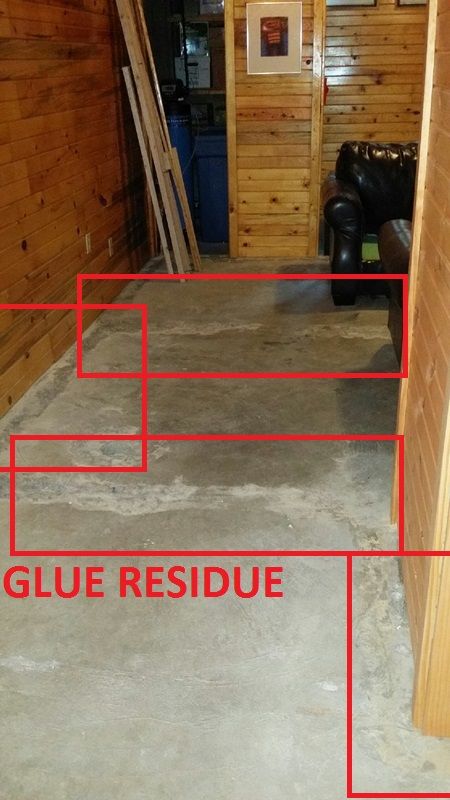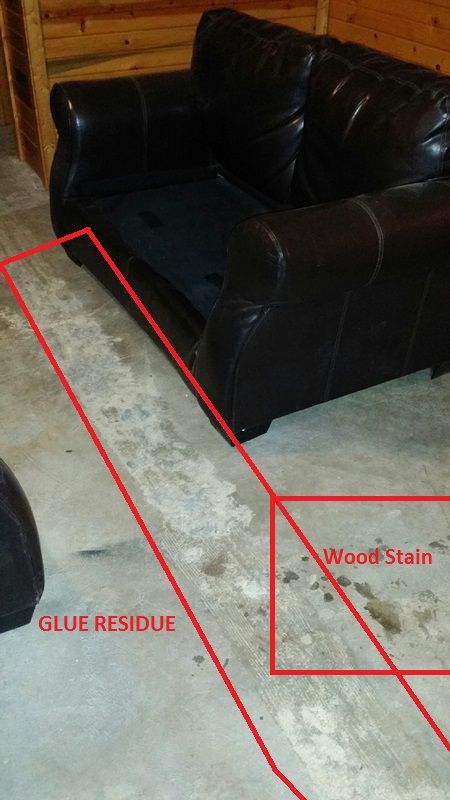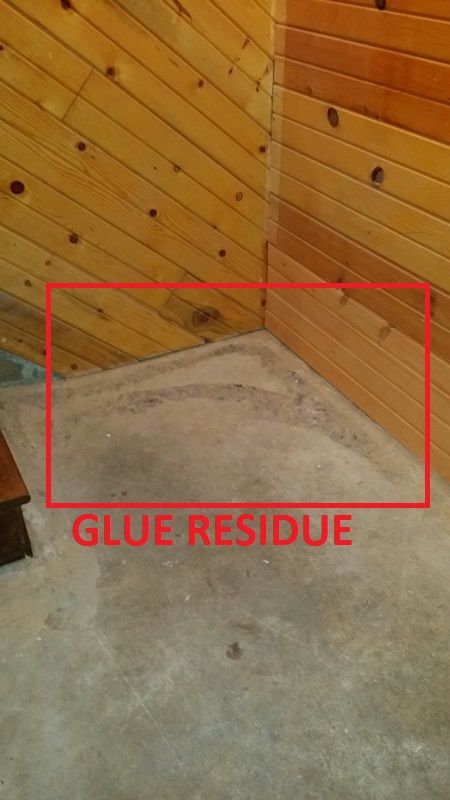 Thank you for any help!
David
Sponsored Links
05-03-14, 02:26 AM
I'd be tempted to forget the staining idea, and just install ceramic tile. Easier in the long run, and no chance of not being happy with variations in finished surface appearance (and variations). I'd also be leery of getting complete bonding of a leveling surface application. The reviews of the product you plan to use aren't very encouraging, either, with an average rating of 2 out of 5.

Maybe someone with concrete staining experience will be along shortly to correct me if I'm wrong.
05-03-14, 12:53 PM
Join Date: Jan 2014
Location: United States
Posts: 77
Received 0 Votes on 0 Posts
I am certain that I want to acid stain, I have already purchased the supplies as well.

As far as my other questions are concerned I am not set on that product I mentioned it was just an example, are there any other better products that I could use?

Or do I even need to skim coat, will sanding be sufficient?
05-04-14, 03:26 AM
let me expand on that response if you will,,, shopping @ any apron/vest store only invites trouble.

1 - yes, i know they have some brand names on the shelves but when you ask questions, all you get is a stare back - they have NO f'n idea what you're either talking about OR any knowledge,,, IF the stores do have knowledgeable people, trust me - they came to work knowing what they know,,, there's NO product training budget;
2 - to me, buying their stuff illustrates a low level of information; altho i don't know the following to be fact, concretenetwork.com doesn't feature pupups from either the apron OR the vest store;
3 - IF the $ you've already spent is that significant to you, get ready to invest MORE - you've now got to diamond grind the floor then overlay it - acceptable materials are NOR inexpensive - & you'll need a decorative conc specialty supply store,,, apron/vest store stuff is an indication to me of trying to get out of a job cheaply = unlikely to be very satisfactory when done.

but,,,,,,,,,,,,,,,, that's just my $.03,,, i could be totally wrong !
05-04-14, 08:00 AM
Join Date: Jan 2014
Location: United States
Posts: 77
Received 0 Votes on 0 Posts
Thank you for all the information, however I do want to acid stain and not switch to tile as stated before. Also so far none of my questions have been answered and I am still curious as to If I need to sand or what prep work is involved before skim coating..

I also understand that some products at "big name" stores are inferior compared to commercial products. And that is why I asked for product suggestions for skim coats, which I have also not received.

Thanks again,
David
05-04-14, 03:48 PM
Since you're not getting the answers you need here, why not just call (or make an in-person visit to) a business that does acid staining? They should be able to give you the name of the prep product(s) they use, and what specific processes they would recommend for prep work.
05-04-14, 04:44 PM
I have had great luck with Ardex SD-M microtopping followed by acid staining. The ardex can be used to fill the tack strip holes, and then overlayed with another troweled down layer. It is like troweling down hot butter...really simple and leaves a great finish if you're good with a trowel. Follow the directions as to floor prep. Speaking from experience, the quikrete resurfacer is not what you want. The ardex will only be available at a contractors supply.
05-05-14, 03:36 AM
haven't used that particular ardex mtl but nothing adheres to an ill-prepp'd surface for long UNLESS its bolted down
ok - product suggestions: elitecrete, surecrete, sundek, gawd-a-mighty-crete - concretenetwork.com - be aware most only sell to licensed installers because they can generally avoid product liability - you'd be on your own IF any would sell to you
as far as prep, didn't the 'diamond grinding' phrase sink in or did it not resonate ?
05-05-14, 07:03 AM
stadry,
I wholeheartedly agree about surface prep being tantamount to success of an overlay.
That being said, I used the Ardex SD-M product on the sales floor in my little concrete store and then acid stained it. Shame on me, but I wanted to see just how important prep was. This product said it could go over glazed tile so I decided to apply it right on top of the existing sealed concrete floor. I lightly ran a floor buffer with sanding screen over th floor to clean it a bit, then mopped and appklied the Ardex. Over a year later with a pretty good amount of daily muddy-boot foot traffic, and zero problems. No delamination, cracking, flaking, etc. It is bonded like a *@%&#!
No one would warrant this floor, and I would never allow a contractor to do it for a paying customer. However, if it's his own floor and he wants to risk it, let him go ahead. He'd have no one to blame but himself if the results were bad.
05-06-14, 12:45 AM
i'll be damned, pecos - over conc w/just a screening ?
unsure what a ' *@%&# ' is OR how that translates in forum-speak but i'll assume it means good adhesion
send me a pm - like to talk w/you off-forum,,, do you, by any chance, know gene dean out there ? good guy - in indianapolis !
Posting Rules
You may not post new threads
You may not post replies
You may not post attachments
You may not edit your posts
---
HTML code is Off
---