Removing improper "waterproofing" membrane off of exterior foundation
05-07-15, 04:52 PM
Removing improper "waterproofing" membrane off of exterior foundation
---
House was built in late 2003 / early '04. We purchased it as a bank owned home.
It has this green, sticky and VERY hard to remove green foam all over the foundation. I am guessing it is the waterproofing that is supposed to be used underground but is used all the way up the wall. As you can see from pics it is super thick in places and was painted over. The only place this isn't on the foundation is where the block is located around the garage and crawl space.
Besides looking like hell, pieces of the surface of the block foundation are coming off with it. I need to fix this mess.
I can see they also filled a couple joints with this crap as well. My goal was to remove it and put a stone veneer over top.
I tried grinding it down with a wire wheel on my angle grinder, with that just melts and spreads it. I've tried power washing it but that doesn't nothing. I can pry it up and peel it off, but takes FOREVER (the one corner you see took a good 30 minutes+). There are also a couple holes in the foundation where the patio meets the block, what should I do with that?
I just want to fix this issue once and for all - what should I do?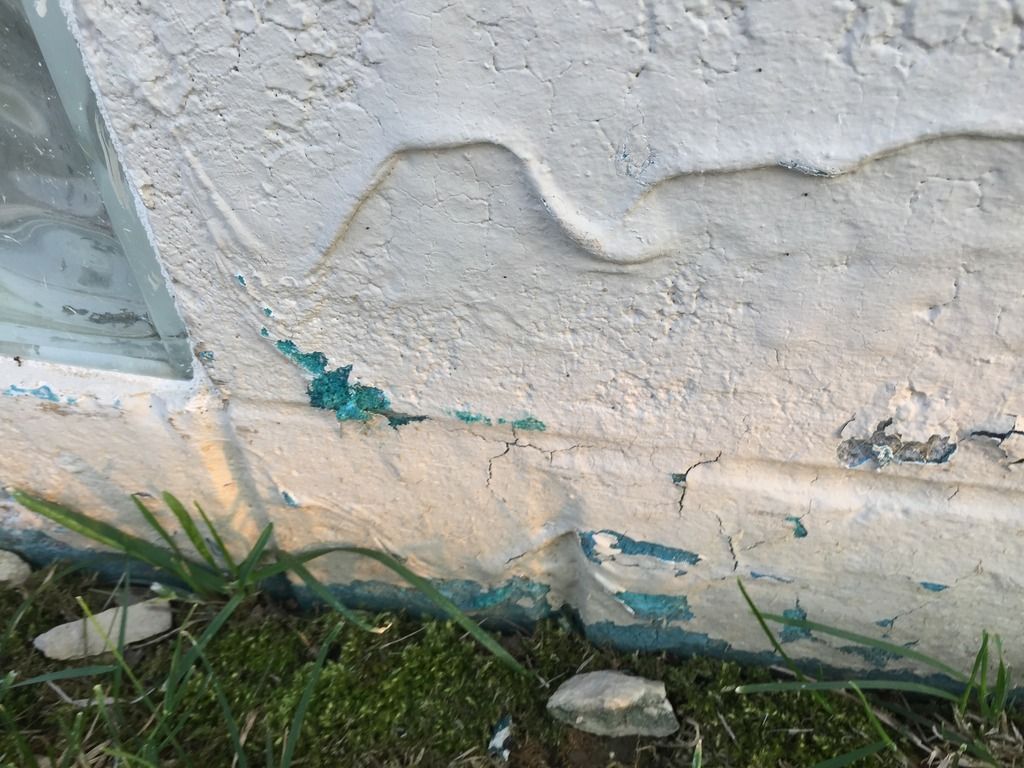 This is where I ground it with a wire wheel: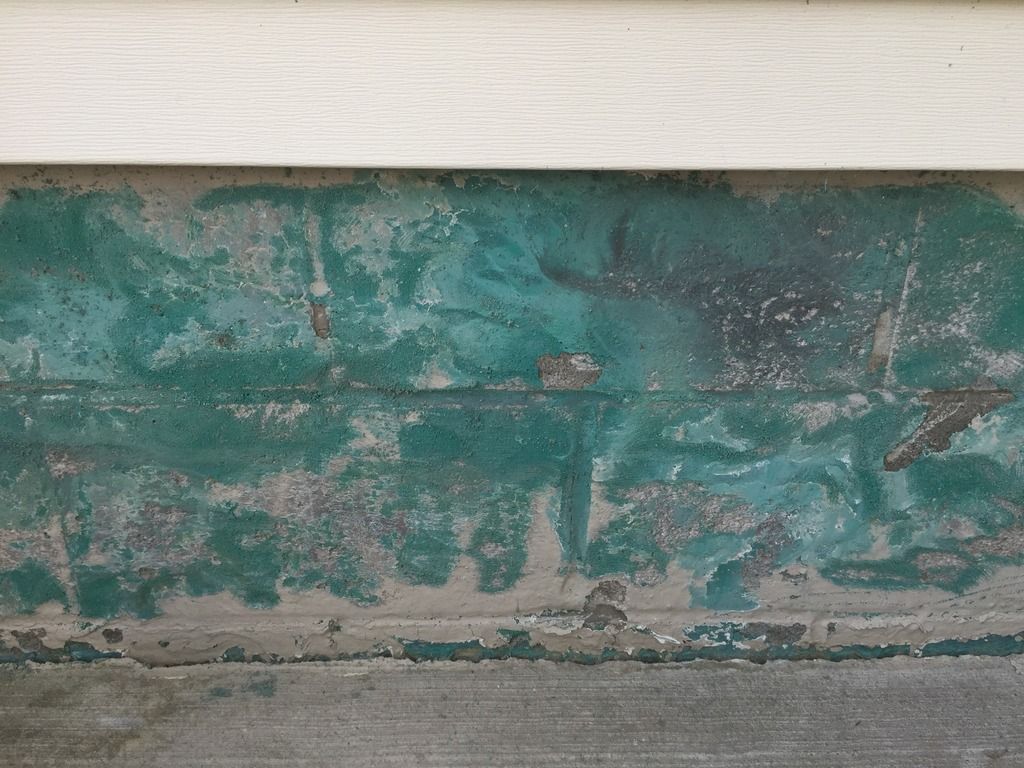 This took 30 minutes and revealed they filled the joint with this crap
This is the bigger of the two holes
Sponsored Links
05-07-15, 05:49 PM
I doubt there is an easy removal process for this material. The thing I am curios about is the blowout in the block. Is the basement wet or damp? Is this cinder block or concrete block.

The material looks like "tuff and dri", one of the earlier products made for spray application of a waterproofing compound. It is an asphalt blended with a polymer to give it extra holding power and elasticity.

You could look up application companies in your area and ask if there is a recommended removal procedure.
05-07-15, 06:00 PM
Basement is pretty dry. One side is painted, with some surface scale on a few parts but nothing disturbing. The other side was once finished but the sump pump backed up and the previous owners pulled the drywall and took the insurance money. That side was sprayed with a mold encapsulating spray by the bank. We had seen it prior to them doing this and it wasn't even concerning at that point (few spots where I would have did a bleach wipe down), but it was their money to spend...

There has been no signs of water intrusion anywhere and the part with the encapsulation hasn't had any surface scale on it. We do run a dehumidifier down there, but it's a pretty big area (1800sq/ft of basement plus another 600 of crawl space).

Block looks like typical cinder block..
05-07-15, 08:37 PM
In many (most?) parts of the country, cinder block isn't available except by special order. I suspect yours is concrete block, since the place was built 11 or 12 years ago.

I'd try a masonry wheel on a large angle grinder myself. If that doesn't do the trick, time to drag out the sandblaster and go to town with it.
05-09-15, 05:30 AM
Do you think a sand blaster will do the trick? I was already planning on investing in a media blaster to walnut blast the valves on my car (an unfortunate common maintenance item on a number of German direct injected motors).

If a sand blaster will get the job done I'll even get one nicer than I originally intended as this will be a decent sized job.
05-09-15, 05:48 AM
While any size sandblaster will do the job IMO anything short of a commercial unit would be too slow. Sandblasters eat a lot of CFM, what size air compressor do you have?
05-09-15, 06:56 AM
color green is the key word,,, it sounds as if your home had 'rub-r-wall' applied [
Rubber Polymer Corporation, provider of Rub-R-Wall, residential and commercial air barriers
],,, terrific process but expense killed it compared to bldg code spec'd 3mil dampproof materials,,, if i were you, i'd overseal the damaged areas w/hlm5000 & rest assured
05-09-15, 05:58 PM
I have a 25 gallon, 6HP compressor. I could see it getting drained quickly sand blasting. I could always rent a bigger compressor if needed.

Is there any reason I would want to waterproof the foundation above ground? I figured I'd get it clean, thinset, stone veneer (quartz stone is what I'll be using).
05-10-15, 03:36 AM
That compressor will only operate small sandblasters. The commercial type blasters are usually powered by a large gasoline/diesel powered compressors. The hopper will be large enough to shovel the sand into it. I don't remember the nozzle sizes but a diy type sandblaster's hose/tip would fit inside the orifice on a commercial blaster.
05-11-15, 10:30 AM
If you are applying stone veneer why not just leave it, nail up diamond lath and apply the scratch coat you need for installing the stone.

Don't forget a proper flashing to direct water from getting in behind the stone.
Posting Rules
You may not post new threads
You may not post replies
You may not post attachments
You may not edit your posts
---
HTML code is Off
---