Sealing stone chimney
10-02-15, 09:50 AM
Join Date: Jan 2015
Location: USA
Posts: 39
Sealing stone chimney
---
I have a large central stone faced fireplace that leaks when it rains. I've determined that it's not the flashing or the shingles, I can see right up from inside the house to the flashing, the shingles and the plywood and what is happening is the water is seeping in the mortar or stones outside and coming back out inside the house. I used to put Thompson's water seal on it and it worked for quite a few years, I had to use it every year, but that no longer works. I tried some solvent based silicone concrete sealer and that didn't do anything. I bought some stuff called Defy and that too didn't work. I'm at the point of now maybe putting some clear two part epoxy on the chimney to just plain block the water egress. I did have some cap sealer put on the chimney, but that also did nothing for the water coming in. I've had people tell me not to seal the chimney, but I see plenty of painted brick chimneys and what is that if not sealed. I'd like to keep the stone look, and that's why the clear epoxy, I'm done with penetrating sealers. I found this stuff
https://www.covertecproducts.com/cle...rongseal-plus/
but it apparently only comes in gallon sizes. I need to try a sample because the stone work is now waxy and somewhat slimy from all the things I've put on it, despite using the high pressure washer on the stone/masonry.
What I'm asking is where can I get a test sample of this stuff or equivalent, and also is it a really bad idea to just seal the stonework on the outside? This has been going on about 30 years, but the wood is good, not rotten, I've pulled off some of the ceiling so I can see what's going on where the ceiling meets the stone fireplace, it's a cathedral ceiling with 2x12 rafters.
Dave
Sponsored Links
10-02-15, 10:20 AM
Join Date: Jan 2011
Location: USA
Posts: 4,405
Likes Received: 20
Post a picture of the outside of this chimney on the outside.
Does it have a cap that overhangs the stone at the top so water runs away from the stones instead of down the sides of it?
Messed up by using the Thompson's sealer, that's why you now have a waxy build up.
Your cap should look something like this.
https://www.google.com/search?q=ston...sJTocVu2XLM%3A
A properly flashed chimney should not leak.
10-02-15, 11:59 AM
Join Date: Jan 2015
Location: USA
Posts: 39
No it does not have an overhanging cap. I doubt that a couple inch overhanging cap would make much of a difference to the amount of water running down the sides of it given how it's exposed to the weather and the height of it which is about 6' on the south side which is pictured. I'm certain what is happening is the water is soaking in the outside mortar/stones and running down the inside of concrete block below the flashing and coming back out when the water hits the top of the solid stonework/masonry inside the house. I'm feeling at this point my only option is to put a clear film type coating like epoxy on the outside stone/mortar. Like I said before, the flashing is working properly at the outside top joint, but it should have gone completely over the top of the concrete blocks, but that's a bit late now.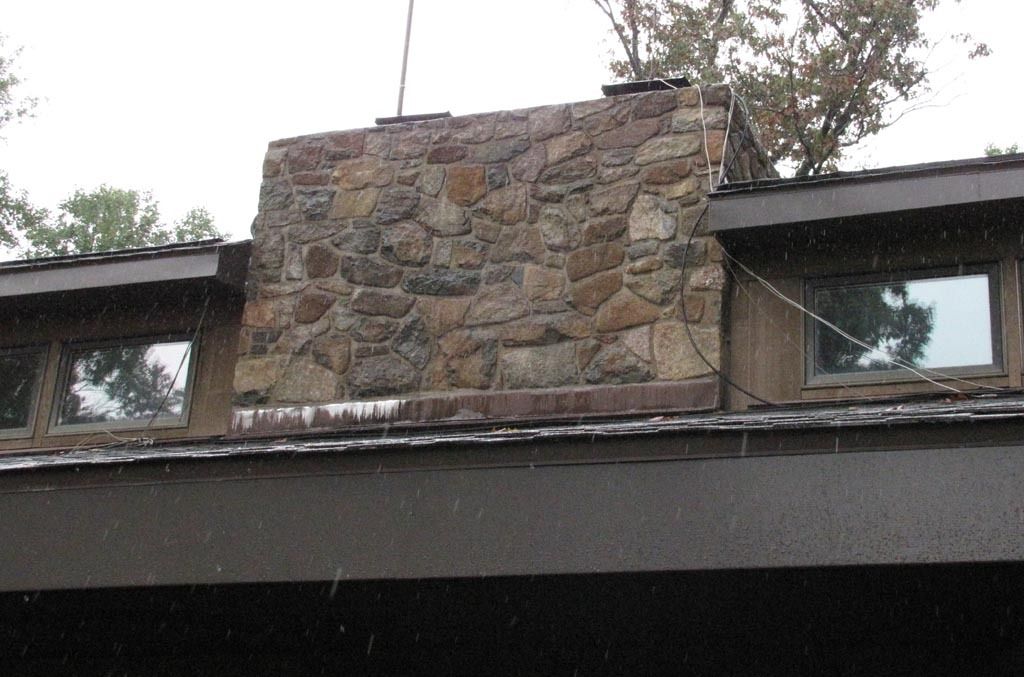 10-02-15, 12:53 PM
Join Date: Jan 2011
Location: USA
Posts: 4,405
Likes Received: 20
Most stone is not porous.
Yes it does make a big difference with a proper crown.
Need a better picture where those dormers tie into the chimney.
It needed step flashing and counter flashing.
10-02-15, 01:37 PM
Join Date: Jan 2015
Location: USA
Posts: 39
Yes there is proper base and step flashing along with counter flashing that goes into the mortar probably 6-8". It's not the flashing that's the problem, it's the mortar, I may try re-pointing it, although it looks good for 30 years, it's not coming loose, but there's a few cracks in it in places. I'm sure the fieldstone doesn't soak up much water. It's not a dormer, it's a clerestory. If it were leaking at the vertical joint, it would show up below the vertical wall inside. I can see the water coming out of the mortar at the top of the inside stone/mortar, the concrete block above the inside stone and up to the flashing is dry, I can see it, I've got the ceiling off next to the stonework inside. It's only a small section about 2' long that's doing it but it's amazing how irritating it can be.
10-28-15, 11:55 AM
Join Date: Jan 2015
Location: USA
Posts: 39
Ha. After much soul searching and talking to stone masons, I used some clear GE silicone II and caulked every spot on the outside that looked like the mortar separated from the stone. We finally had a 2" rain this last 2 days from Patricia and it's about 98% improved. What little is still seeping in at the inside I'm sure I can seal up from the outside. I'm also going to try putting this Diedrich 333E Omegaseal that the stone masons recommended on it when I'm done with the caulk, it came well recommended although I've not had good luck with sealers. I'm almost sure if I used the GE silicone and just covered all the mortar joints on the outside, it probably would be good for 5 years or so.

I'm pretty much convinced it's just because the south side gets all the weather and sun and that takes a toll on the stone to mortar seal. So it's just a matter of caulking and sealing now and then. It's nice not to have pints of water coming out of the mortar inside, I've maybe had a cup with this last hard rain and it was just seeping out the mortar joints about half way down the inside south wall.
11-07-15, 10:31 AM
Join Date: Jul 2013
Posts: 143
Have a closer look At the mortar joints if you haven't already. On my 100 year old stone home a number of joints will actually disintegrate from the inside out. Youll see a thin ribbon of mortar there with dust behind it.
11-10-15, 08:29 AM
Join Date: Jan 2015
Location: USA
Posts: 39
I think I've got it. I went back and used GE Silicone II and caulked a fine joint around each stone where it meets the mortar and pressed it in. While doing that I found a lot more joints that appeared to be pulled away from the stone. We've had over 1" rain so far since last night and not a drop inside at this point. I may have fixed it but it will take a 3" downpour to really tell. When I get time I'll do the other 3 sides just for practice.

Next project is to seal that area where there's a 2" gap around the masonry wall and the roof framing. There used to be fiberglass insulation in there and when I pulled it out to inspect there were a thousand stink bugs in there, so they are coming in there. I'm going to get some weatherstripping, glue it to the framing and the masonry and then jam a piece of metal flashing in there and caulk it to seal the space from the bugs. The code is so stupid about framing and chimneys. The flues are at least 3 feet inside the masonry and they won't let me put any combustible material in that 2" space outside the wall, but I can put the wood trim right against the wall. What crap. Inspectors will never see it anyhow, it'll be covered by the trim.
Posting Rules
You may not post new threads
You may not post replies
You may not post attachments
You may not edit your posts
---
HTML code is Off
---