Cleaning up dryer vent exhaust hole
01-18-16, 08:15 AM
Join Date: Jul 2010
Location: USA
Posts: 99
Received 0 Votes on 0 Posts
Finally fixed the original issue! So i started with my drill, after a few holes I tried chippong away the wall gave way pretty easily actually so I just started to "bore" out the hole by hitting it with the hammer and flathead not pretty but ot does the trick.my cover came with some aluminium pipe so i went ahead and attatched it and it went over the 3inch pvc pipe.
Now I just need to figure out what size screw I need to use to screw it in to the wall but it doesn't seem to need it immediately.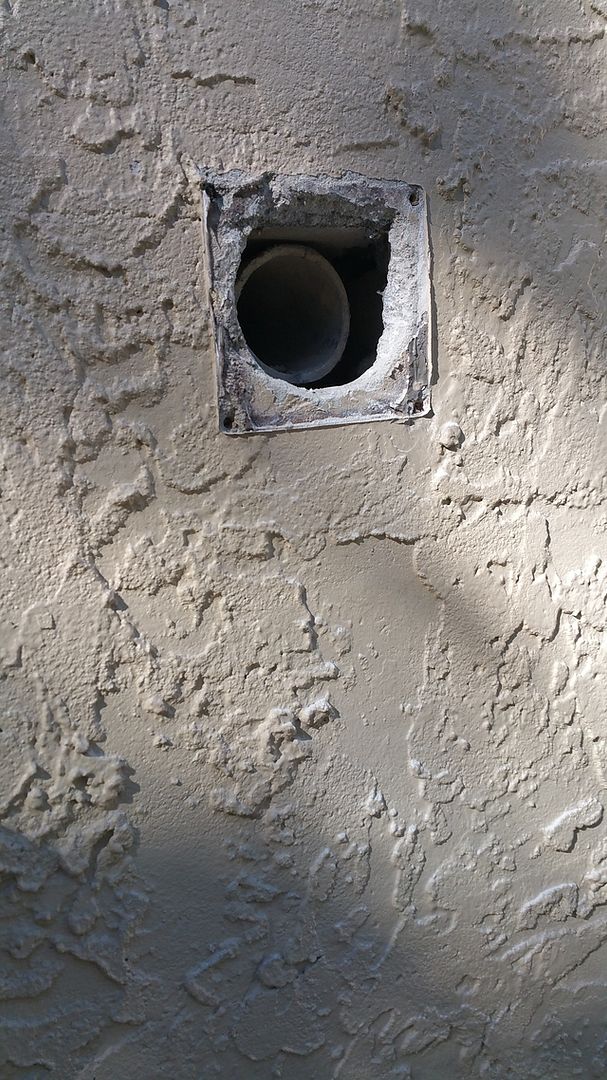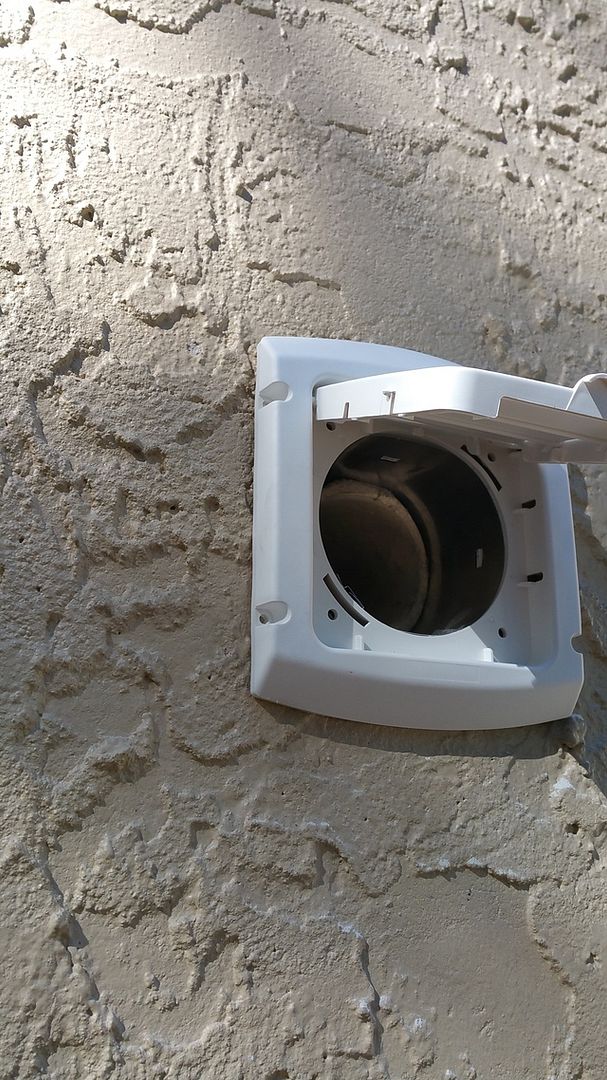 Showing the airflow
Sponsored Links
01-18-16, 08:16 AM
Join Date: Jan 2010
Location: North East Kingdom of Vermont
Posts: 2,533
Received 0 Votes on 0 Posts
Originally Posted by pugsl
". . . resisted air flow is number 1 reason for dryer problems and long dry times . . ."
Congested dryer vents also contribute to house fires, right along with the accumulated lint (dust balls?) beneath and behind refrigerators and freezers.
01-18-16, 08:30 AM
Join Date: Jul 2010
Location: USA
Posts: 99
Received 0 Votes on 0 Posts
Thanks for the suggestions guys earlier in this thread i actually cleared the whole line out with the linteater and I also vaccumed the whole lint trap area.

Ill run too the store later to figure put the screw size I need to secire ot to the wall (its on there pretty good roght now
01-18-16, 12:22 PM
Join Date: Dec 1999
Location: Cleveland, OH USA
Posts: 560
Received 0 Votes on 0 Posts
If the PVC pipe is not a real tight fit inside that aluminum sleeve (picture 2 in post #41), you might want to caulk it to seal it. If the vent gets blocked for any reason, you don't want it to start venting back into whatever space is behind that wall.

- Peter
01-20-16, 02:00 PM
Join Date: Jul 2010
Location: USA
Posts: 99
Received 0 Votes on 0 Posts
Ill see how I could caulk it but whatever open space is there it doesnt seem that would be an issue for as long at the house has been there there has been a seperation from the end of the pvc to the "vent" which I say loosely as the old vent was a peice of crap. I dont even know how I would caulk this since the area ot meets is far in there maybe use the expanding foam and do a layer around it? I dont want to get to crazy in case i need to remove it for any reason the aluminium pipe is actually locked onto that new white housing.

The screws I was referring to was to screw the plastic vent to my exterior wall while it is on there very tightly I dont know if ill even bother.

Thanks again for everything so far on this thread!
Posting Rules
You may not post new threads
You may not post replies
You may not post attachments
You may not edit your posts
---
HTML code is Off
---