Pressure washer streaks stained and sealed concrete
04-26-16, 08:33 AM
Join Date: Aug 2008
Location: USA
Posts: 7
Upvotes: 0
Received 0 Upvotes on 0 Posts
Pressure washer streaks stained and sealed concrete
---
Morning,
So I needed to reseal since my 2 year old sealer was fading, so I pressure washed it. I think i got to aggressive trying to get dirt out of spots and it left spray marks everywhere and looks horrible. Yes, I am a novice (or as I call it, a DIY'er) so I know some will say I should have hired someone, but anyway, It appears to me what happened is there was a light layer of sealer left on the concrete and the marks it made may be where I blew off the sealer and got down to the stained concrete, which is kemiko malay tan color.
I had some old sealer around (3-4 years old) so I tested it in a small spot to see if the marks would go away, but they didn't. It is old sealer and also a different brand so I am hoping that is why, but the sealer should be compatible from lablel readings, and it laid down fine it just did not cover the marks up.
I do not want to seal the whole deck (1600 ft) and have it look like it does now, so I wanted to see what yall thought. I attached some pictures showing the issues. I will say that when I wet the area with a hose, the marks completely disappear, which further makes me believe its not an imperfection in the concrete, but Im not sure. I am going to buy a gallon of the exact sealer I used 2 years ago to test a small area and see how that goes, but I wanted some other opinions.
Thanks in advance!
04-26-16, 11:53 AM
Join Date: Mar 2003
Location: NC, USA
Posts: 25,948
That is one of the hazards when using a pressure washer. What tip did you use? It looks like it was too narrow and/or you held the tip of the wand too close.
One option is to go back over it again. Being very careful to keep the tip a uniform distance away and to overlap your passes so there are no missed areas.
You can also try a floor washer attachment. It has a rotating spray bar inside and the body & wheels hold it a constant distance off the floor for better consistency.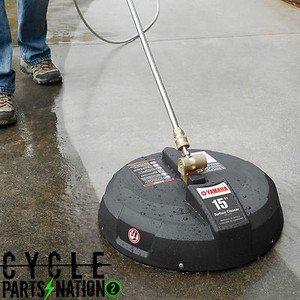 04-26-16, 02:21 PM
Join Date: Mar 2005
Location: USA - N.E.Tn
Posts: 45,155
It looks like a zero [red] tip was used. That is why you got all those squiggly lines. Re washing with a wider tip paying closer attention to what you are doing should fix it. While I've never used the floor cleaning attachment shown above that should make the job more fool proof.
04-27-16, 05:15 AM
Join Date: Aug 2008
Location: USA
Posts: 7
Upvotes: 0
Received 0 Upvotes on 0 Posts
Its funny you mentioned that floor washer attachment, i had actually bought one already but didnt have the quick connect attachment for my pressure washer yet, so I hadnt tried it. I stopped on the way home and got the right attachments yesterday and thought i would give it a whirl. Wow, I have a new favorite toy. i only had time to do a little last night but I think this is going to solve my issue!
Here is a little before and after on the spot I did last night
04-29-16, 03:34 AM
next time, rent a decent size pressure washer & use a turbo nozzle,,, i think a 0* nozzle wouldda left sharper lines but you may have had the nozzle farther from the conc's surface,,, personally i like the walk-behind whirligigs & we own 2 however, im-n-s-h-fo, running 2 nozzles requires a bigger p/wshr,,, its not uncommon for operators to delude themselves into thinking whirli's can cut rqd time in 1/2 but you'll see 'stripes' when the driveway dries

curious why fading sealer as its a clear material right out of the can - usually uv resistant, too,,, in 35yrs i never heard of sealer fading

this is a q-tip/chip brush job which may not be repairable other than time itself
04-29-16, 04:50 AM
Join Date: Aug 2008
Location: USA
Posts: 7
Upvotes: 0
Received 0 Upvotes on 0 Posts
This is so weird, I posted an update with pictures 3 days ago and I just realized its not here WTH
I bought one of the floor washer attachments and it seems to be sorting out my issues for me. I love that thing!
Stadry, maybe fading is the wrong term. its been on there a little over 2 years and it was needing a recoat as I could tell it wasnt all there anymore. It takes a beating in the how TN sun all day and the saltwater from the pool.
Anyway here is one of the spots i did. Waiting on the weather to settle down so i can reseal it
05-08-16, 03:55 AM
& here, all along, i thought learning how to pressure wash was a 5min deal,,, maybe its reading comprehension that's more difficult as you post,,, was this work an attempt at modern pool art, misdirected unintended perseverance, or a demonstration to your wife you would rather have been playing golf & hire this work done ?
since you're demonstrated the 0* nozzle removes sealer, get a decent size machine & turbo nozzle ( not your toy whirli-gig ) & wash all that **** off,,, then start over by hiring a pro - just my $.03
& tie your shoelaces too