Pouring a slab on sloped ground
06-18-16, 09:51 AM
Pouring a slab on sloped ground
---
I'm trying to take on my first concrete job at home and I think I picked a doozzie lol. I am wanting to pour a 8x4 slab to build a dog kennel on. The issue is that where I want to put it, the ground is sloping away from the house to the tune of about 5 - 6 inches (estimate).
My question is, how should I go about this? I'm open to have the slab oriented either way....but would prefer to have the 8' part be between the house and fence in the picture below. How much would I have to doing out before putting my base down? I live in Oklahoma if that helps.
I'm looking to get start digging as soon as I can so any help would be appreciated.
Picture: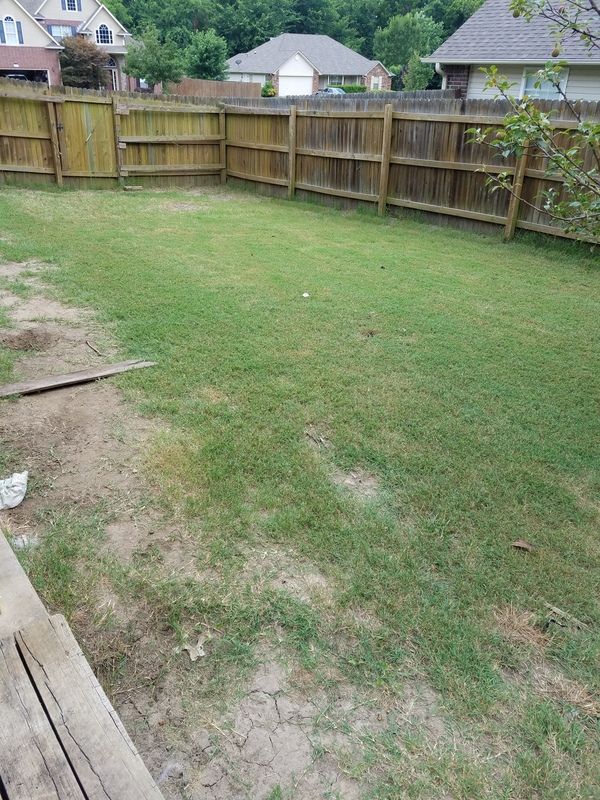 Thanks,
BD
Sponsored Links
06-18-16, 10:34 AM
Join Date: Dec 2005
Location: USA
Posts: 39,967
You will need a base on which to pour your concrete first. Gravel bases can be leveled fairly simply for less concrete mass in the deep part. I would suggest 2x8 or better forms for the sides, leveled and supported from the outside. Then lay in a gravel base to allow a 4" slab to be poured on top.
06-18-16, 03:15 PM
Join Date: Dec 2005
Location: USA
Posts: 39,967
Just dig down about the distance of fall so your forms will be level. After supporting them, pour and level gravel up to a point about 4" below the top of the forms. Then you can pour your concrete level to the top and screed it off.
06-18-16, 03:20 PM
Just make sure the perimeter of the slab has concrete down to or below the existing grade ..... you might need to pour the concrete thicker along the edge but no need for thick concrete in the middle.
06-18-16, 04:50 PM
Not sure what your frost issues are in OK, but here in Maine, 8' from my house will lift 4". My camper in the back yard goes up half a foot. Clay soil and evidently the right type for frost. Be sure to crown the slab or slope it a bit to avoid puddles, made by mother nature or the puppy.

Bud
Posting Rules
You may not post new threads
You may not post replies
You may not post attachments
You may not edit your posts
---
HTML code is Off
---