pergola anchor options
09-03-19, 02:16 PM
Join Date: Jun 2006
Location: Denver
Posts: 30
Received 0 Votes on 0 Posts
pergola anchor options
---
Hello,
trying to help add a pergola to an existing concrete pad. the posts are 6x6 cedar and it unfortunately appears that the pad (in great shape) is only 3.5" thick. I'm having a heck of a time deciding what post braces to use. I'm really hoping that Simpson Strong Tie 6x6 bases attached to the concrete with 1/4" tapcons will do the trick. I don't want to have to cut something out and make it thicker and don't have an option to put the posts off the concrete.
the pergola will be 15'x8' so it's not huge, but it's plenty big.

are tapcons aviable option? what base connector would you use?

the pergola will have knee braces for lateral stability on the top. the beams are doubled 2x10's and the rafters are 2x6.

thoughts?
Sponsored Links
09-03-19, 05:29 PM
If your Pergola is anything like mine, 8" vertical beams, 9' high, 2x10 cross beams, 12' wide with 2x6 cross joists, 4' wide, you better start thinking about cutting out a section of the pad and burying the main beams at least 4-6' in concrete.

No way is any type of surface mount going to support anything that large!
09-03-19, 05:49 PM
I would probably drill clean through the slab and embed hot dipped galvanized all thread rod into the holes using anchor epoxy and a mixing nozzle. (You have to brush/blow/brush/blow/brush/blow using a cylinder brush and compressed air before using the epoxy.) And it's a good idea to spin the threaded rod as you insert it into the epoxy.

Use the post bases that have a single adjustable hole. (Simpson ABU66RZ.)

No, I would not recommend you use tapcons for this.
09-04-19, 05:42 AM
My first concern is the lateral strength of your pergola. Anchoring it down is pretty easy but it won't provide much lateral support to prevent the pergola from swaying back and forth parallelogram style. Embedding your support posts in the ground like Marq1 would add a lot of stiffness to the structure.
09-04-19, 07:06 AM
09-04-19, 07:12 AM
Join Date: Jun 2006
Location: Denver
Posts: 30
Received 0 Votes on 0 Posts
Would you use 3/8 threaded rod?
09-04-19, 07:26 AM
Join Date: Jun 2006
Location: Denver
Posts: 30
Received 0 Votes on 0 Posts
My plan is to use this basic design with a couple modifications. I have 6x6 posts that i will notch instead of bolting right to the outside. The doubled beams are 2x10 and on top of them will be 2x6 spaced 14" apart. I will add knee braces to all 4 corners. All of it is cedar.
It is going over a longer narrow space approx 8x16
https://diy.sndimg.com/content/dam/i...794509532.jpeg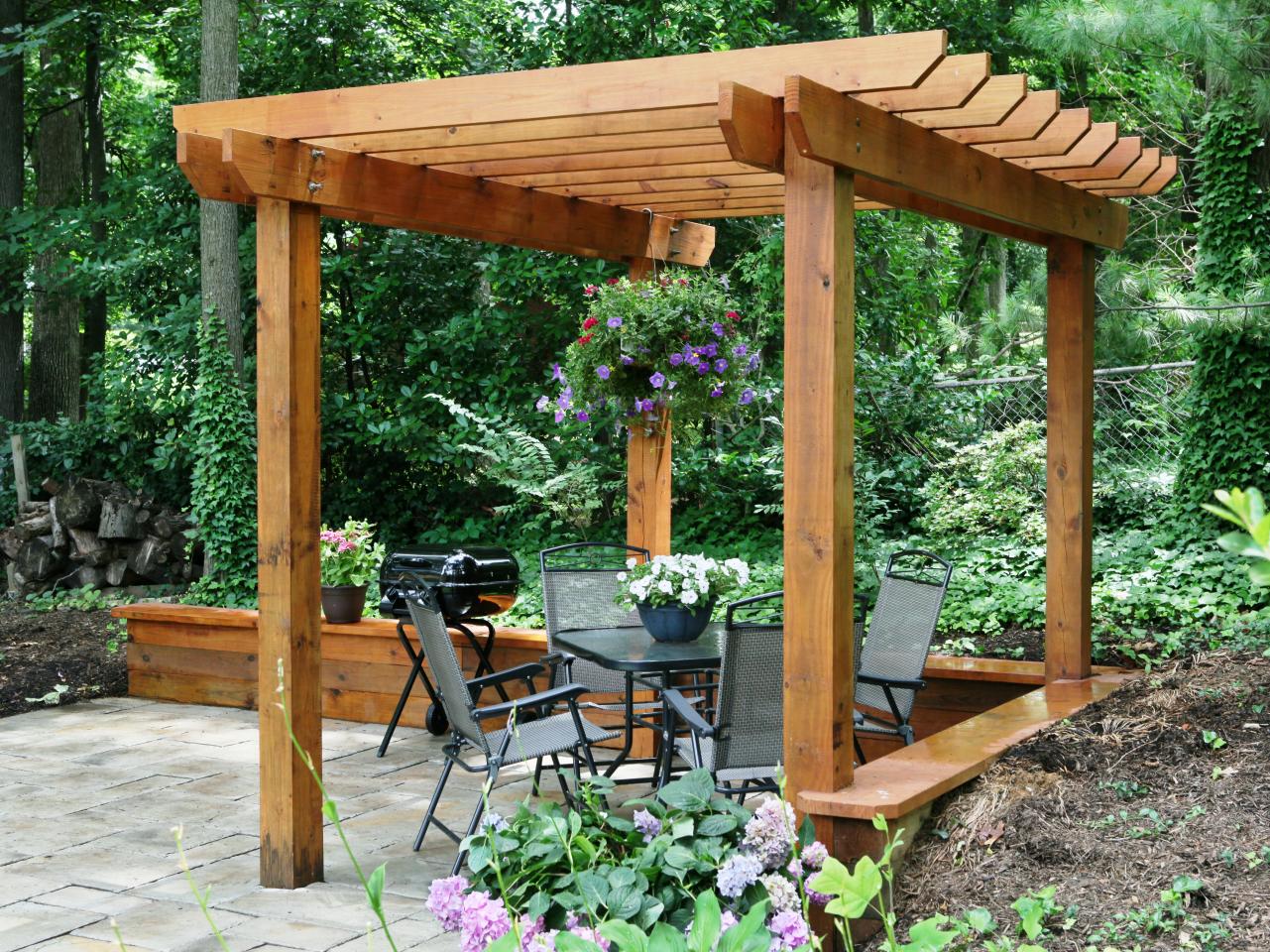 Posting Rules
You may not post new threads
You may not post replies
You may not post attachments
You may not edit your posts
---
HTML code is Off
---