Chicago bricks in landing area
02-07-21, 06:08 PM
Chicago bricks in landing area
---
I have a landing area that is about 50SF, it will have occasional foot traffic but never vehicular traffic.

It is surrounded on all four sides with solid concrete borders. I have excavated it down to about 12" below where all I have is bare soil. It was covered with loose 20X20 step stones before, which I have removed with the intention to reset them better, level with a solid base, but to my surprise, what's underneath the step stones were broken chunks of concrete blocks, old tiles, broken pottery, soda cans, with a bunch of tree roots. I have since cleared all the junk away.

My intention is to fill the 12" depressed area back up to about 10" with sand. Then the remaining 2 inches will be filled with old reclaimed chicago bricks.

I am not going to do a mortar base at the bottom of these bricks, I am thinking just compact and level the sand, then lay the bricks down separated with 1/2" gaps. Once all laid down, I fill then sweep dry mortar into the joints up to about half the brick's height, then sprinkle some water on them which should stabilize the bricks in place.

After that, I will mix up some mortar in a bucket, then transfer into a grout bag, then squeeze the mixed mortar into the joints, then finish the joints with a 1/2" pointing trowel.

Does this sound like something that would work?

Can I use regular landscape sand for the 10" base to fill up the depressed area? Or do I need special paver base sand?

By laying the bricks onto compacted sand, then filling the joints with mortar, I assume this will cause the mortar joints to be less sound. Will I see cracked joints quickly or do you think this will be OK for a number of years?
02-08-21, 07:14 AM
Join Date: Mar 2003
Location: NC, USA
Posts: 27,077
I don't know why you are going off with your own installation ideas. Wanting a foot of sand underneath and then grouting the joints??? I recommend the very commonly used method of a compacted crushed stone base topped with a thin leveling and bedding layer of sand. Then use sand or polymeric sand to fill the joints.
02-08-21, 08:11 AM
The reason I want to grout the joints is because the landing area is next to a driveway (500SF) and an existing deck (650SF) both have existing chicago bricks. Those bricks have been there for 30 years and they were set on a 2" mortar bed 1/2" mortar joints. This landing area is in between the two areas and it would look very odd if this area has no joint.

The other reason is because this area is currently bounded by concrete borders on all sides, the distance is fixed. To do this like pavers, not only will it look different from the existing areas, I will definitely end up with lots of odd pieces to cut along the edges. If I put in joints it will allow me to space them in such a way to avoid cutting the edge pieces.

I could use a crushed stone base then a sand base to bring it up to the proper level. I just want to avoid having to do a mortar bed unless it's absolutely necessary.
02-08-21, 10:03 AM
Join Date: Mar 2003
Location: NC, USA
Posts: 27,077
If you want to grout/mortar the joints between bricks then I'd pour a concrete base, mortar the bricks in place and mortar the joints.
02-25-21, 12:45 AM
Here is a video I saw on youtube where someone laid bricks over dirt without a mortar bed, then fill in the joints with concrete. Just dry concrete with aggregates mixed in and wetted afterwards. Sure would like to know if it lasted long or cracks all over in a few months.
https://youtu.be/nQwNAQRN_dQ
Here are some pictures of my project. As you can see, the existing areas have all old chicago bricks with mortar joints, so if I do it like pavers without joints it will look odd. The middle area stepping up is the small area about 12'x3.5' I am trying to do with bricks.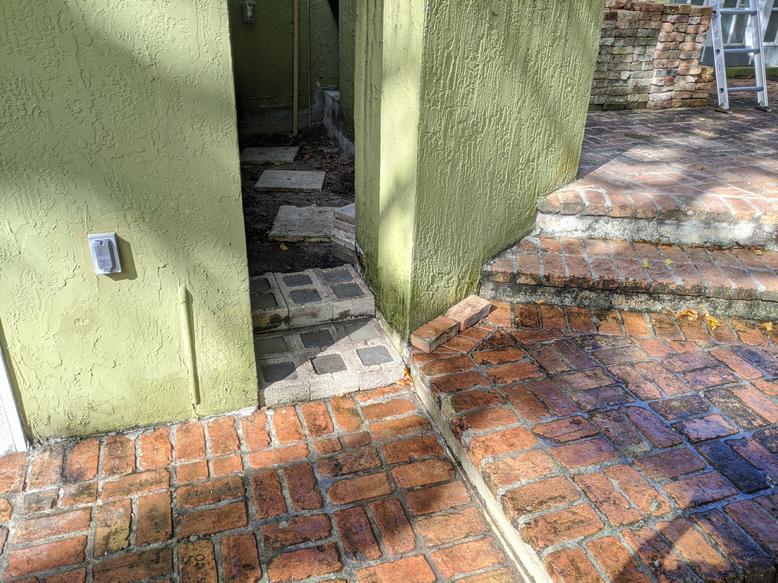 The steps you see are set with 4X16 blocks as the first step, then 8X16 blocks as the second step. I filled the voids with construction grout. My intention is the set bricks over these steps too.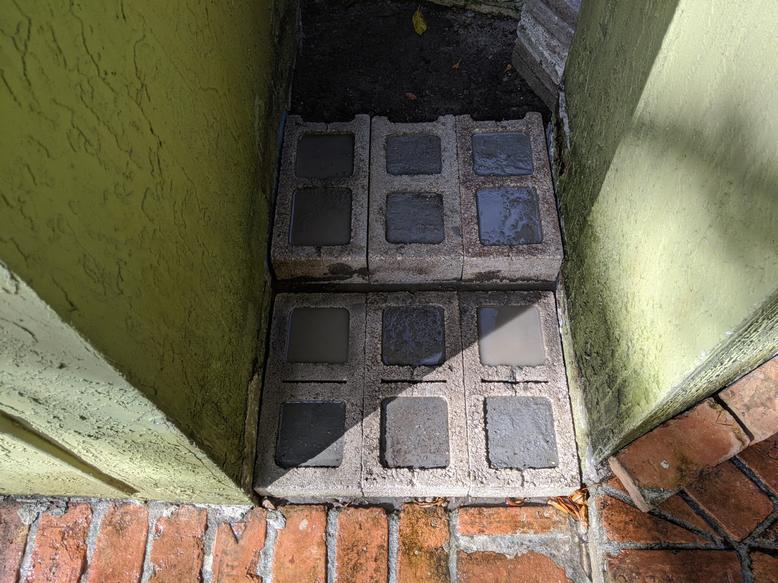 I know it is better to do a mortar bed a few inches thick. However, I have copper water pipes and electrical conduits under this, and I don't want to permanently cover it. I would like to be able to break a few bricks to expose these pipes and conduits in the future, instead of having to take out a jackhammer. I know laying it like pavers, with almost no joints with polymeric sand filling in the gaps is the easiest but then it doesn't match what I have existing.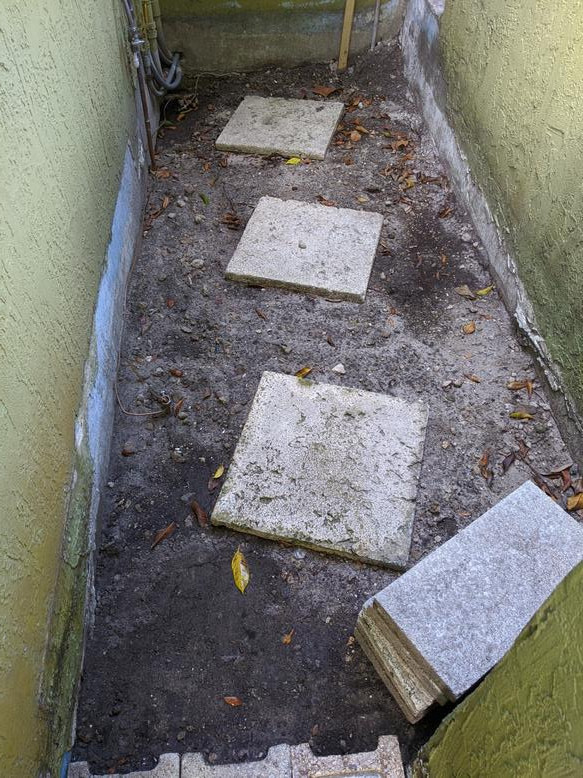 This is why I came up with grading the bed with dirt. gravel, sand, then lay down the bricks with joints, filling in the joints with mortar. But no idea if this will last.
02-25-21, 07:45 AM
Join Date: Sep 2016
Location: USA MI
Posts: 9,746
So any paver job is only as good as the base it's build on but your in FL so that eliminates freeze thaw issues but not drainage.

It will last awhile!
02-25-21, 08:51 AM
So any paver job is only as good as the base it's build on but your in FL so that eliminates freeze thaw issues but not drainage.

It will last awhile!
Drainage wise I plan to provide a slight slope to the bricks so any surface water from rain will run towards the steps and down to the driveway.
No freeze thaw but who know, Texas is getting freezes so may be south Florida is not far behind LOL.
another reason I just realized the standard jointless paver install will not work is these bricks are reclaimed and sometimes the size is slightly different. I have some pieces that are 8.5" long and some 8,25" and some in between. So it's necessary to be able to "cheat" with slight variation with mortar joints.
02-25-21, 11:50 AM
Join Date: Jul 2003
Location: California
Posts: 1,913
Advice worth what it costs: I had a parking strip and a small walk laid about like you describe. I have lived here almost 21 years. This was here when we bought the place. I think the walk and strip were laid with joints of about a half inch then dry filled. The walk was probably flat at one time but it got very uneven and grass and weeds were growing in the joints. So it lasted (sort of) at least 20 years but I don't know how long before that. The house was built in 1970 and there are still a few houses in the neighborhood with similar walks so maybe it was original. This is California. No frost problem and less natural moisture than Florida. Compact the fill, level the sand base fill the joints..I think you will get tired of the grout bag and pointing tools pretty fast. Fill with dry mix mortar and wet. I don't know if you will get five years or twenty years. At my age I think a lot more about permanence in DIY projects. I am getting too old to want to do it again. And I don't work for fun any more. I am in it only for the money.