antique Rolls Royce grill - need to know year and model
02-01-08, 11:03 AM
Join Date: Oct 2004
Location: Pennsylvania
Posts: 80
antique Rolls Royce grill - need to know year and model
---
Hi! My grandfather restored antique cars for a living and was quite amazing at it. He recently gave me an antique Rolls Royce grill to sell, but he is losing his memory and can't remember when he got it. We're trying to find out anything we can about this grill, so we have an idea what model it is, what year, etc. Any help would be greatly appreciated! I have pictures and measurements. It is 22" from side to side, and 15 1/4" bottom to top on the sides. It is missing the ornament on the top of the grill, but other than that is is in gorgeous condition without any flaws.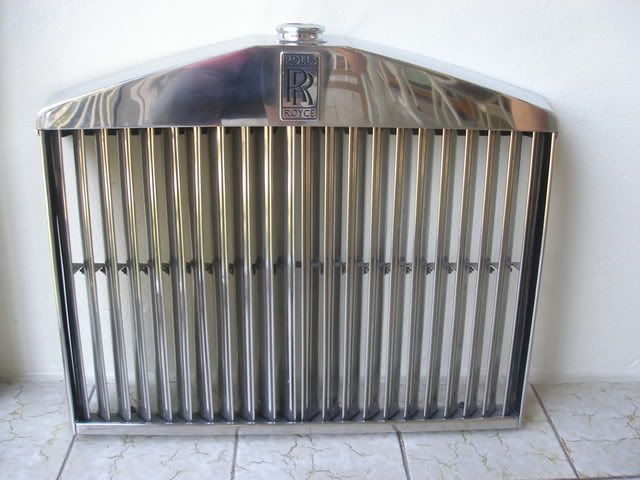 Sponsored Links
02-02-08, 09:15 AM
Banned. Rule And/Or Policy Violation
Join Date: Nov 2007
Posts: 504
02-02-08, 10:08 AM
antique Rolls Royce grill - need to know year and model
---
Google for Rolls Royce restorers.

They would be the best possible purchasers IF it is a genuine RR radiator. They will be able to determine if it is genuine. There are some methods and tricks to determine if they are real. Since being authentic is necessary, the value of real parts is great.

When dealing with collector cars, it is ABSOLUTELY necessary to have genuine parts. Copies are are not worth much.

In judging classic cars, everything must be accurate. If you show a car in the summer and have a heater/ventilation set in the winterer position, you are out of luck even if you have the right parts.

Recent RRs do not draw the same prices they did years ago, but collectors will pay for authentic parts that can be certified.

Dick
02-03-08, 03:16 AM
Banned. Rule And/Or Policy Violation
Join Date: Nov 2007
Posts: 504
I'm pretty sure he can trust his Grandfather.
All I did was google for "rolls royce grills" and came up with a bunch of stuff.
05-21-08, 06:12 PM
Join Date: May 2008
Posts: 1
Grill
---
Did you find out any more about the grill?
Posting Rules
You may not post new threads
You may not post replies
You may not post attachments
You may not edit your posts
---
HTML code is Off
---