Camping in Colorado!
05-11-08, 06:31 PM
Camping in Colorado!
---
Hi all,

We're heading on a camping trip, spending about 5 days or so in the Zirkel Wilderness near Steamboat Springs, CO. We'll be taking along the minimum needs for our hike as 4 of us will be travelling together... 2 establishing a basecamp, and 2 hiking several mountain peaks in the area.

I was just curious if there were any other hikers/backpackers hanging out here (or lurking) and what some of your favorite types of gear are. Shoes, tents, pads, bags, hammocks, cookstoves, etc. Or perhaps what types of foods you like to bring along and prepare.

Our trip is still over a month away and we still have a few last minute things to purchase. But we're getting pretty excited for the trip.
05-11-08, 08:13 PM
rei hikeing boots on the trail, comfie shoes around camp. tent is eureka timberlight. bag is coleman mummy bought in 94, about to purchase a new pad as my thermarest leaks and has been patched too many times. msr whisperlight stove, as for food there are so many new dehydrated soups and meals out there that it changes every time my wife and i go out. my daughter spent the summer working for wilderness trek and is doing it again this summer. don't forget your water purification system. unless you like girardia.

life begins when the kids leave home and the dog dies
05-11-08, 08:50 PM
Great info!
My shoes are Vasque Switchback GTX- the most comfortable shoes I've ever worn, I think, and they're hikers! I've got a couple pair of socks made of merino wool, which are also cool and comfy.
My tent is a Eureka Solitaire, but I'm kicking around getting a really cool
hammock
that you enter from the bottom!
I've got a Marmot Trestles 15F mummy bag, and haven't quite decided what pad to buy. I'm leaning toward the Exped Synmat 7 that comes with an internal pump. Supposed to be as comfortable as your bed! But it's a little heavy at almost 2lbs.
We haven't picked our food out yet, but I'm thinking soup sounds good too. Even if it turns out to be hot, I won't mind soup.
I've got some Komperdell all season trekking poles w/cork grips... do you use any?
Do you have a "luxury item" that you bring along? I'm thinking maybe a headlamp and a sudoku book. And maybe a pocket Bible.
06-18-08, 09:03 PM
Well, just a few small jobs to finish up tomorrow before we take off... I'm a little worried about the weight of my pack... 31 lbs of food and gear. 17 lbs is food, so at least that will get lighter as we eat.
I'm hoping I have less than my brother in law who seems to like to take everything but the kitchen sink. (of course, he's in better shape than I am... I think he brings the extra weight just because "he can".) I've been training with 25 lbs of weight, so being a few lbs over shouldn't be a big problem for me. The altitude on the other hand, will. We'll be hiking up to 12,100... so I hope I can cope with that ok, being a flatlander, and that this is my first time on this sort of a hike.
Got the digital camera and some spare batteries... and bells for the shoes (bears). I managed to lose about 8 lbs prior to the trip by really cutting down on drinking soda pop. So that's a few lbs I won't be carrying.
I'll share a few pics when we get back the end of the month.
06-19-08, 04:38 AM
Just so you will be aware, you will go through sleep apnea every night in the higher elevations. It is scary! You stop breathing and you wake up suddenly. I thought I was dying, but found out it is normal for flatlanders whose lungs are normally saturated with oxygen.
In my younger years I packed 52 lbs with no problem. Rigid frame pack, sleeping gear, light food (but alot of it).
Cardinal rule.....if it wasn't too heavy to pack in full, then it won't be too heavy to pack out empty. Leave nothing but footprints.
Have a great time. We will await your return and pix. I'll try to fill in for you while you are gone. Wish me luck.
06-24-08, 01:37 PM
I've been to Colorado many times. I even lived in Denver for a while. We did lots of hiking and I've been to the top of a couple of 14's. Never once did I have an altitude problem.

Last year we were picnicing at about 11,500' around Boreas Pass and I got really sick. Out of breath, wicked headache, puking and other "discomforts". We started back down and as soon as we got below 10,000' I was perfectly fine tho a little embarassed.
06-25-08, 03:52 AM
I never had the problems as we were walking, but at night, when you tried to settle down, that's when it hit me. Our base was about 9500, and we hunted around 11000. I would suspect after you acclimate to the area, the problem decreases, but we were 36 hours from down South to just above Rifle, so our bodies hadn't had time to get used to it. Even crossing over Eisenhower pass, the F150 barely made the grade with the load and trailer. Even starting down the grade it would only do 35 mph. We pulled over, shut the truck down for a few minutes and after the computer had time to acclimate, it did fine.
I do alot of cooking at my daughter's house in Denver, when we visit, and have to remember it is a "high altitude" situation and baking is different.
06-28-08, 07:22 PM
Well, the vacation was a little more than I bargained for. June 21st is the first day of summer for most of us, but where we went it was more like the first day of spring. Steamboat Springs, CO had 489" of snow this winter which means there was more snow on the ground than normal. (which we found out as we began to ascend the mountains!)
So here's a pic near the start of our hike: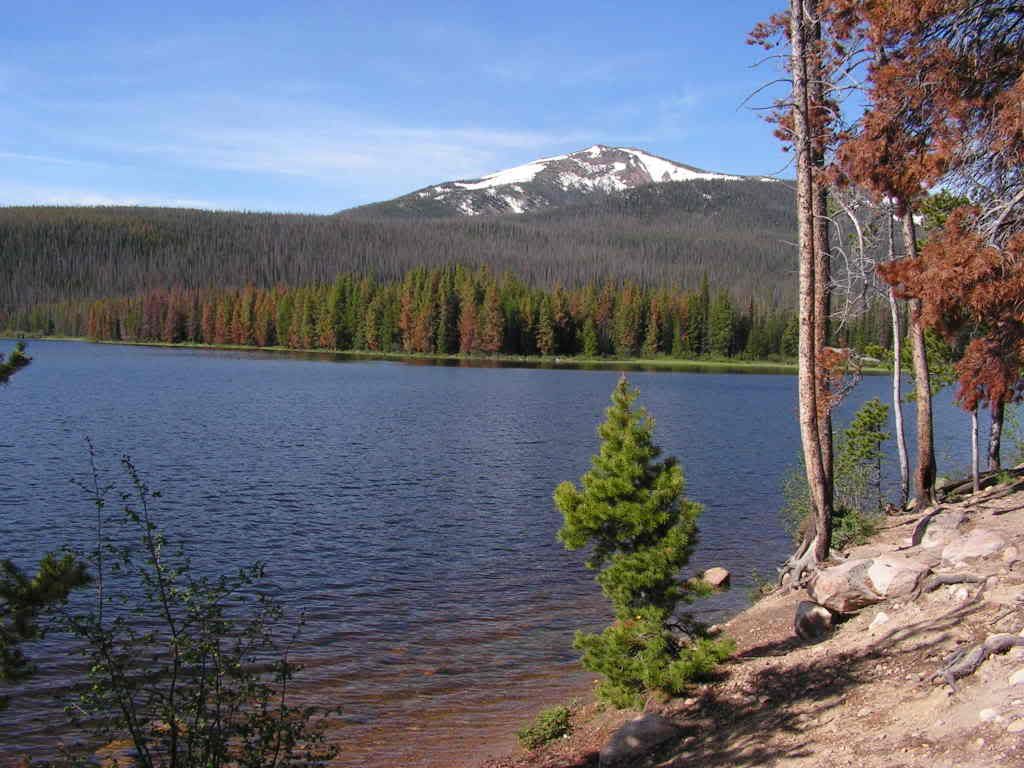 view on our ascent:
our camp at 10,750' (happy to find a dry spot big enough for 2 tents and a fire: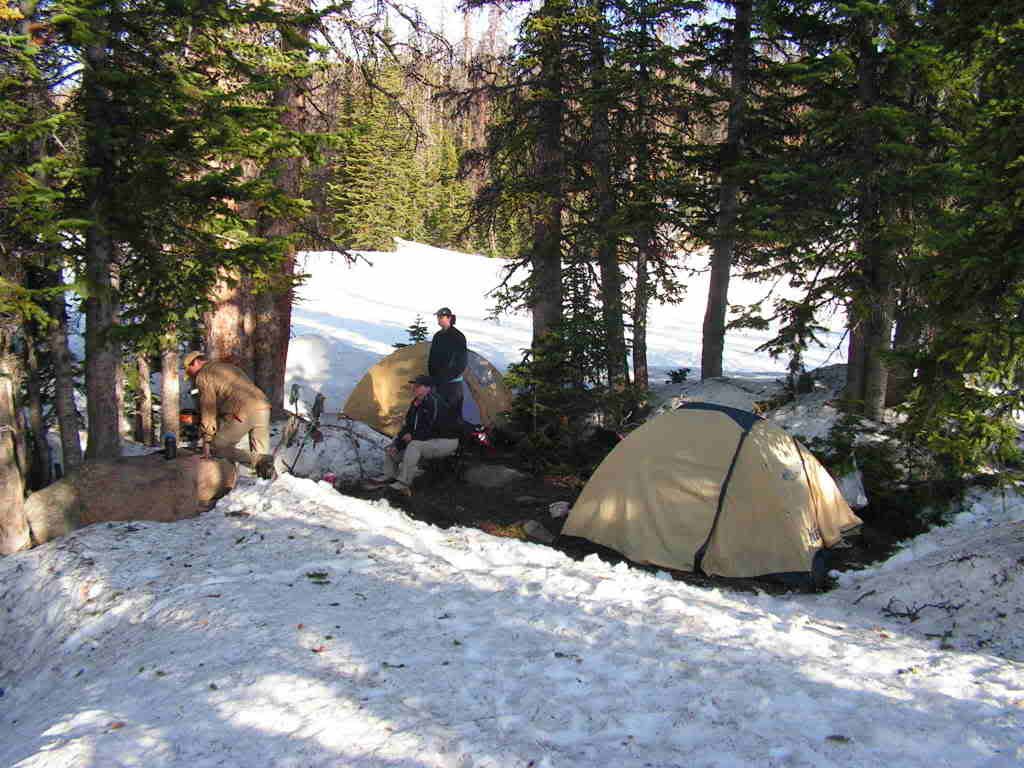 our dangerous "guys only" hike:
and our "guys only" camp night... yes, that's bacon frying on the stone:
We had to quit hiking early (no Big Agnes or Mt. Zirkel) because my sister got altitude sickness and we had to head down. But we had a good time in Steamboat springs- went to the hot springs at Strawberry Hill and did some whitewater rafting on the North Platte River which was unusually high this year... that was a blast. Also did a day hike to Fish River Falls which was unbelievably amazing- I'd highly recommend it to anyone who is in the area.
All in all, a good vacation, but next time we have the phone number for the forest rangers so that we can check the trail conditions before we begin. Hiking in what was often 8ft of snow was no fun. It was quite difficult to find / stay on trail. On the plus side I got very good at reading my topographical map along with my compass!
07-01-08, 02:54 PM
The last time I was in Colorado there wasn't enough water in the N.Platte to float a beer can. The only rafting we could find were slow floats, including on the Gunnison and the Colorado. Actually, slow floats probably better suit my age, but it wasn't what we were looking for.
I did a lot of hiking in NW Colorado years ago. Mostly in the White River Forest west of Yampa. It's an awesome part of the country. Some pretty fair trout fishing back then.
Your pics brought back memories of a late June trip years ago. We made camp just below the timberline in 70+* weather and woke up the next morning to 2 feet of snow.
It's all part of the adventure.
07-01-08, 03:33 PM
NW Colorado is great! There's this outfitter along the Yampa River in Steamboat... his back doors open out onto the Yampa, which you could literally run and jump into... it's THAT close. Very cool shop. Would be an awesome place to work, since their counter is right by the back doors. Made me want to sit in a lawn chair and just listen to the water churn.

Yeah it was pretty cold at 10,750. It dropped below 32F that night, so I suppose if the conditions were right, they could get a snowstorm! That WOULD be a surprise to wake up to that much new snow!

We'll do it again, but hopefully there will be less snow next time. Trying to stay on trail was something else.