How do I trim this?
02-02-08, 10:49 AM
How do I trim this?
---
How can I trim this door. This used to be a pantry now it is the door to our garage we added on. My father and I cut the hole and installed the door but he passed away before he could show me how to trim it. Thanks for any help.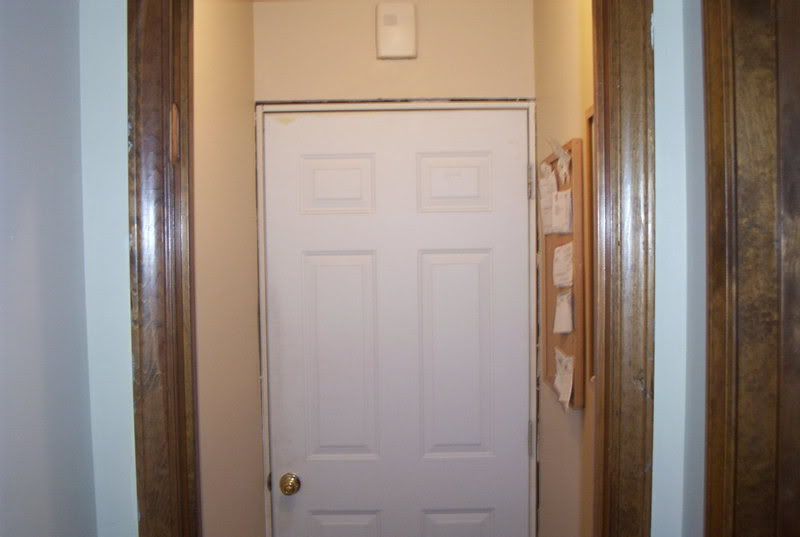 Sponsored Links
02-02-08, 11:21 AM
The best way is to match the other door trim you already have.

You will have to rip down the sides quite a bit. The top you will leave full size. You want a 1/4" reveal on the trim all the way around. So from the looks of your photo, you will have about 1/2" of trim on the sides, and the top would match your existing trim. It might look weird though, but I don't know what else you could do.

Good luck.
02-02-08, 04:29 PM
If it were mine I would use 1/2 inch quarter round up each side and a 1x4 across the top from wall to wall.
02-03-08, 08:18 AM
Quarter round is an option. I wouldn't rip a normal sized casing just to fit this.

Visit a big box store and look at their molding stock for ideas. There are probably a half dozen molding shapes that could be used as side casing. A 1X across the top would finish it off. You could even use milled casing stock on the top if you wanted something with a bit more detail than a flat piece of 1X.
02-03-08, 12:06 PM
Too bad that door can't be 4" smaller. No matter what you do it won't be aesthetically pleasing. Screen moulding on the sides and casing across the top is about the best you could do.
Posting Rules
You may not post new threads
You may not post replies
You may not post attachments
You may not edit your posts
---
HTML code is Off
---