How to make a square decorative wood column
02-21-08, 01:30 PM
How to make a square decorative wood column
---
I'm looking for information, plans, ideas etc. on how to make square decorative wood columns for my home. Any ideas, web sites, information etc. would be greatly appreciated. Thanks so much!
Sponsored Links
02-21-08, 03:23 PM
They can be as simple as 1x boards nailed end to edge, althought this shows one end grain at each corner. Or mitered(45deg) which takes a good table saw or straight edge, so each corner fits tightly. Adding various trim pieces adds pizzaz.
02-21-08, 04:29 PM
Join Date: Sep 2005
Location: Where the cows roam, CA
Posts: 2,204
Received 0 Votes on 0 Posts
How big were you thinking of building it? It's for the interior? Were you thinking of maybe wrapping it around any existing part of the house?
Something like this?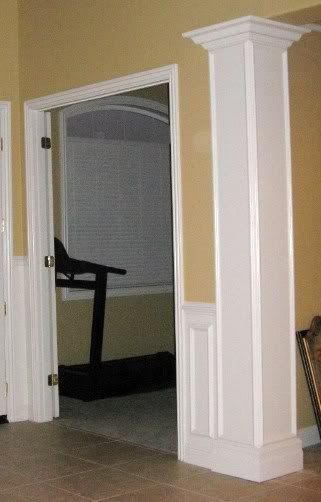 Just like Just Bill stated. When you have the end grain on the side, you can attach trim pieces to the edge of it to cover it up like this:
Or...leave a reveal
Look around at your local big box store for trim pieces, casings, baseboards, casings, etc that you could use. These were made from MDF boards.
02-21-08, 06:20 PM
you can buy fluted columns already built but they are usually not very large. you could build larger ones like has been suggested and add flutes, trim, etc..
Posting Rules
You may not post new threads
You may not post replies
You may not post attachments
You may not edit your posts
---
HTML code is Off
---