Best Hinges For Coffee Table?
08-03-08, 05:55 PM
Best Hinges For Coffee Table?
---
I've got a coffee table that currently has the lid nailed shut and we'd like to convert it so it can open and shut. Problem is, there's a piece of wood missing in one of the spots where the hinges used to be (this is why, I'm guessing, it was nailed shut in the first place… couldn't be hinged).
Any idea what kind of hinge I can use where the missing spot of wood won't be an issue?
The side that's fine is the first picture; the other one that has an issue is the 2nd.
Thanks!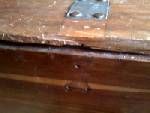 Sponsored Links
Posting Rules
You may not post new threads
You may not post replies
You may not post attachments
You may not edit your posts
---
HTML code is Off
---