Help Needed Constructing Stand
02-19-09, 06:45 AM
Help Needed Constructing Stand
---
I'm trying to figure out how to build this stand. Can someone please look at the pictures and tell me how to build the structure for this stand?
here's another one with a closer view:
and lastly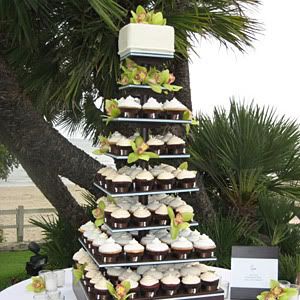 Sponsored Links
02-19-09, 07:54 AM
A very sturdy base with a heavy threaded rod up the center. Between each lay, use a length of plastic pipe cut very square on the ends. Then a platform, a nut, a pipe, and so on to the top. On the top and bottom of each platform, except the top use only one, you can glue on a disk of wood to fit snug inside each tube or some other method to keep them centered. Visit a trophy shop or cake shop, they do this all of the time.

If it needs to be sturdier, use 4 smaller rods and fit them inside a larger diameter pipe, say 4 inch.

Good luck,
Bud
02-19-09, 04:43 PM
Join Date: Dec 2005
Location: USA
Posts: 39,965
Carrying Bud's comments further, it looks as if they used 3/4" plywood for the main trays with support plates of the same material only smaller. To these smaller supports, they attached 2" plumbing flanges and 2" iron pipe for support. I would surmise the pipes were tightened completely in the upper and lower flanges prior to their attachment to the sub plates so they won't turn or become misaligned with each tray above or below it. Have fun.
02-23-09, 03:04 PM
---
Is this a cosmetic/show tiered stand or will it be used to support some weight?

Just curious: what will it be?
Posting Rules
You may not post new threads
You may not post replies
You may not post attachments
You may not edit your posts
---
HTML code is Off
---