Re-finishing stock cabinet question
07-14-09, 12:46 PM
Re-finishing stock cabinet question
---
I found a great deal at Lowe's about a year ago on two base maple cabinets. I got both cabinets for $25 on a clearance special. I did not have a plan for them, but thought it was a great deal and I could do something with them eventually.

I am finishing my basement and I thought it would be a simple project to build bookshelves on top of the cabinets.

The cabinets are a natural maple color. I am sure the sides are veneer and I am not sure about the doors, but considering I bought them at Lowe's, they are probably veneer as well.

Do you think it is possible to strip the finish and stain them a darker color? I would like to make the cabinets and bookshelves a darker stained color, but I am not sure if I can strip the factory finish. Has anyone tried this?
Sponsored Links
07-14-09, 01:07 PM
Maple doesn't do well with dark stains so I'm not sure I would bother to strip them to make them darker. More than likely you could apply a tinted poly [like minwax polyshades] although I don't know if you can get it as dark as you may intend. it can be applied over most sanded cabinet finishes but you should test an inconspicous area first.
07-16-09, 03:40 PM
Thank you for the response.

So what would I need to do in order to try a polyshade? Do I simply sand the cabinets down? If so, do I need to completely sand the finish down? Because the sides are a 1/4" ply I am afraid to do much sanding. And it's veneer, so would sanding even work?

I also thought about applying a stripper to a part of the cabinet to see if that would take the finish off and allow me to apply some type of finish.

I have seen the polyshades but never tried it. Is it possible to to simply apply the poly directly on to the factory finish?
07-16-09, 05:07 PM
You only need to scuff sand prior to using a tinted poly [and remove the dust]. Tinted poly isn't the easiest coating to apply. I prefer to spray it on but that isn't always a workable option. When brushing extra care must be used to apply it evenly with no lap marks or missed areas. Lap marks, runs, drips, etc will all have more tint and will be darker. It isn't a coating that can be over brushed or touched up. It works better over sealed wood than it does on raw wood. Many diyers don't like polyshades because of these reasons but it is an effective way to darken or change the color on an already finished piece of wood.

Once finshed with the tinted poly, it's a good idea to apply a coat of clear poly to protect the color - if the tinted poly gets worn off, the color comes off with it.
07-16-09, 05:12 PM
What about applying a gel stain? I read that it is easier to apply because of the reasons you mentioned. The article I read basically said it can be applied directly over an existing finish after a light sanding and cleaning.
07-16-09, 05:19 PM
I've only used gel stains a few times - I'm not fond of them but I'm an old school painter
My biggest concern would be that the stain wouldn't dry good enough and when you went to apply the poly/varnish, the solvents in the poly would rewet the stain and make a mess. If you go that route, it might be a good idea to spray the 1st coat of poly. You can get it in spray cans - it would only need a light coat sprayed on to protect the stain.
08-12-09, 09:51 PM
Most cabinets have a veneered box, with a solid wood face frame, and solid wood doors (usually on raised panel doors). The veneer is extremely thin, and it's very easy to sand through the veneer. I've seen some of these cabinets from the big box stores with a printed grain veneer, and sanding is definitley not an option in that case.

I've used gel stain on cabinets like this, as well as wood looking fiberglass entry doors before with satisfactory results. You just have to be patient. I would practice on something before you apply it to the cabinets. You can cover it with polyurethane or lacquer after it dries thoroughly.

Scuff the finish lightly with a Scotchbrite pad before applying stain.
09-02-09, 02:42 PM
I do this on a regular basis because customers want to get rid of the old oak or maple; some times I get them right from the cabinet shop. Use an airless paint sprayer and spray them with a water base primer. Then spray them with an antique white paint; after drying use a gel stain to get the darker finish and hit it with clear top coat. Here is a maple stair rail and tread that we painted white and finished to look like a darker wood. Looks like wood we even added some grain.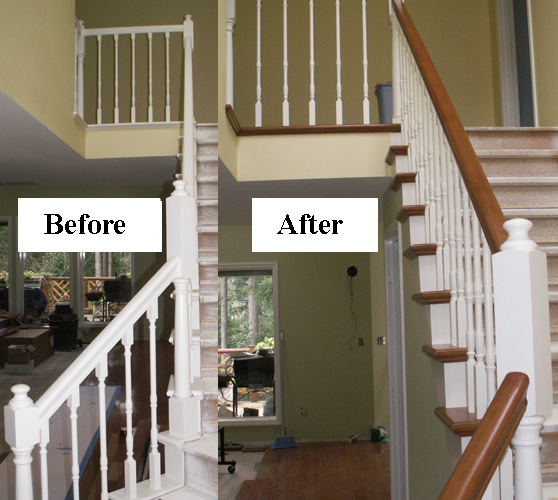 Posting Rules
You may not post new threads
You may not post replies
You may not post attachments
You may not edit your posts
---
HTML code is Off
---