Is this mold, fungus, or something benign?
11-14-09, 03:05 PM
Is this mold, fungus, or something benign?
---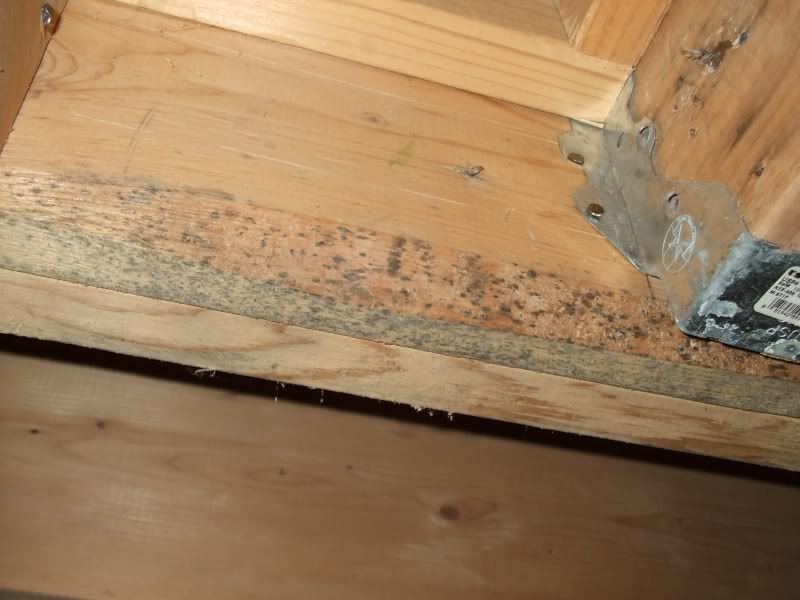 This is a joist in my basement. Four years old, dehumidifier running for the last year or so. I haven't noticed these on any other pieces of wood, so presumably it was there before the wood was used on anything, but what is it? No idea what kind of wood this is.
Sponsored Links
11-14-09, 03:56 PM
Its mold..it happens on wood all the time esp when it sits outside before the construction.

Spray it with a bleach and water solution...(50-50 works fine) let it dry and forget about it...
11-14-09, 04:19 PM
11-14-09, 06:07 PM
There is an increasing awareness in dealing with mold and using bleach as a mold control agent is not appropriate.
It is not approved as a mold control product and on porous materials can do more harm than good.
The main problem with applying bleach to a porous surface is that the nature of bleach in solution is the bleach itself will not penetrate much beyond the surface.
What then happens is that because bleach is 95% water this will cause the spores that are beneath the surface to begin growing.
Also, even if the surface mold spores are killed they can still be toxic.
There are several different mold control agents out there.
There are commercial products that are based on sodium carbonate which is washing soda or Borax.
I would suggest a solution of Borax and warm water and scrub the surface with it where you see mold.
The commercial preparations is 1% sodium carbonate which is about 10ml/litre or 2 tsp/qt .
They also use a small amount of TSP and you could use 1ml/L or 1/8 tsp/qt.
Here
is another thread on this.
11-19-09, 11:17 PM
Greg H is correct, dont use bleach on porous organic material. I recently worked on a military base building barracks that grew mold on the wood framing as soon as the walls went up and the temperature rose. We used a product (I cannot remember the name, sorry) that was a liquid and applied with a garden sprayer very easily. it killed the mold spores completely but left behind the black discoloration.
Posting Rules
You may not post new threads
You may not post replies
You may not post attachments
You may not edit your posts
---
HTML code is Off
---