Need cleaning solution for Nicotine in Hair
01-28-09, 03:31 PM
Need cleaning solution for Nicotine in Hair
---
Can anybody help me with getting tobacco/nicotine out of a mustache/hair. I have been all over the web looking, not finding anything on Hair.
01-28-09, 11:08 PM
When you shower and shampoo every day, shampoo your beard and mustache too. This will keep it clean. If hair is gray or silver, they make a special shampoo to remove yellowing and make the hair sparkle. I think it is called Silver Shampoo. I have seen it from time to time, but I don't recall where. I do know that Sally Beauty Company, which you usually see in a strip mall, has the shampoo.
01-29-09, 07:57 AM
Not sure if this is related, but some stores that specialize in smoking alternatives sell a shampoo to get drugs out of your hair. This may be overboard, but I thought that it may help. This shampoo fools hair drug tests from what I have heard, never needed personal experience with it so I cannot verify.
01-29-09, 04:57 PM
01-29-09, 05:06 PM
01-29-09, 05:44 PM
I used to smoke, and I don't have a mustache, LOL, but I'm thinking maybe it's time to give up the mustache.
Not trying to be funny, but if nothing else works, this may be the only choice. I don't remember it getting into my hair where it didn't wash out.
01-29-09, 06:46 PM
I think that once the nicotine stains are removed from the mustache that daily shampooing along with hair that the nicotine will not be a problem. A conditioner can be used to soften it. Beards and mustaches require the same level of care as hair on the head. Simply rinsing in shower will not remove stains.
Many guys complain of dandruff in beards and mustaches. A dandruff shampoo can be used. Shampoo beard and mustache daily and use nails to scratch around like on the head to loosen dead skin cells.
Mustache should not be allowed to grow over top lip. Keeping mustache trimmed might also help with nicotine stains.
Tips for beard and mustache care:
A Man's Beard and Moustache - How to Grow and Trim a Beard, Beard and Moustashe Trimmers
01-30-09, 11:46 AM
Typically, a quality bottled beer does not have to be strained. Homebrewers usually let hops settle to the bottom of the keg when bottling to eliminate the straining process. If mustache is necessary for straining beer, then it is recommended to strain before drinking or to switch to a different brand.
A mustache cup may come in handy. These contain a guard to protect the mustache. Here's a Simpson, Hall, and Miller mustache cup (1900s).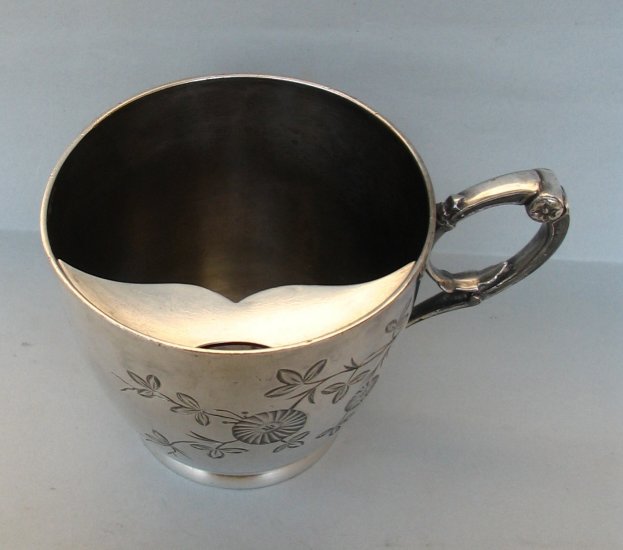 Photo Credit: silvercollection.it
If mustache is smoking, then it is recommended that one take the mustache to the family physician to discuss its options. The mustache may need a nicotine patch.
Should the mustache have developed other bad habits and behavior problems, there is always therapy and group support. The mustache may find joining Nicotine Anonymous helpful. One could always resort to bribery, such as the promise to take the mustache on a field trip to the American Mustache Institute in St. Louis.
Should the mustache not respond to any of the above interventions, perhaps the threat of shaving off the mustache would motivate the mustache to cease smoking.