How to get rid of tub stains
04-13-18, 08:01 PM
How to get rid of tub stains
---
I have one of those tubs that are either plastic or fiberglass that has just dark gray stains, though I don't think it's mold. The bottom of the tub is not smooth, it's one of those which has a little roughness to avoid slippage. I tried Tilex and Zep, along with scrubbing, which usually work but it won't budge. I haven't tried pure chorine just like I advised someone else in another thread for the mold on their bath tiles, because I don't think it's mold on the surface of the tub floor. Is there anything else I can try? I know on those made for TV commercials they show a steamer, but don't know if that would work. I want to clean it instead of having to resort to using those bathfitter products that you put over your existing tub, and I don't want to have to take it out and make it a full renovation project either. Thanks.
04-13-18, 08:07 PM
Sure the white enamel hasn't eroded away and that you are just seeing the fiberglass underneath?

Also "pure chlorine" would likely kill someone if they used it in a bathroom and inhaled it. You would need to have a gas mask on if you were around it. I'm not sure that you should be recommending that, as no ordinary mask is going to fliter out a poisonous gas. Even pool chemicals need to be treated with care.
04-13-18, 08:27 PM
I just don't want to end up having to paint over the tub again, nor replace it. I'm pretty sure its stains.

I know the chlorine has worked for me. I resorted to that because I also had a pool in my house in FL and knew how to treat it. I'll amend or delete my comment. I don't want anyone to get hurt over my advice but I was able to manage to handle it because I had chlorine available for my pool and also used it to clean mold off the pool deck along with a hose and pump that diluted it with water.
04-13-18, 08:32 PM
You mention painting it "again"... you have painted it once already? If it's white you could try a limited paint touchup... maybe try something like Rustoleum appliance epoxy?

Regarding the comments in the other thread, I have added a few additional cautionary thoughts... you can let your advice be as long as other moderators do not think it is inappropriate advice.
04-13-18, 08:41 PM
No, I painted the tub in my house in FL, one was a fiberglass (or plastic) tub and the other was steel. I think the steel one the paint held up better than the one plastic tub. I have a plastic tub in my current house up north. I can try to pain it again, but I think I'll only get five years at more out of a paint job. I saw bathfitter.com has a tub cover solution with material that looks to not mold or stain like the current material, but I don't imagine it's cheap, but still less expensive than a tub replacement.

Thanks for the catch on the chlorine. I meant to only state what worked for me, but I appreciate you adding the precautions. I too had my windows open, had a fan blowing out to exhaust fumes out the window, and used gloves, mask, and goggles, because it really is potent.
04-13-18, 08:52 PM
........................................
04-14-18, 05:04 AM
Join Date: Mar 2005
Location: USA - N.E.Tn
Posts: 49,395
My wife has gotten good results cleaning tubs/surrounds with a product called 'the works'
04-14-18, 06:05 AM
I've used Oxalic Acid (a poison) to quickly dissolve Iron and other mineral deposits on porcelain tubs; but without knowing what kind of paint has been applied to your fixtures, it's hard to recommend any chemical cleansing agent . . . . I've never owned or even seen a "painted" tub; and as a Real Estate Broker, I've been in thousands upon thousands of bathrooms.
05-17-18, 10:40 AM
Pictures of stains
---
So here's some pics of those stubborn stains, you think they're ingrained below the tub's surface already, i.e., the top surface has already been worn off? Any possible way to remove this or do I have to paint over, or replace the tub, or bathfitter.com?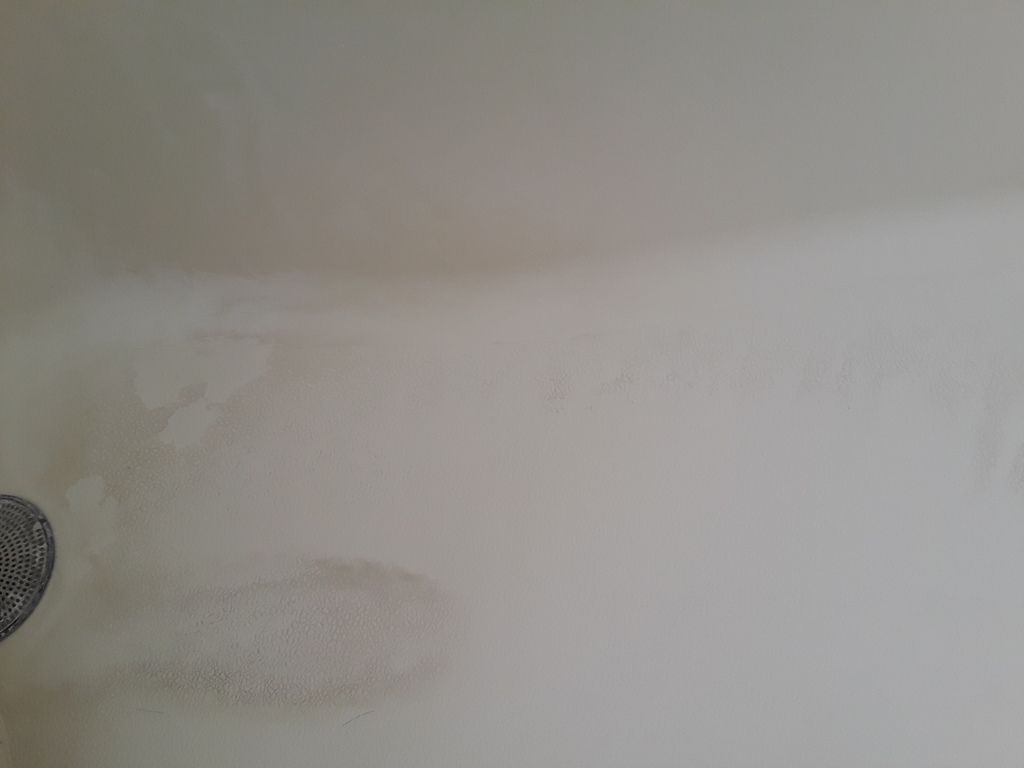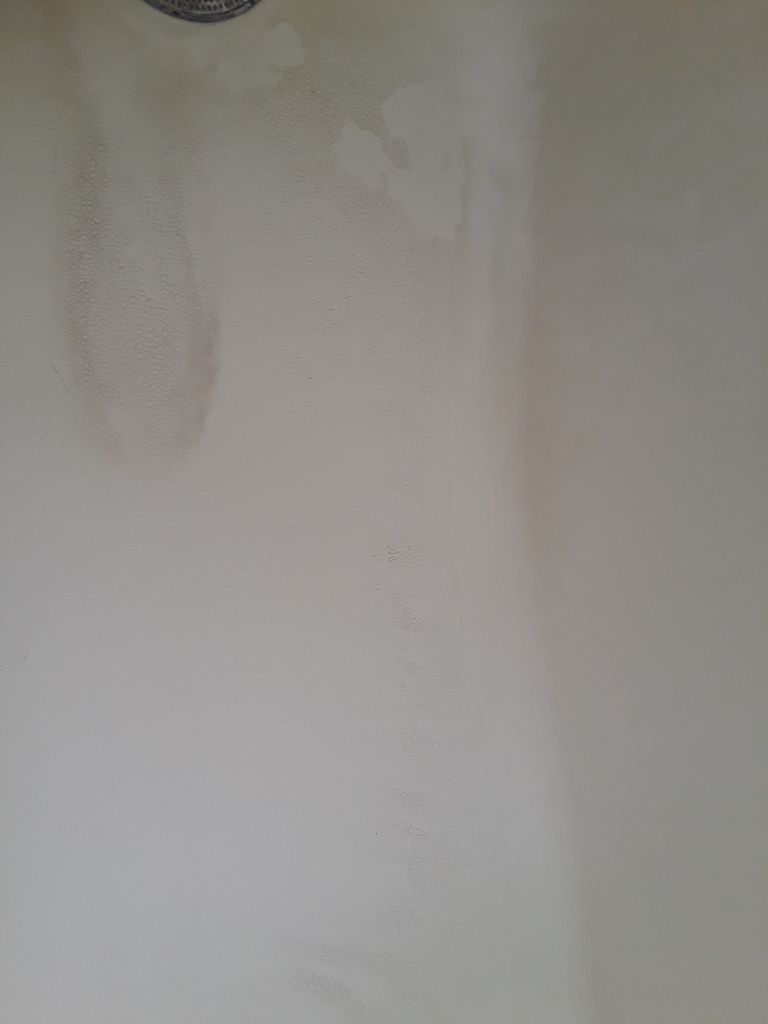 05-17-18, 10:54 AM
Join Date: Jan 2005
Location: PA - USA
Posts: 5,053
Try Bon Ami. Suppose you could try Comet or Ajax, but they may not be as gentle as Bon Ami. At this point, don't think you have much to lose tho.
If they don't work, they're probably permanent and you'd have to go with any of the three you mentioned. I think you'd want to refinish it rather than just paint it.
06-18-19, 10:33 AM
Update
---
Hi, can't believe it's been a year since I posted this but I just wanted to share a couple things I found out, one by accident and one that was passed on to me, which enabled me to remove the stains off my bathtub without having to necessarily refurbish, paint, or replace it.

1) The first one was by accident. I was cleaning it with a solution of 50/50 CLR and water, and I left some of the solution spilled on the bottom of the tub and let it sit there for a couple days. When I rinsed it off, the spot where the CLR solution settled was basically white! It ate away at the stain and I don't think it ate away at the fiberglass or plastic tub because I don't see any cracks or etching that tells me otherwise. So if I plug the tub and fill the surface up with CLR and water solution to sit for a couple days, it may very well left the stains.

2) The other one was from my niece, she shared a piece of information where you mix a solution of cleaning vinegar with Dawn blue liquid dishwasher soap. You warm up the cleaning vinegar a little and pour in the warm vinegar with an equal amount of Dawn blue liquid soap in a spray bottle, then spray on the stained bathtub surfaces and let sit an hour before rinsing. But I let it sit for two hours just for kicks, and when I rinsed it with warm water, lo and behold, the stains disappeared and the tough ones I just had to scrub lightly with a scrub sponge and it was coming off. I have a feeling the Dawn solution gave the cleaning vinegar its thicker viscosity to settle on the tub surface to allow the vinegar to eat away at the stains, plus the grease cutting properties of Dawn made it very effective.

Both methods did not require heavy scrubbing at all with abrasive cleansers like Comet or with scouring pads, which could scratch or damage the tub surface even if plastic. Though I don't know if soaking the tub, which mine is fiberglass or plastic, with CLR would eat away at it, but the second method is definitely a safer route and just as effective. Despite all the cleaners and name brands that were supposedly the best to clean tough stains, the two methods I described above were the most effective without requiring harsh scrubbing.

I guess the next step after getting rid of all the stains on my tub, is how do I restore that shine to it, like a gloss effect, if my tub is fiberglass or plastic? I kind of what to give it a buff like wax job without making it too slippery on the bottom. Any idea on how to restore its shiny finish?