Anyone know what this is?
07-08-18, 06:19 PM
Join Date: Jan 2009
Location: Trumbull, CT, USA
Posts: 415
Anyone know what this is?
---
I was at a Goodwill the other day and I found this interesting device.

I am unsure of it purpose , I know it connects to a phone line and that it is supposed to redial busy phone numbers presumably until someone or something answers. The only information I have is on the device itself.

I have searched the internet for hours with no strong leads of the purpose of the unit I have (However I did find what I assume is a similar device the "Demon Dialer")

I only have the unit but I have a 24VDC power supply and the unit does power up (Making DTMF tones and I hear the relay click but I am not going to connect this to a phone line)
Sponsored Links
07-08-18, 07:41 PM
Join Date: Oct 2012
Location: Northern NJ - USA
Posts: 53,582
Current generation dialers (robo dialers) are linked to a computer for number generation. Based on what's in it and the vintage.... that unit may have just redialed one phone number.
07-08-18, 08:37 PM
Yeah...I was picturing a whole bank of them. First one that picks up...you pause the others? Seems I was reading something about back then, they could make 1000 calls per person per day....now it's like 10,000 or something like that.

Or maybe it was just so you could make doctors appts....before they had robots answer the phone and keep 20 people on hold at once.
07-09-18, 06:09 PM
Join Date: Jan 2009
Location: Trumbull, CT, USA
Posts: 415
---
Anyone know where to obtain a user manual for this device?

I searched for hours and the name PowerDialer yields hundreds of hits for modern replacements and software for power dialing but I get no useful results for my device.

I don't plan on using it I just bought it because it was only $1 and it looked interesting, If anything I can use the nice metal case for one of my electronic projects.
12-02-19, 03:41 PM
Looks like you've stumbled upon a product of the 80's. Another product much like this one is interestingly dubbed the Demon Dialer. Someone left a video on the tubes showing it off and explaining some of it's functions:
https://www.youtube.com/watch?v=GFxqcx7rE8I
Essentially, it was a way to store multiple phone numbers to speed dial using a short hand text. Much like modern day text expanders, but for the phone.
Unfortunately, their product page is long gone so current search engines cannot find it, but someone left an old article on the PowerDialer which linked to the original product page:
https://www.wired.com/2007/07/dial-them-to-de/
and from that product page link thus we're able to locate the manual from the
WayBack Machine
.
Here is a quote of the product's description from their now offline site:
PowerDialer repeatedly dials busy telephone numbers as quickly as your telephone company can process the calls. When busy signals or "all circuits are busy" recordings are encountered, PowerDialer immediately hangs up and continuously retries until it encounters either a ring-back or speech, meaning that the call has gone through. An alarm sounds to signal a successfully connected call.

PowerDialer was specifically designed to redial telephone numbers that are constantly busy, such as ticket order lines for concerts, theater, or sporting events; radio contest lines; golf tee-off and tennis court reservation numbers; technical support lines; computer on-line services and bulletin boards, etc. PowerDialer can also be set to periodically retry unanswered phone numbers. Other features include the ability to store numbers in memory, advanced tone detection, and a built-in speaker for hands free monitoring.

The PowerDialer is available direct from Technology Arts for $249. The PowerDialer includes the PowerDialer device, AC adapter, RJ-11 telephone cord, and user's manual.
I can't imagine home users finding a legit use case for this product, but probably useful for companies at some time or another. Might be some FCC legal worries when putting it to use. Be careful and enjoy!
12-02-19, 04:03 PM
About a 90% chance that you have a "WWIV Board dialer" or "BBS dialer" from somebody who hosted a late 80s to early 90s online bulletin board.
Before "the internet" you had two choices for online connectivity
A) dialup modem to Compuserve, GEnie, & AOL
B) dialup modem to a bulletin board service
https://bbs.fandom.com/wiki/WWIV
The Bulletin Board network was the computer version of ham radio,
it relied on individual hobbyists relaying packets of information to neighboring hobbyists. The need to compress those data packets was a big part of the drive for early .zip file compression, to send/receive message packets efficiently. Also the reason for x-modem / y-modem and z-modem file transfer protocols being developed.
The REAL trick with WWIV was that needed a network of LOCAL phone numbers to create an effective link. The relying of information relied on data transfer over LOCAL (e.g. free & unlimited time phone calls to allow each BBS computer to synchronize data packets with all the OTHER BBS computers within their free-dialing area.
Since the BBS generated a huge amount of traffic, they were notorious for typing up phone numbers for hours on end - thus, the "demon dialer" was created to keep dialing a small set of numbers until it connected.
About this time, people ALSO figured out that the dialer was helpful for winning contests, getting tickets, and annoying customer service lines.
FYI, that looks like a Hayes 1,200 baud modem case that upgraded to work as an autodialer.
You DON'T want to think about how much that cost...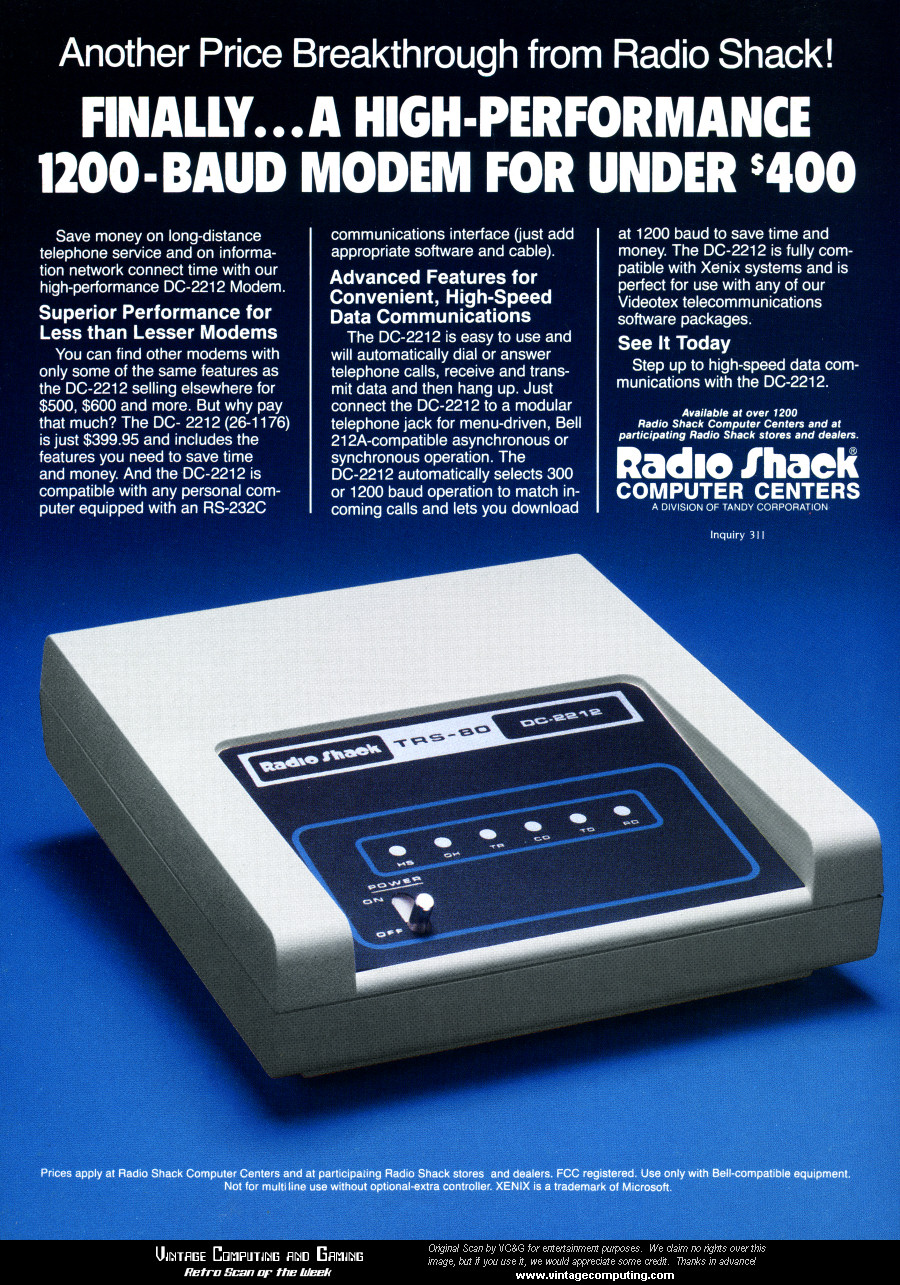 ---
Last edited by Hal_S; 12-02-19 at

04:53 PM

.
Posting Rules
You may not post new threads
You may not post replies
You may not post attachments
You may not edit your posts
---
HTML code is Off
---