4 wire vs 2 wire phone cord/line
11-21-22, 10:13 AM
4 wire vs 2 wire phone cord/line
---
I have an old Panasonic Digital Super Hybrid System in my house. It requires special phones to work on the system. It also needs a phone line/cord from each phone to each jack that is different than your standard phone line/cord - On inspecting the line it looks like it has 4 wires at each connector rather than only 2 wires which I see in typical phone cords. Is there a name or type of line this is called rather than 4 wire vs 2 wire, etc?
11-21-22, 10:44 AM
Join Date: Mar 2003
Location: NC, USA
Posts: 28,330
Most phone cables have four conductors so if you just look for phone wire you should find what you need.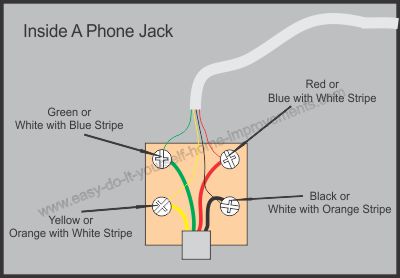 11-21-22, 12:00 PM
Join Date: Sep 2005
Location: USA
Posts: 6,358
The modular (push-in with the locking piece of plastic) are called:
RJ11 (2-wire)
RJ14 (4-wire)
RJ25 (6-wire)

They all fit in the same size jack and are interchangeable, other than the number of wires.

Though they are often all called 'RJ11' cords, so you need to look closely at how many wires the cable has that you're using. Most RJ11 cords you buy actually have 4 wires. But obviously not all.
11-21-22, 07:30 PM
Join Date: Oct 2012
Location: Jersey
Posts: 70,915
The two wire cords are inexpensive import cords designed for the bare minimum needed.
11-23-22, 08:23 AM
Telephone cords have no RJ designation, but, like the connectors installed on them, are designated by the number of Positions on the body of the connector and the number of Contacts in the connector/Conductors in the cable:
NumericAlphaNumericAlpha
For example, a 6P2C cord is a 6-position connector on a 2-conductor cable, a 6P4C cord is a 6-position connector on a 4-conductor cable and a 6P6C cord is a 6-position connector on a 6-conductor cable. A 6P2C connector may only have 2 of 6 contacts installed in the connector body and a 6P4C connector
may
only have 4 contacts installed.
Why install all 6 contacts and use 6-wire cords? Cost! The contacts are gold plated and copper is not cheap. So why install 2 or 4 extra contacts that are not used probably 95% of the time. Same goes for the number of conductors in a cord and even the number of contacts in a jack (see attached PDF for example).
I suspect most cords were 6P4C initially because there were still a lot of the
original
Princess phones that used 6 volts AC from a premise transformer to power the lights in the set.
Note:
If you run across one of these transformers (usually marked Bell System) manufactured by Ault,
trash it
; they caused a number of fires.
PDF: Site won't upload my PDF, so here is a picture.